Last month, we got to see a special treat in the night sky – the 2020 great conjunction of Jupiter and Saturn.
Tonight, head out about 1-2 hours after sunset for another neat sighting in the night sky.
According to NASA, we'll have an "easy opportunity" to spot the meeting of the Moon, Uranus, and Mars!
Axel Diaz, a Solar System Ambassador for NASA explains, "People say you can't find the planet Uranus, it's very hard to find, it's very faint, it's very small. The best way to find it is to look at the moon. Look at the moon and look at Mars."
Mars will stand out amongst the stars in the night sky with an orange, reddish tint near the moon.
The distant planet Uranus is too faint for most of us to see with the naked eye, so you will need either a pair of binoculars or a telescope.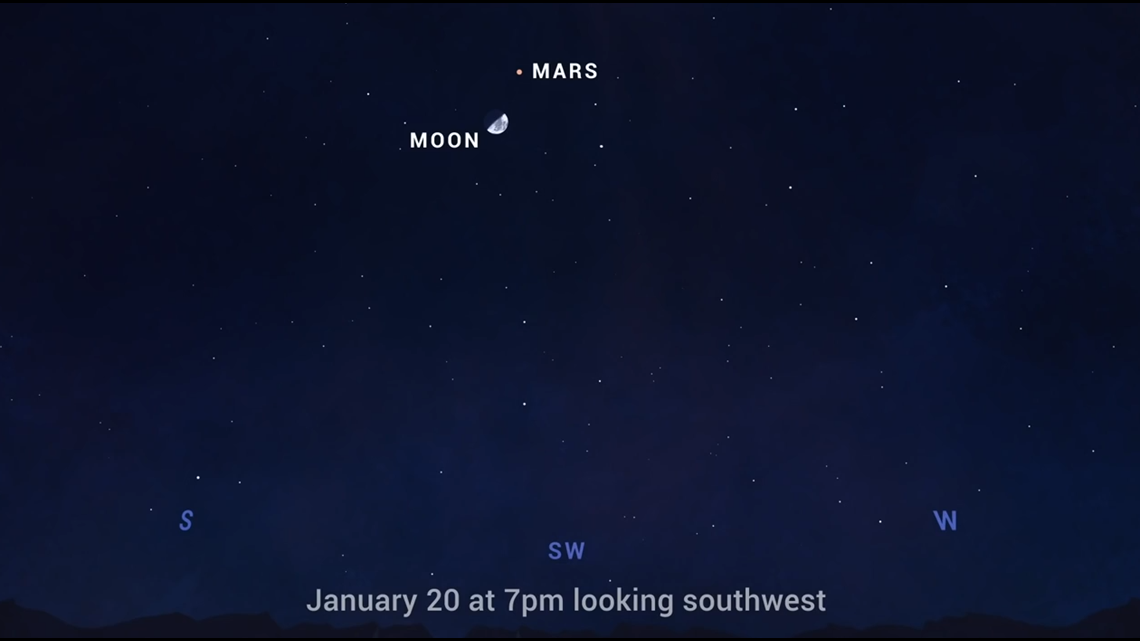 Uranus will be located right between the Moon and Mars. Plus there's more!
Diaz says, "You look to the west on Saturday after sunset and you can see the planet, Mercury! Look at the west. The same thing, it's very tiny, its very small, but that's the best day of the month to see it."
Skies should be fairly clear on Saturday night for good viewing of the planet closest to the sun.
In the time Earth completes 1 trip around the sun, Mercury completes 4 trips around the sun, which is why we get a glimpse of the tiny planet every 3 months or so.
Mercury appears just above the horizon, and so it is best to view the planet just after sunset. You will also need a small telescope or binoculars to see Mercury.
To finish off the month we have one more celestial event!
"We have the full moon on January 28th. Some people call it the Wolf Moon or the Old Moon," Diaz explains.
The first full moon of the year is known as the Wolf Moon. It was given this name by tribes who were haunted by packs of wolves that howled hungrily through the winter months.