PORTLAND, Ore. —
Flanked by city and federal officials, Portland City Commissioner Mingus Mapps announced new funding for several zero-emissions loading and unloading zones during a press conference Wednesday morning.
The pilot program will restrict access at three downtown loading zones to only vehicles with zero-emissions.
"I am pleased to announce that the Portland Bureau of Transportation has been awarded a $2 million SMART Grant to help create a safer, cleaner and more equitable system for delivering goods and services right here in downtown Portland," Mapps said.
The new rules, expected to go into effect early next year, will be enforceable, said Dylan Rivera, a spokesman for the Portland Bureau of Transportation, with those who violate the rules subject to a parking citation.
The pilot program will also see special sensors installed at the loading zones to monitor what kinds of vehicles are using them and how frequently.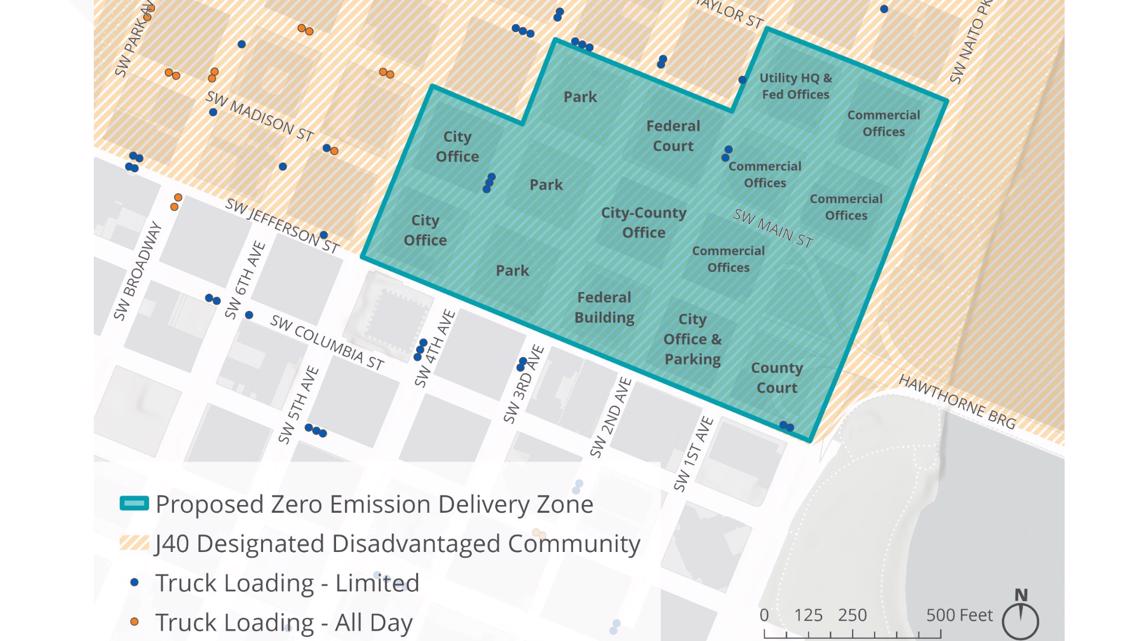 Rivera said the city plans to partner with B-line Sustainable Urban Delivery, a local business that specializes in zero-emissions delivery tricycles and will provide incentives to companies as they work to adjust to the new rules.
Larger trucks will be able to drop loads at the B-line warehouse, on the central eastside, where they can be broken into smaller shipments and delivered by tricycle.
"This is an innovative way to see if we can start to use smaller, cleaner, greener vehicles to have less pollution, less carbon emissions and safer streets," Rivera said.
KGW reached out to Amazon, UPS and FedEx for comment, but all three declined to answer questions.
Officials at the press conference made it clear that this is very much an experiment, Portland will be the first to try it in the U.S., and there may be some bumps in the road.
Asked if he thought the program could increase costs for shippers, which could then be passed on to consumers, Rivera said the city would be listening to the community.
"That's something we're hoping to learn," he said. "We're all ears to hearing about every impact to shippers to businesses and to consumers."
He also addressed other concerns that the restrictions downtown could just end up shifting the congestion and pollution to the neighborhood around the B-line warehouse.
"That's something we're concerned about," Rivera said. "I think we'll wait and see and hear from B-line about how their deliveries are going."
And some groups are already raising concerns about the impacts of the plan.
"We still don't know what the zero-emission delivery zone parameters are or who will be affected by this unilateral decision, but we do know that zero-emission vehicles are not available for broad application in the trucking industry," Jana Jarvis, President & CEO of the Oregon Trucking Association, said in a statement.
Jarvis, who is also chair of the Portland Freight Committee, said that the city applied for the grant last fall, but it was never mentioned in any committee meetings since then.
"The trucking industry is deeply disappointed by the lack of transparency from the City of Portland, and is very concerned about the impact this will have on the movement of products in the still undefined area," Jarvis said.
Officials at the press conference stressed that moving toward a future free of fossil fuels will be beneficial to everyone and, even with all the unknowns, they were excited that Portland was chosen to test this new strategy.
"This project aligns with our city's values around climate by making a safer, cleaner, more equitable system for delivering goods and services," said Tara Wasniak, interim director of PBOT. ""I am very confident that PBOT will make the first regulated zero-emission delivery zone in the United States a success."