PORTLAND, Ore. —
Portland officials plan to announce a new pilot project that would restrict a 16-block area of downtown to only zero-emissions delivery vehicles as part of a $2 million federal grant program.
The area — which will encompass the Portland Building, the Federal Building and the County Courthouse — will be off-limits to traditional gas-powered delivery vehicles for loading and unloading. All other vehicles would be unaffected.
"No one has done this, this way, in the U.S." said Dylan Rivera, a spokesman for the Portland Bureau of Transportation.
In a press release, officials said the goal of the project, in part, will be to "reduce traffic from heavy trucks in the downtown area and replace those trips with zero-emission vehicles, such as electric vans and trucks, cargo bikes, or hydrogen fueled vehicles."
Rivera said city officials will announce the pilot project at a Wednesday press conference that will include federal officials who are flying in from Washington D.C.
The 16-block area would mostly be made up of city, county and federal office buildings, with several other blocks taken up by parks or parking structures. Of the 16 blocks, just four are home to commercial offices, according to a map of the proposed zone.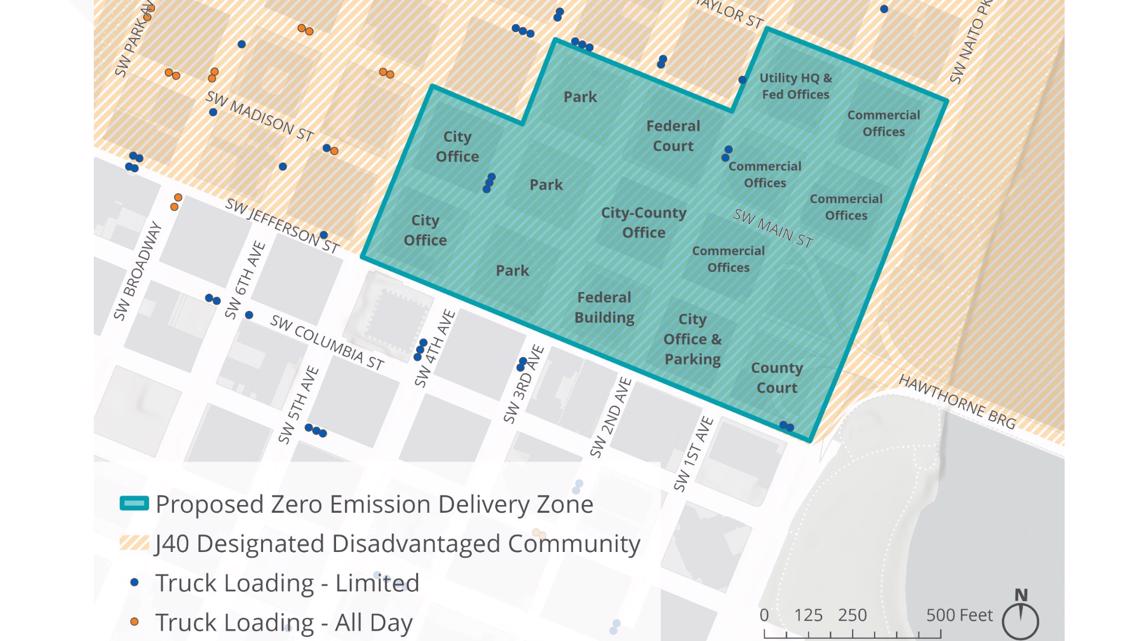 River pointed out that there were many loading zones just outside of the area where traditional vehicles would be restricted.
The exact details are still being worked out, Rivera said, but those who violate the rules will be subject to a parking citation. The plan will be implemented in early 2024, Rivera said.
Rivera said the city will create distribution hubs, likely on the east side, where larger loads can be broken down and delivered by electric bike to smaller private businesses.
The city plans to partner with B-line Sustainable Urban Delivery, a local business that specializes in zero-emissions delivery tricycles and will provide incentives to companies as they work to adjust to the new rules.
Transportation is the largest contributor of greenhouse gas emissions in Oregon, accounting for more than 35% of all emissions in 2021.
Rivera said Portland was one of "only a small handful" of municipalities to be awarded the federal grant, which is part of the Strengthening Mobility and Revolutionizing Transportation, or SMART, program.
The program was established under the Bipartisan Infrastructure Bill and distributed roughly $100 million for nearly 60 projects in 2022.
This is a developing story and will be updated.