PORTLAND, Ore. — One of the biggest challenges facing the planet is the ongoing effort to wean ourselves off of fossil fuels. Carbon dioxide, spewed from tailpipes and smokestacks across the globe, continues to accumulate in the atmosphere, warming temperatures and increasing the intensity of wildfires, droughts and other extreme weather events.
Oregon and other states in the Pacific Northwest have set ambitious targets to slash their carbon emissions — Oregon has set a goal of reducing emissions by 80% by 2050 — but a new report lays out a path, albeit a challenging one, that would bring the region to net-zero emissions within that timeframe.
Eileen V. Quigley, founder and executive director of the the Clean Energy Transition Institute, which produced the report, said the Pacific Northwest is in a unique position to lead the way.
"Our region really could be a proving ground on how to achieve net zero," Quigley said, "and I think we're poised to lead on decarbonization."
The Pacific Northwest is fortunate to already get a sizable chunk of its electricity from renewable sources — wind and solar, mostly in eastern Oregon and Washington, and hydropower along the Columbia and Snake Rivers.
This means that to hit the region's emissions reduction targets, regulators and developers will be able to focus on parts of the economy where it's harder to cut emissions: sectors like aviation, marine transportation, agriculture and heavy industry.
"Those are all strategies that every state and country that's working on decarbonization is going to need," Quigley said. "But we just need them sooner."
Given that our grid is already relatively clean, Quigley said our region could focus instead on developing and producing clean fuels, like biodiesel and hydrogen, to cut emissions in other hard-to-electrify sectors.
A full transition would also require an unprecedented level of regional cooperation. Though the report focused solely on Oregon, Washington, Idaho and Montana, Quigley said that a net-zero future will need to pull resources from across the West.
To fully decarbonize, Quigley envisions a future where solar power from Arizona and southern California will flow through transmission lines alongside wind power from Wyoming and Montana, hydro power from the Pacific Northwest and nuclear power from Utah and Idaho.
"These would all be on the grid at various times during the day, during the year," Quigley said. "They'd be supporting a wide range of technologies that would be providing clean electricity or making fuels to power a much broader set of uses than what we currently use today."
That level of regional cooperation — not just across state lines, but between disparate utilities with vastly different governance structures — would be challenging, Quigley said, but necessary to most efficiently implement a full transition.
And that's just one of many challenges outlined in the report.
To move all that energy around, new transmissions lines will have to be built across long distances. Siting and permitting for new transmission lines can already take decades and frequently faces opposition from communities along construction routes.
Quigley said that developers will need to find a way to tread a fine line: speeding up the permitting process while remaining engaged and responsive to the concerns of local residents who would be impacted.
"Rural, coastal and tribal community members need to be at the table to make the decisions about what will work for them when it comes to renewable energy development and transmission expansion," she said.
There's also an economic justice component to the transition. When most fossil fuel infrastructure is built, like natural gas pipelines, it's paid for by customers over the course of its functional life. As more customers transition from gas to electric appliances, the pool of customers left to pay for the pipelines would shrink, leaving the burden of the cost only on those who were unable or unwilling to make the switch.
A full transition will also result in a huge spike in electricity demand. The report found that demand for electricity would more than double, a 105% increase, by 2050.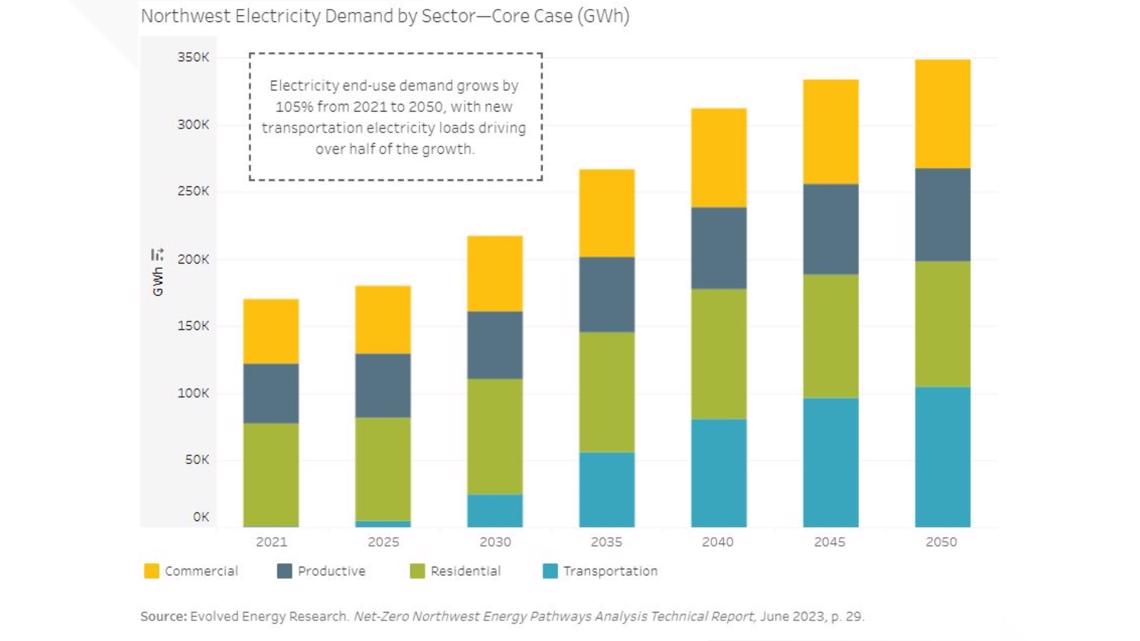 Even with that increase, though, Quigley said overall demand for energy would actually decrease by 30%.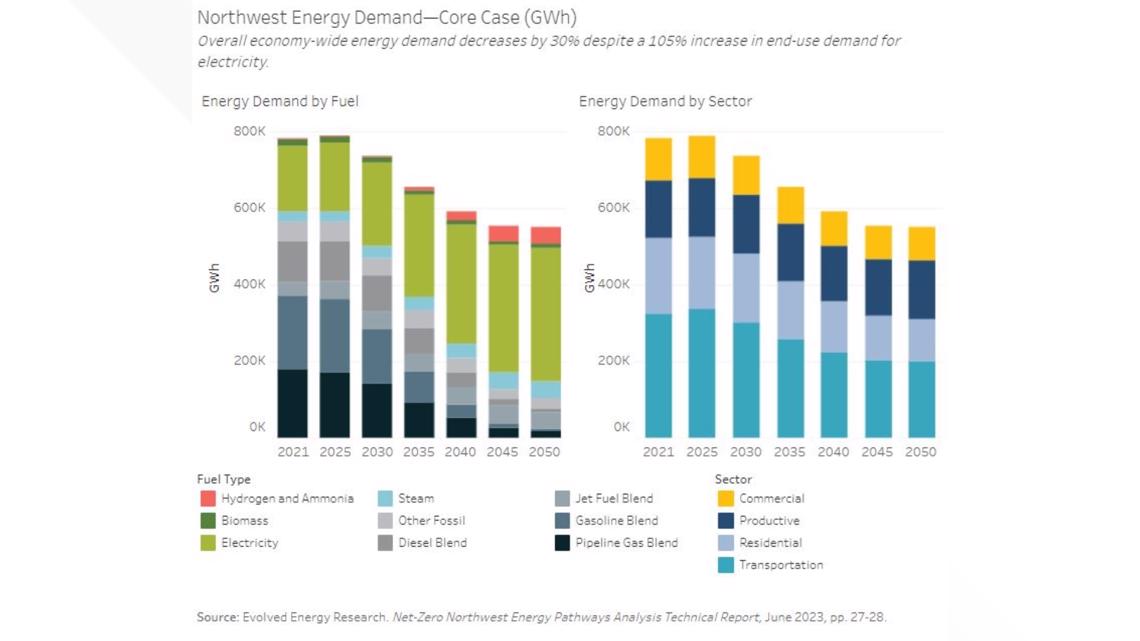 "That's because electricity is inherently much more efficient than fossil fuels," Quigley said.
A full transition would come with other benefits, too. The report found that, by 2050, the region could see economy-wide savings of $4 to $8 billion per year. Additionally, the drop in pollutants would see the region avoid 18 to 40 deaths per million people.
Despite all the challenges. Quigley said the shift she's seen over the last several years has her hopeful that a fully decarbonized economy, which scientists have repeatedly said is necessary to avoid the worst impacts of climate change, is possible.
"It's no longer an uphill slog to even have these conversations. It's on everybody's mind because unfortunately we're experiencing the impacts of climate change already," she said. "I see so much activity in so many different quarters, all pointing in the right direction, and the economics are shifting so that's what gives me hope."