BEND, Ore. — Urge to Kill is a KGW podcast following the rape and murder of Kaylee Sawyer. After celebrating a bachelorette party in downtown Bend, Oregon in July of 2016, Kaylee disappeared in the middle of the night. The horrific details of her brutal rape and killing shook the residents of the quiet town in the Pacific Northwest. Her murderer would go on to terrorize several other families in a multi-state crime spree. He said he had the "urge to kill." Our team sat down with all of his victims who were lucky to get out alive.
It was the evening of Monday, July 25, 2016.
Aundreah Maes, 19, walked out to her car after working a double shift at a Ross Dress for Less in Salem, Oregon, just a couple of hours northeast of Bend.
She took a quick selfie on Snapchat and was reading a Facebook message when a stranger's arm suddenly shot through her window.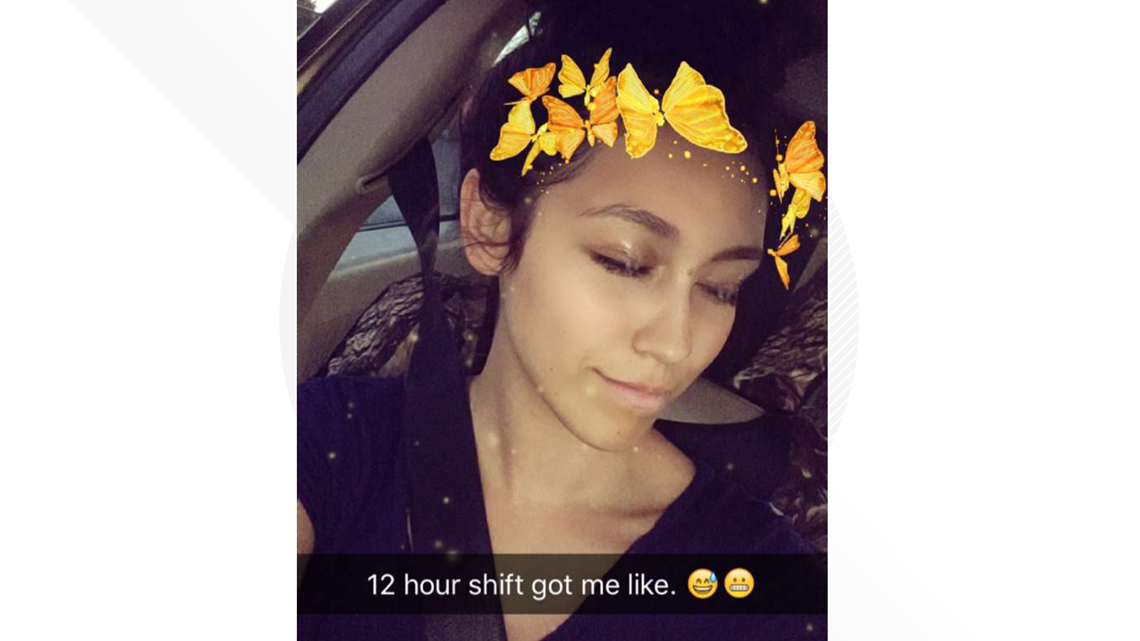 "He was really pressed up against my window and I didn't see a face," said Maes. "I thought it was just a co-worker playing a prank on me or someone I knew. Never in a million years did I think what was happening to me was actually happening."
That stranger was armed, he was carrying a backpack and wearing a bulletproof vest. Aundreah had no way of knowing that Edwin Lara, the stranger who had just gotten into her car, was on the run for murder.
Edwin demanded that she drive.
"I was hyperventilating, I just started driving. I had no idea where I was going. In my head, I was just like, take him to where he needs to go and I'll let you go, and I was like great, down the street, I'll drop you off wherever you want," she said. "That's when he told me, 'I need to get to California,' and I'm like, 'OK, things are different now.'"
Edwin told Aundreah that he had been waiting in that parking lot for some time. He was hunting for a woman.
"That's where he saw a pregnant lady and he asked her something and she brushed him off and kept walking and his comment to me about it was, 'Little does she know what I could have done to her,'" said Maes.
She had walked out to her car, grabbed a bag to return some clothes, gone back into the Ross and come out again all while he watched.
"That's how it felt 100 percent. He said he was at Ross, he saw me walk to my car and get my bag and return it and watched me walk back to the store. He watched me the whole time," she said. "It gives me chills."
After driving for only an hour, Lara made her pull over. He told her she was driving too fast and he was worried about attracting attention from police. He handcuffed her to the gearshift and took over driving.
That's when he started asking her about his life – making small talk. Aundreah stood her ground.
"[I told him,] 'I don't want to answer your questions,' and would just shut him down. I'm like, if you're going to do anything to me regardless, I can't stop it, but I am not going to give you information to the people I care about you could potentially harm too," she said.
Edwin told her about his life, about his wife, about being a "cop." He didn't divulge that he was just a campus security officer.
Then, as if speaking casually about his life to a woman he had just kidnapped, Edwin told Aundreah about murdering Kaylee.
"He was showing me pictures of his wife, and he's like, 'Oh I'm a cop, I don't know if you heard what happened to the girl I just killed.' He was trying to show me the article, and I had no idea what was going on at the time, but I was just like, this guy is on something," Aundreah said.
She knew her life was in danger, so she tried to keep calm. A few hours into their drive, Edwin decided they should stop at a roadside motel in southern Oregon.
"He made me pretend to be his girlfriend and like hold my hand and it was the most awful feeling ever, being forced to act like something when you know what's going on," Aundreah said. "I always wondered how the motel clerk didn't notice any signs. I'm this young-looking girl with an older looking guy and I looked completely tore up, no makeup and I had been crying."
Edwin warned her not to ask for help – not even to make eye contact – or he would kill her or the clerk.
Without any issues, they were handed their room keys. Once inside, Edwin handcuffed Aundreah to the bathroom door. He used a T-shirt to wrap around her head while he showered.
Then he told her to shower and she refused.
"I had told him, 'I didn't bring clothes, like what do you expect me to change into?' and I was like, 'I didn't expect to be kidnapped,' and I just had made little remarks. He would never say anything back and I was just thinking back, like wow, I was really gutsy to say things like that to him knowing he had a gun and he had told me he had just killed somebody," said Maes.
Edwin uncuffed her, then re-cuffed her to the bed frame. He came prepared with sleeping pills. He told Aundreah that she had to take them. If she refused, he threatened to force her to take them – he was prepared with syringes.
She decided to swallow the pills but fought hard not to fall asleep.
"I just kept thinking, if I fall asleep, he will try to – knowing how disturbing he is, probably still try to take advantage of me. That was my motivation for trying to stay awake," she said.
Edwin eventually leaned over and started licking her earlobe.
All of a sudden, an alarm went off on Aundreah's phone.
Edwin panicked. He asked who was calling, or what the alarm was for.
She had seconds to make up a story.
"I told him, 'Yeah, it was my alarm, I have an STD and I take medicine every day. I have to control it, it's really harmful to me.' He just started asking me like a bunch of questions trying to figure out what it was exactly, I was just trying to make it sound as disgusting as possible to deter him and ultimately it worked," Aundreah said.
If not for Aundreah's lies, she said she was certain it was going to take a turn for the worse.
A few moments later, Aundreah remembers Edwin taking a call. She said he was talking in Spanish. Aundreah does speak Spanish, but she could only pick up bits and pieces of the conversation. She was exhausted.
She said he sounded paranoid. He told the person the phone that "they" were sending helicopters and that he had to go. That is when he began grabbing his things and getting Aundreah out of the bed.
Aundreah tried to convince him to let her stay behind but he refused.
"He was just like, 'No, you need to come with me.' Basically still trying to use me as a human shield. He kept saying if something were to happen, they wouldn't shoot him if I was there," Aundreah said.
Aundreah's car, which Edwin had stolen when he kidnapped her, was leaking oil. They weren't on the road long before Edwin decided they needed another car – they were going to have to steal it.
Next time on Urge to Kill:
Edwin Lara's crime spree takes another turn. Armed with a gun he ravages the lives of several people in his attempt to evade police after the murder of Kaylee Sawyer and the kidnapping of Aundreah Maes.
Catch up on previous episodes: