BEND, Ore. — Urge to Kill is a KGW podcast following the rape and murder of Kaylee Sawyer. After celebrating a bachelorette party in downtown Bend, Oregon in July of 2016, Kaylee disappeared in the middle of the night. The horrific details of her brutal rape and killing shook the residents of the quiet town in the Pacific Northwest. Her murderer would go on to terrorize several other families in a multi-state crime spree. He said he had the "urge to kill." Our team sat down with all of his victims who were lucky to get out alive.
Isabel Ponce-Lara was just a rookie cop when her professional and personal lives came skidding to a halt on Monday, July 25, 2016.
That day, Isabel's husband, Edwin Lara, told her he hit a girl with his car while he was working as a security officer at nearby Central Oregon Community College.
Edwin told his wife the woman he hit was 23-year-old Kaylee Sawyer, who was reported missing that weekend by her friends and family. He told Isabel he panicked, and dumped her body.
After he admitted to killing Kaylee, he took Isabel's gun and fled their Redmond, Oregon home before Isabel could stop him.
Later that night, Isabel found herself in an interrogation room with officers from the Redmond Police Department. We obtained her second interview, which was conducted the next morning.
In the video, she is being questioned by Deschutes County Sheriff's detective James McLoughlin and another investigator, about the timeline of her husband's activities from early Sunday morning, when he came home from work, through Monday, when he fled Redmond.
"So, our main concern, number one is that nobody else gets hurt," said McLoughlin. "I mean that's the one thing that I think we can't legitimately get past at this point in time... our main concern is that someone else doesn't get hurt and that includes Edwin. Absolutely."
Isabel said Edwin worked his Saturday night shift and came home after midnight Sunday. He went to bed like normal. She said she normally woke up when he came home, but that night she didn't remember exactly when he got in.
On Sunday, they woke up early, as they always did, and went to church.
Isabel admitted Edwin was acting quiet and reserved but she assumed it was because they were going through a rough patch and she didn't want to make it worse.
Sunday afternoon, Isabel, Edwin and Edwin's cousin Vinny went to see the horror movie "Lights Out" at a local theater.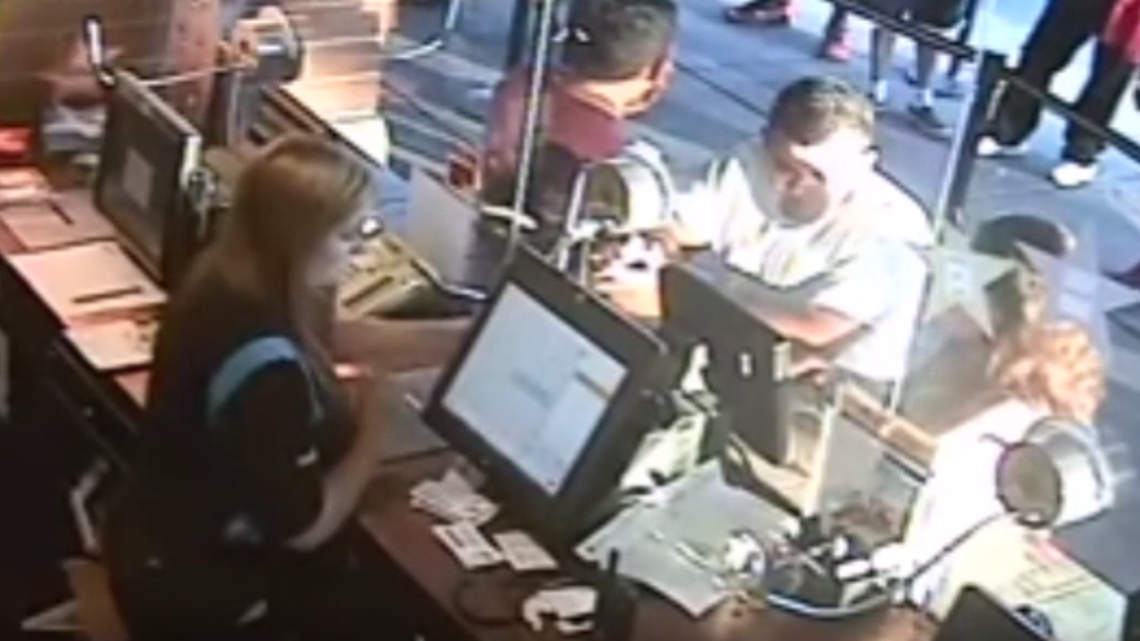 After the movie, they dropped off Vinny at his house, went back home and eventually went to bed.
Monday morning, Isabel woke up around 9 a.m. but Edwin stayed in bed a while longer. Isabel watched TV and turned on the sprinklers. Edwin eventually came out of the bedroom and Isabel could clearly see that he was upset.
"He comes out of the room and his eyes were all teary and that's when I'm like, 'What happened, tell me what happened, what's wrong?' So, he sits on the sofa and I turn off the TV and he just says, 'I killed a woman,' that's what he said. And I'm like, 'What do you mean?' And he's like, 'I hit her with the car.'"
Edwin maintained he accidentally hit and killed Kaylee with his campus security car. He told her he panicked, hid Kaylee's body, and put Kaylee's belongings in their shed.
He grabbed Isabel's gun, got into his car, and left.
"It wasn't making any sense to me because I was like, 'Why would somebody hit somebody and then do that? Especially him, like it doesn't make any sense,'" Isabel said through her tears to detectives.
At this point, police still think Edwin hit Kaylee with his car, but have yet to find Kaylee or Edwin.
"We knew he was dangerous based on his wife's statements," said Lt. Eric Beckwith of the Redmond Police Department. "When you do those investigations, you try not to make assumptions -- that it was an accident. But in our minds, we knew that that's not what a reasonable people do. Some people leave the scene of accidents because they're scared, but they return a short time later or something like that. But that's not what Ed did."
Meanwhile, a team of detectives made a chilling discovery inside Edwin and Isabel's shed: a trash bag full of Kaylee's belongings.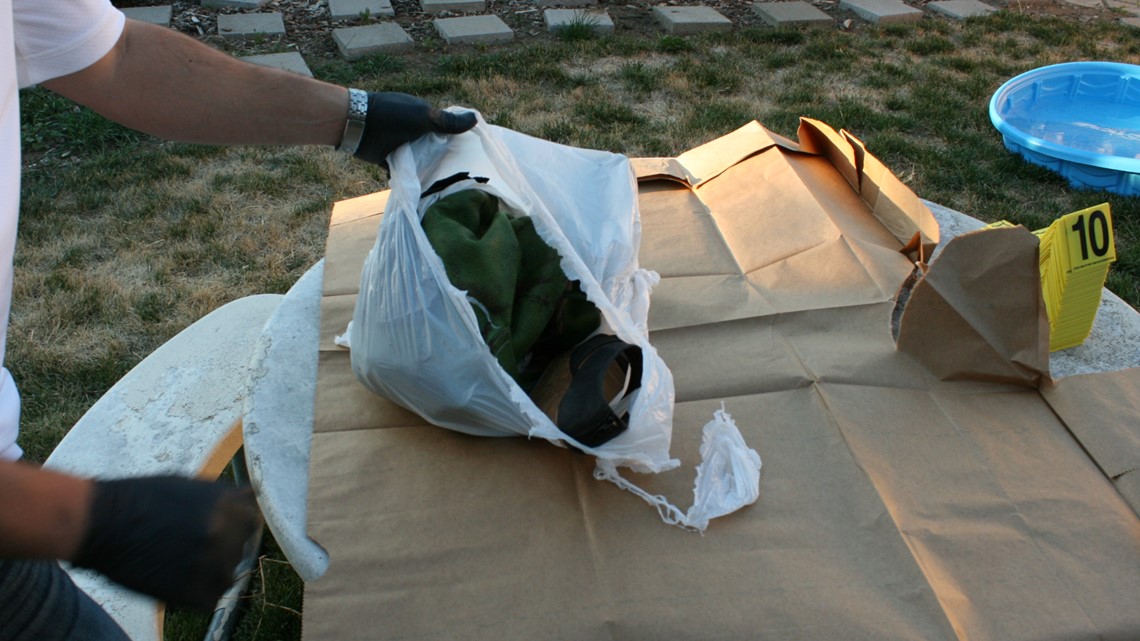 Her green purse was soaked in blood, filled with all her belongings, including her passport which she was using as an ID while she was out drinking. She had lost her ID in a recent trip to Portland.
Inside another plastic bag they found clumps of blonde hair, now stained red. Police also find a boulder covered in blood -- a murder weapon.
"We found pretty damning evidence linking Ed to Kaylee's murder," said Beckwith. "We also found a significant amount of evidence that disputed the fact that he had hit her with a car."
Inside a tire, officers found Edwin's work uniform.
And propped against the walls of the shed was a presentation Edwin used in his psychology class on the "Railroad Killer," a drifter accused of killing at least 15 people in the late 1990s.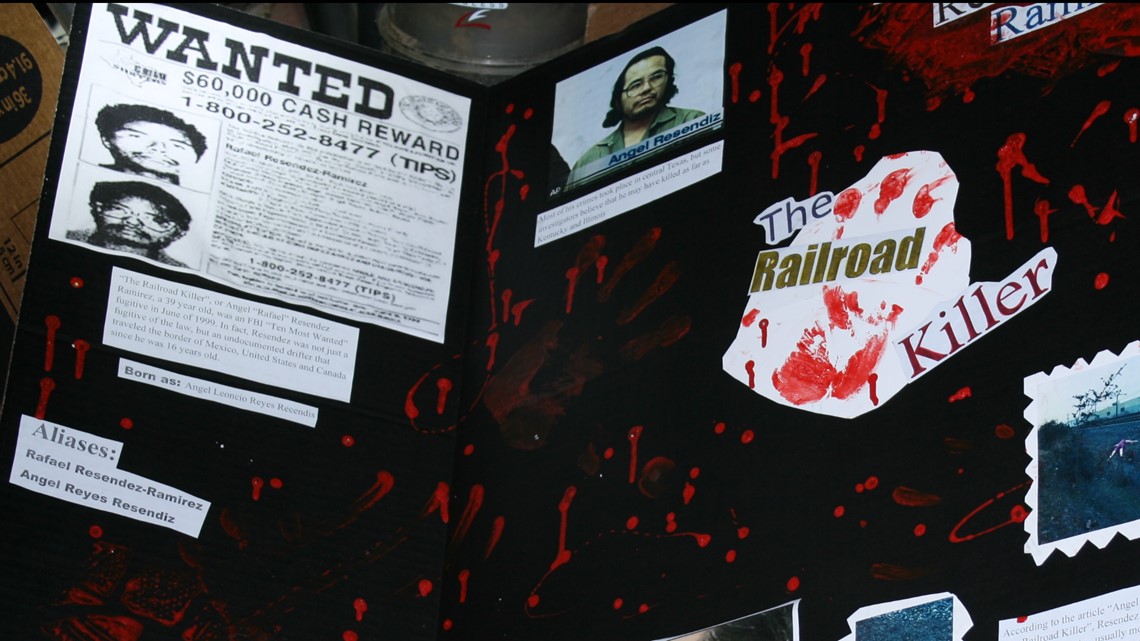 Edwin used red paint to create "bloody" handprints and spatter. He had printed off graphic pictures of at least one victim's body.
"Not only does he do research on serial killers, but the serial killers that he picked kind of mimic the crime that he committed," said Beckwith. "That's stuff that's still concerning to me to this day. Some of the cases he investigated were about killers who had used weapons or opportunistic things that were available to them at the scene to kill people. And he does the same thing, he uses the rock and his hands to kill Kaylee. There were some things we found during the search warrant and through our investigation into his background that was definitely alarming."
So, with the evidence from the shed, police start to put together the pieces. Edwin's confession to Isabel is not matching up with the evidence found in the couple's shed.
Police switch Kaylee's case from a missing person's case to a homicide case. They now have to make Kaylee's family aware that the evidence indicates their daughter is no longer alive.
"I remember just going to bed and I was just so exhausted, and Jamie had disappeared for a little bit, for probably about 20 minutes and I didn't hear the dogs barking. And evidently somebody had come over and it was the detectives," said Crystal Sawyer.
She said Jamie, Kaylee's father, came back upstairs and stood at the foot of the bed.
"He says 'My worst nightmares have just come true,' and I sit up and I'm like, 'What do you mean?' he goes, 'It just switched from a missing persons to a homicide.'"
The following day a search party was set up to search for Kaylee. Crystal and Jamie had to go through with it and couldn't tell a single soul that it was a murder.
Julie Van Cleave, Kaylee's mother, remembered hearing a knock on the door.
"I opened the door and it was two state troopers there. They were dressed in a suit and tie and I knew they were coming to tell me something," said Van Cleave. "They were here to let us know that they hadn't found Kaley but that based on some new evidence they were moving it from a missing persons case to homicide."
Van Cleave asked the detectives to stay while she called her parents, "So, then I went in and had to make the worst call I've ever made."
After the grisly discovery of Kaylee's blood-soaked items, police knew they had to learn more from Isabel as quickly as they could.
They asked if Edwin had anger issues, if he was violent, or if he drank.
Isabel said they had quit drinking when they went back to church and she had never known him to be violent. But he had recently had an affair with a woman he had met in California where some of Edwin's family lived. She said while she was in the police academy, they had begun seeing one another.
But she said he had begged for forgiveness and they were working through it.
The officer in the room asked, "Was he happy that you were getting into law enforcement?"
Isabel said that Edwin had initially been supportive, but things had fallen apart when she entered the academy. After she found out about the affair she said she had gone on several ride alongs with him at his job at COCC.
"Do you know much about his job? Does he travel with a partner or is he usually alone most of the time?" asked McLoughlin.
"As far as I know he's usually alone," said Isabel.

Detective: "Is there any areas that were like out of the way that he took you to on any of those ride alongs that were like super discreet super like kind of hidden like public wouldn't see it?"
Detective: Would that be kind of his normal?
Isabel: "Yeah he said that because he would do his rounds, so there were parts where he would, I don't know if everybody goes through that, he would go up a dirt road and get to another section, patrol that building, it's kind of like the back roads to the actual paths."
She may have ridden with Edwin up the very road that he had driven Kaylee up before he murdered her. As police are gathering information, they understand the clock is ticking and every second means Edwin is getting farther away.
They ask Isabel to call him.
His phone goes straight to voicemail.
What police and Isabel don't yet know is that not only is Edwin getting farther away from them – he has kidnapped a second victim.
PHOTOS: Evidence found inside Edwin Lara's shed
Next time on Urge to Kill:

In episode 3 we introduce you to Aundreah Maes who was just 19 when she was kidnapped by Edwin Lara at gunpoint just hours after he murdered Kaylee. You'll learn about her strength and what it was like to spend 24 hours with a murderer.