PEORIA, Ariz. — One-year-old Oliver Garza-Pena stopped in his tracks when he saw the poster in Target's clothing section.
The banner advertising a sale on shirts featured a model who, like Oliver, uses a wheelchair. In fact, all the shelves surrounding the ad were dedicated to Target's line of inclusive kidswear, Cat and Jack, which sells adaptive clothing like bodysuits and specialty pants.
Though he can't say much yet, he can move his wheelchair independently. He was rolling through the store and came to a stop when he saw the ad, gazing up at the model.
Oliver's mom, Demi Garza-Pena, snapped a photo of the special moment. She said she was grateful her son could see himself represented in the inclusive advertisement.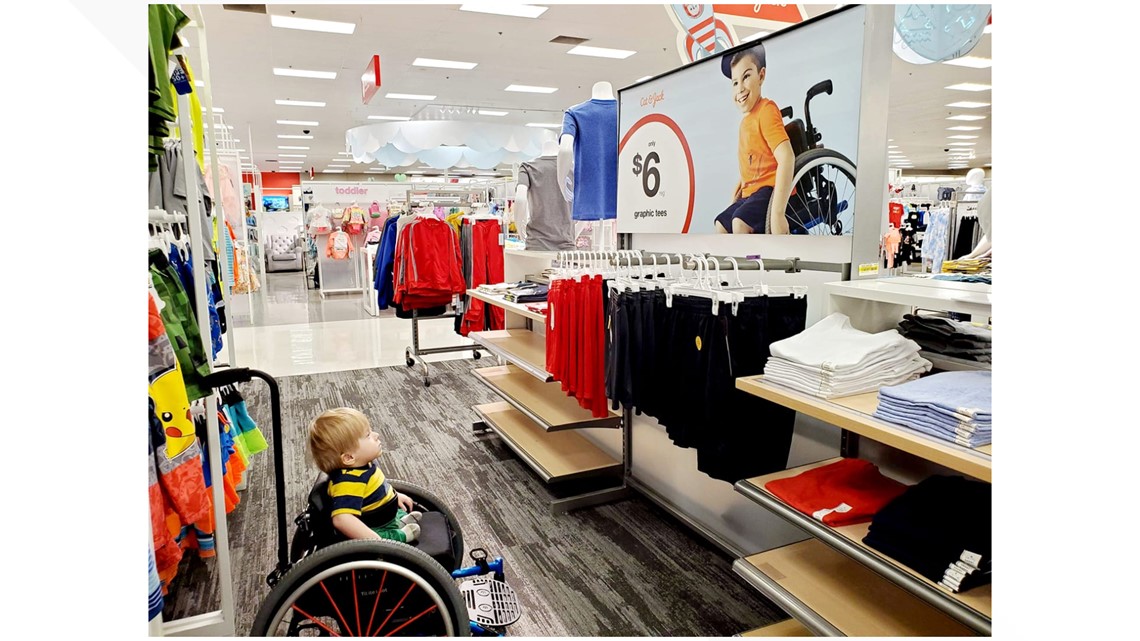 "Anything he sees that makes him feel not different- that's what a parent wants," Demi said.
Oliver has Caudal Regression Syndrome, a rare condition which prevented his spine from fully forming. His spine only grew halfway and he has some paralysis from the belly down. Doctors discovered the condition when Demi was 18 weeks pregnant.
Oliver can't walk and will never be able to "un-bend" his legs as a result of the condition.
"We just adapt," Demi said.
It's important to Demi that Oliver not feel different from other kids as he gets older, which is why she wanted to share the special moment with others on Facebook.
The photo was shared more than 29,000 times, digitally traveling across the country from the Garza-Pena family in Arizona to Massachusetts, where the model in the photo, Colton Robinson lives.
The photo made its way to Ashley Robinson, Colton's mom. Colton has spina bifida, a condition similar to Oliver's which also affects the spine.
The two moms connected and message regularly online. They want their sons to meet in person one day.
Demi hopes their story will promote inclusivity towards people like Oliver and Colton.
"I want people to see he's just like everyone else," she said.
HeartThreads are the best stories about the best of us. Want more? Follow us: