COVID-19 and college sports: When teams could return to play in Oregon
Here's what we know about the status of sports at Oregon colleges.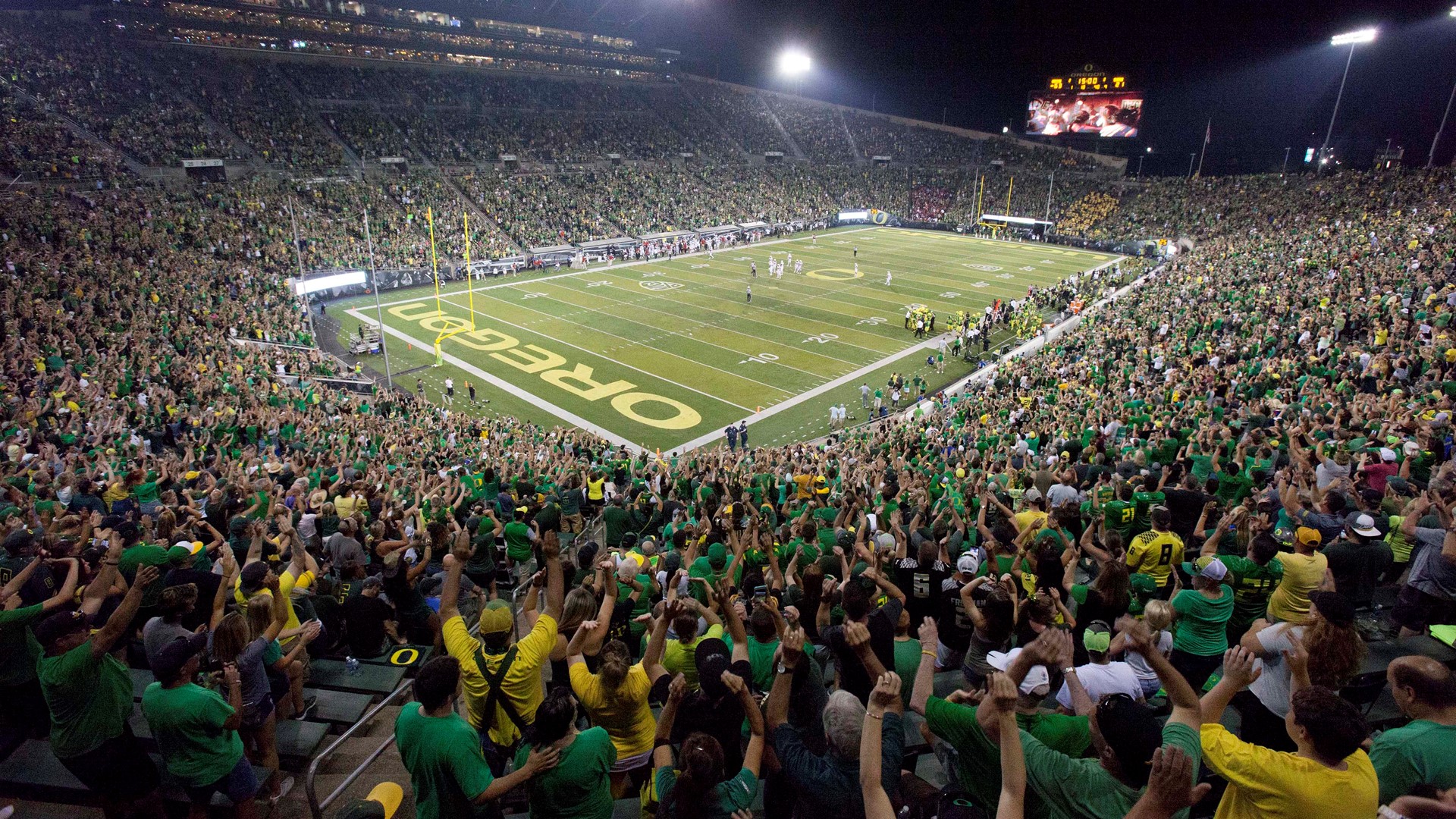 Like most parts of American society, the coronavirus pandemic has affected the landscape of college athletics, with many universities postponing their fall sports seasons.
That means Saturdays this fall won't be filled with Ducks and Beavers fans donning their universities' colors and rooting for their teams. It also means the student-athletes who worked all offseason training for the opportunity to compete and show off their skills this fall are left wondering when they'll be able to play the sport they love again.
That unknown is hanging over college athletics right now, as well as the COVID-19 pandemic as a whole. So while it's unclear when college athletics will return, at least in Oregon, here's what we know about the status of sports at Oregon colleges.
Chapter one
:
University of Oregon
The Pac-12 announced on Aug. 11 that all sports, fall and winter, will be postponed until Jan. 1, 2021 at the earliest. The conference will consider what a return for sports impacted by the postponement could look like next year.
The vote among the conference CEO group was unanimous. Student-athletes will continue to have their scholarships guaranteed, Pac-12 Commissioner Larry Scott said. The Pac-12 also encouraged the NCAA to grant students who opt out of competition this year an additional year of eligibility.
The university said three factors played into the Pac-12's decision:
Prevalence of COVID-19 in Pac-12 campus locations.
Emerging evidence of lingering heart problems stemming from the disease.
Question about the viability of a robust testing program that would be needed to ensure a safe return-to-play environment.
Prior to the season being postponed, athletes began on-campus voluntary workouts in June, which included COVID-19 testing. The university hasn't publicly disclosed how many athletes tested positive for the coronavirus.
The Portland Business Journal reports, based on 2018-19 academic year data from the U.S. Department of Education, the University of Oregon took in $108.5 million in athletic program revenue, with football bringing in the most money, $72.1 million.
Chapter two
:
Oregon State University
Oregon State University, because it is also a member of the Pac-12 conference, has had all sports postponed until 2021.
Similarly to the University of Oregon, voluntary on-campus workouts resumed in June. Unlike its in-state rival though, Oregon State University disclosed its testing results of returning athletes. According to The Oregonian/OregonLive, there were three positive tests in the nearly two months of testing and an athlete hadn't tested positive since the week of July 12-18.
The Portland Business Journal reports Oregon State University took in $82.4 million in athletic program revenue during the 2018-19 academic year, with football accounting for $35.8 million.
Chapter three
:
Portland State University
Portland State University is in the Big Sky Conference, which announced on Aug. 13 that all fall sports would be postponed to spring 2021. The decision impacts football, soccer, volleyball, softball, cross country, golf and tennis.
The conference said schools "may continue with permissible athletics activities at their discretion while abiding by NCAA legislation, campus policies, and local and state regulations."
A decision about winter sports will be made at a later date.
Chapter four
:
University of Portland
The University of Portland is in the West Coast Conference, which announced on Aug. 13 that all fall sports would be postponed. The decision affects soccer, volleyball and cross country. The conference hopes those sports can begin in the spring.
The decision does not affect the men's and women's basketball seasons set to take place this winter. More information about the basketball seasons will be released later.
Chapter five
:
Great Northwest Athletic Conference
Western Oregon University, in Monmouth, is the lone Oregon school in the Division II Great Northwest Athletic Conference, which announced on July 17 all athletic competitions were suspended through Nov. 30.
In the July announcement, conference commissioner Dave Haglund said discussions were ongoing about fall sports being played in the spring. On Aug. 5, the NCAA Division II Presidents Council canceled fall sports championships and said postponing them to spring was not feasible.
The CEO board of the Great Northwest Athletic Conference will give an update by Oct. 15 on the possible return of athletics.
Chapter six
:
Northwest Conference
The Northwest Conference, which is in the NCAA's Division III, announced on July 22 that football, soccer, rowing and volleyball would be postponed. On, Aug. 17 the conference announced all competitions and championships would be suspended until Jan. 1, 2021.
The following Oregon schools are in the Northwest Conference:
George Fox University (Newberg)
Lewis & Clark College (Portland)
Linfield College (McMinnville)
Pacific University (Forest Grove)
Willamette University (Salem)
The conference hopes to develop a schedule that will allow for all affected sports to be played in the spring.
Click on the following links for the full July 22 and Aug. 17 announcements from the Northwest Conference
Chapter seven
:
Cascade Collegiate Conference
The Cascade Collegiate Conference, which is in the National Association of Intercollegiate Athletics (NAIA), announced on July 17 that its Council of Presidents decided to delay the start of all conference fall sports, with the hope of playing them in the winter or spring. All competition was also suspended until at least Nov. 1, when the status of the return of athletics will be reevaluated.
The following Oregon schools are in the Cascade Collegiate Conference:
Corban University (Salem)
Eastern Oregon University (La Grande)
Multnomah University (Portland)
Northwest Christian University (Eugene)
Oregon Institute of Technology (Klamath Falls)
Southern Oregon university (Ashland)
Warner Pacific College (Portland)
Chapter eight
:
Northwest Athletic Conference
The Northwest Athletic Conference, which is made up of community colleges in the Pacific Northwest and British Columbia, announced on July 9 that most sports were postponed until 2021.
The following Oregon schools are in the Northwest Athletic Conference:
Blue Mountain Community College (Pendleton)
Chemeketa Community College (Salem)
Clackamas Community College (Oregon City)
Lane Community College (Eugene)
Linn-Benton Community College (Albany)
Mt. Hood Community College (Gresham)
Portland Community College (Portland)
Rogue Community College (Grants Pass)
Southwestern Oregon Community College (Coos Bay)
Treasure Valley Community College (Ontario)
Umpqua Community College (Roseburg)
When sports return, athletes and teams will move through several phases, including a re-entry plan, limited group practice, modified team practices and full team practices and games.