5 things to know about Norman Powell, the newest Portland Trail Blazer
Most people know Powell can really shoot the ball. But what else does he bring to the table for the Blazers?
Lynne Sladky, Associated Press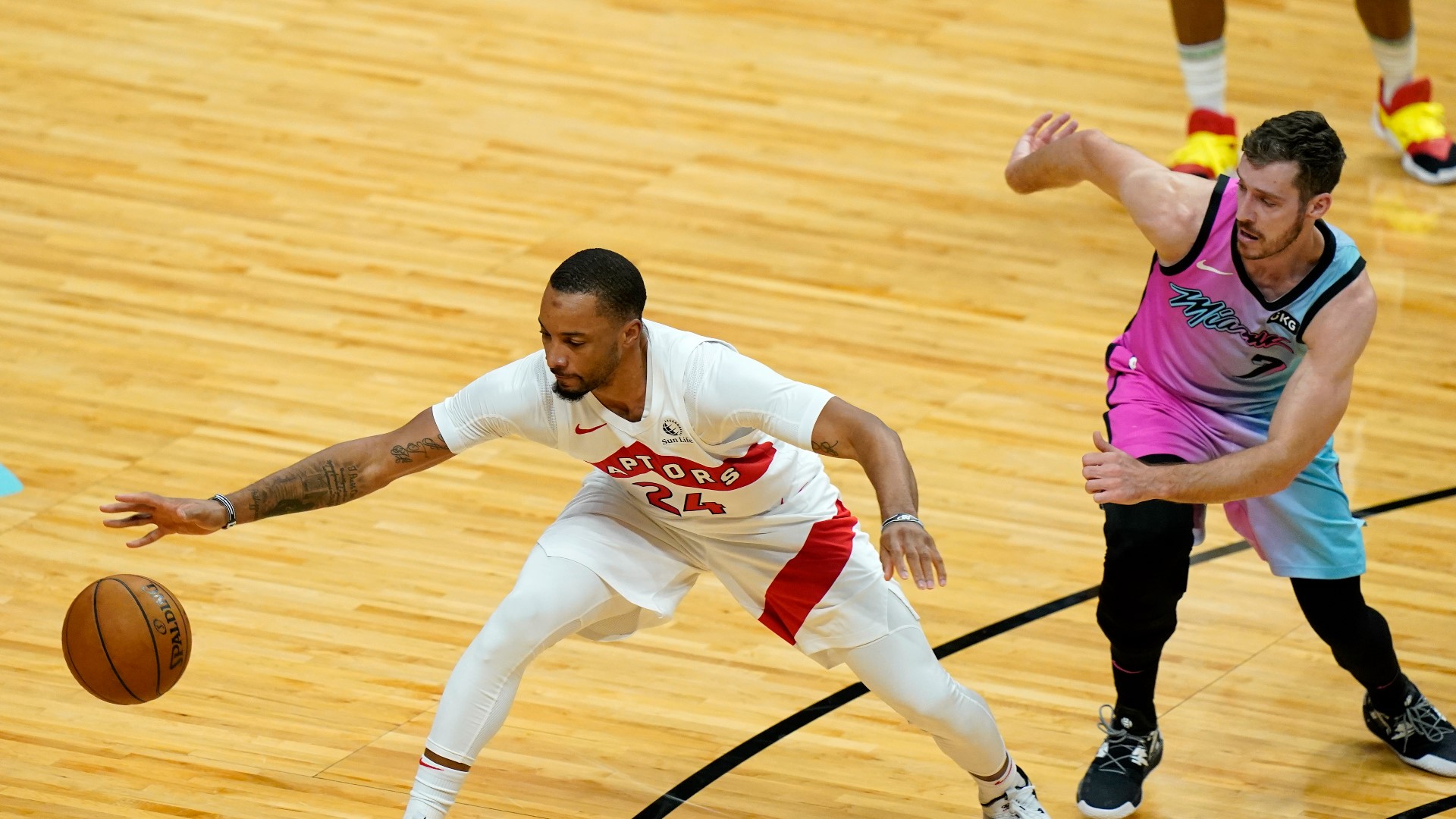 If the Portland Trail Blazers were looking for more shooting and offense, that's certainly what they got when they traded for Toronto Raptors wing Norman Powell before the NBA trade deadline on Thursday.
Powell's new head coach, Terry Stotts, said Powell is a "really good two-way player" and that he'll have a major role with the Blazers. He may be available to suit up for Friday's game against the Orlando Magic, but if not by then, certainly in time for Sunday's matchup against his former team and Gary Trent Jr. and Rodney Hood, the players he was traded for.
The 27-year-old wing is a great shooter and has been to the playoffs with the Raptors each of the past five seasons. He was a key reserve for the team that won the NBA championship two seasons ago. He's in the midst of his best season, averaging nearly 20 points per game and shooting 43.4% from the 3-point line, which ranks 10th in the league.
"He's played an impact role on a championship team," Stotts said. "That's why we got him. He's going to help us compete at a high level."
Here are five things to know about Portland's newest player before he takes the court for the Trail Blazers:
Good length, not height
:
Powell isn't a tall NBA player. He's listed at 6-foot-4. An undersized shooting guard? The Blazers don't really need more of those. But what Powell lacks in height he makes up for in length. He's got a long, sturdy frame with a 6-11 wingspan and weighing in at a solid 215 pounds. He's quick enough, long enough and strong enough to guard point guards, shooting guards and small forwards. That makes for an intriguing fit in Portland because he can theoretically play small forward next to Damian Lillard and CJ McCollum without giving up as much defensively as you'd expect from a three-guard lineup. "What he can do defensively on the perimeter is something we really need and value," Stotts said. Nineteen of the 30 starting small forwards in the NBA have a wingspan of 6-11 or shorter, so Powell measures up. He might struggle against longer small forwards like Kawhi Leonard and Brandon Ingram, but that's why the Blazers have Robert Covington and his 7-2 wingspan and Derrick Jones Jr. and his 7-foot wingspan. In fact, Powell has played small forward more often this season for the Raptors than he has shooting guard. More on that later.
Elite shooter
:
Powell is a career 38% 3-point shooter. After a great start to his NBA career, shooting 40.4% from 3 as a rookie, he struggled his next two seasons, making just 32.4% of his 3-point attempts his second season and 28.5% the season after. But he's been one of the best 3-point shooters in the NBA over the past three seasons. Powell ranks 10th in the NBA in 3-point accuracy this season at 43.9% after shooting 39.9% last season and 40% the season before. He's had two breakout seasons in a row. He averaged 16.0 points, 3.7 rebounds, 1.8 assists and 1.2 steals last season while shooting 49.5% from the field and 39.9% from 3. This season, he's been even better, averaging 19.6 points, 3.0 rebounds, 1.8 assists, 1.1 steals and shooting 49.8% from the field and 43.9% from 3. This season's numbers are even more impressive considering how poorly he started. Through the first 14 games, he was shooting less than 40% from the field and averaging only 11.7 points per game. But starting Jan. 22, he took off. In the past 28 games, Powell has averaged 23.5 points, 3.5 rebounds, 2.4 assists and 1.2 steals, while shooting 53% from the field and 45% from 3.
Can he play small forward?
:
Subtitle here
Powell can play either position, but during his breakout season this year, he's been more impactful at small forward than at shooting guard. According to Cleaning the Glass, Powell has played 52% of his minutes at small forward and 45% at shooting guard. When he's the shooting guard on the court, the Raptors are actually 4.5 points worse than when he's on the bench. But in the minutes he's played small forward, Toronto was 3.5 points better with him on the court. Prior to this season, he's played shooting guard more than small forward with the Raptors, but he has swung between the two positions with a little more success at small forward. In four of his first six seasons, the Raptors have been better with Powell at small forward than at shooting guard. This season, Toronto was eight points better with Powell at small forward than at shooting guard, in 2017-18, they were 9.4 points better, in 2016-17 they were 7.5 points better and in 2015-16, they were 17.2 points better. In 2018-19, the Raptors were 2.7 points better with Powell at shooting guard than small forward. The biggest outlier was last season, when Toronto was 14.9 points better with Powell at shooting guard than small forward. What does it all mean? It means Powell can play minutes at small forward and has the potential to thrive at that position for the Blazers.
More than just a shooter
:
Powell's greatest strength is his ability to stretch the floor with his outside shooting, but he can also create his own shot and get to the rim, where he's a good finisher. The past three seasons, Powell has shot 62.1%, 65.2% and 64.5% in the restricted area. The only players on the Blazers roster with better numbers this season at the rim are Derrick Jones Jr. and Enes Kanter. When you look at what Powell does well on offense, it lines up nicely with the Blazers' offensive philosophy. As a pick-and-roll ballhandler, he scores in the 92nd percentile. In isolation, he's in the 98th percentile. As a spot-up shooter, he's in the 86th percentile and on cuts, he's in the 84th percentile. He has the offensive ability to be more than just a catch-and-shoot release valve for Lillard and McCollum. When defenses gear up to stop the Blazers' star guards, Powell is the kind of offensive player who can stretch the court or get to the rim and score. That's not a skill many other Blazers players possess.
About that defense
:
Subtitle here
Some of the defensive metrics don't look pretty for Powell. In ESPN's Defensive Real Plus-Minus this season, Powell ranks 97th among small forwards and his -2.25 marks pegs him as a poor defender. But the defensive metrics on Powell are a bit all over the place. Last season, he ranked 27th among shooting guards with a positive mark of +0.62. His first five seasons, he had a positive defensive box score plus-minus, according to basketball-reference, before his number dipped into the negative this season. Until this season, he'd had a good defensive rating, according to NBA.com, which showed at least that he could be part of a good defensive team. Zach Harper of The Athletic, in his analysis of Thursday's trade, wrote that "Powell is a solid defensive player, especially in a good system like we saw in Toronto." This season, Powell is averaging 2.3 deflections per game, which is higher than any Blazers player other than Robert Covington. And his defensive field-goal percentage is 45.2%, which would rank third on the Blazers. It appears Powell has the length, athleticism and smarts to be an impactful defender, even if the metrics don't always bear it out.