Editor's note: Video is from a Straight Talk episode taped in December 2018.
PORTLAND, Ore. -- The group working to bring Major League Baseball to Portland apparently needs more time to evaluate a riverfront site for a possible stadium and mixed-use development.
The Portland Diamond Project announced Tuesday that it has come to an agreement with the Port of Portland to continue due diligence on the property located at Terminal 2, in Northwest Portland.
Six months ago, PDP announced it had struck a development deal with the Port for the 45-acre Terminal 2 property on Northwest Front Avenue, just north of the Pearl District and Slabtown neighborhoods. The "agreement in principle" would make the PDP the master developer of the property, secured by a long-term lease.
On Tuesday, PDP announced an agreement with the Port for up to six months of extensions of the original deal to continue due diligence. PDP will pay the port $37,500 for each month of additional due diligence.
"We love the opportunity that Terminal 2 presents for a ballpark on the waterfront and a new neighborhood that extends the central city," according to a PDP statement. "We have an agreement to continue evaluating Terminal 2 and that's where our energy is focused."
Photos: Portland Diamond Project stadium renderings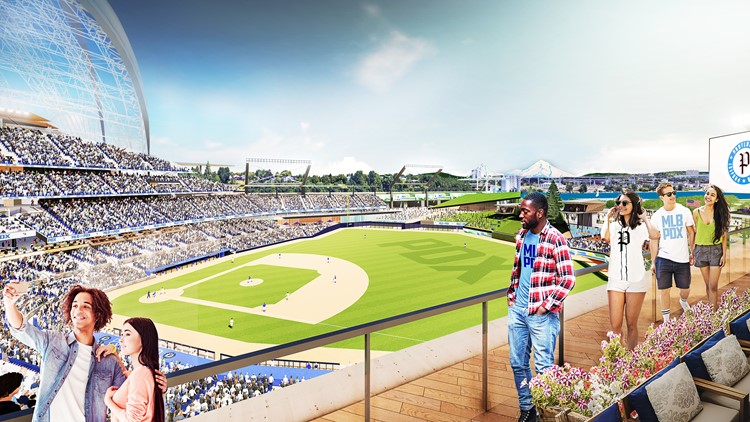 It's unclear what will happen following another six months of due diligence, including whether Portland will even have a team. PDP is hoping Portland will land a team either through a league expansion or the relocation of an existing team.
There's is no clear timeline on either option.
The Portland Diamond Project has indicated it has $1.3 billion in financial commitments from a charter group to help Portland land a team. Estimates are that it could take another $1 billion to procure a team.
Portland Business Journal is a KGW News partner.