PORTLAND, Ore. — Portland Mayor Ted Wheeler is excited about the early plans to build a Major League Baseball stadium north of the Fremont Bridge.
Wheeler saw the developers sketches along with the rest of us yesterday and was impressed.
"I liked what I saw in the schematics," he said.
Photos: Portland Diamond Project stadium renderings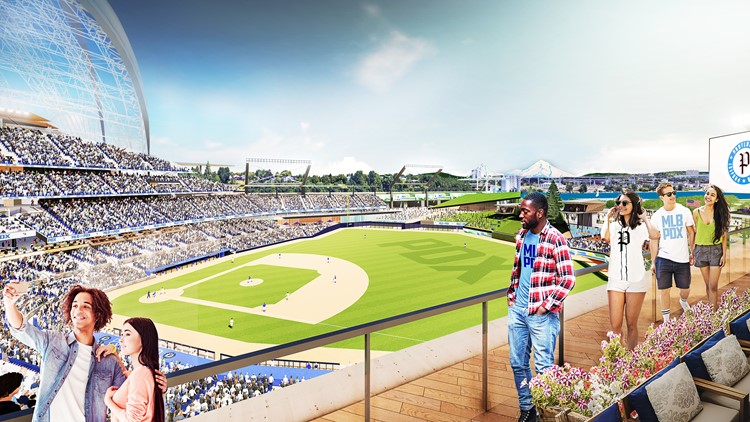 Developers still do not have a MLB team to bring to Portland, but that issue is for another day.
The stadium would be built on a 45-acre site with 15 acres used for the field, the rest used for housing and development.
"And I see this as a huge economic opportunity as I've said, it's an opportunity to build a central city neighborhood from scratch and to do it right," Wheeler said.
"And so it's a very compelling vision. It's an exciting opportunity," he added.
Because of that, taxpayers will help make the development happen if things get that far.
"It would be very naive to assume there will be no public contribution. In any large scale economic development strategy in any urban development we do, tax increment financing comes in to play," said Wheeler.
There could also be fee waivers and zoning changes and a number of other things done to make the site work.
Additionally, 15 years ago the Oregon Legislature set aside $150 million in bonding to help bring MLB to Portland. That money is still available.
But Wheeler said Portland Diamond Project, the developers of the stadium, will foot most of the cost.
"What I've said, as the mayor of the city of Portland, is the taxpayers here are not going to buy a team and we're not going to build a ballpark. It's really up to PDP to put the dollars on the table," said Wheeler.
One of the costs developers will likely have to consider involves the Portland Harbor. It's part of the Willamette River that's still polluted after decades of industrial use.
Gerard Mildner is a Portland State University professor of real estate and finance. He said anyone developing along the river has to help pay for the ongoing cleanup.
"There may be toxic cleanup on the site itself. But you're also buying in to a proportionate share of the cleanup of the sediment along this river," Mildner said.
It's one more thing is a growing list that will need to be investigated and solved as developers push to bring Major League Baseball to Portland.