PORTLAND, Ore. -- I was in Seattle this weekend visiting my youngest daughter, Ali, who just moved there from DC. Her apartment was right on the route of the Women's March 2.0.
Thousands of men, women, children, and their pets marched by us. They carried signs for many different causes, but the majority sent a message that women's rights and human rights matter. Across the country, marchers hoped the President and Congress were listening.
The marches happened against the backdrop of a government shutdown, the first one since 2013, and on the one-year anniversary of President Trump's inauguration.
It took me back to last year when I was part of the KGW team covering the inauguration and the first Women's March that followed the next day.
Hundreds of thousands of people descended on our nation's Capital for these historic events.
They came to either witness history and the peaceful transition of power to a new administration they had high hopes for, or to march to let the new President and Congress know they were watching them and demanded their rights be protected.
I showed my daughter the photos I took of both events.
KGW executive producer John Tierney and photojournalist Devon Haskins and I were the KGW team covering it all. We arrived a day ahead of schedule to avoid a snow and ice storm forecast to hit Portland.
When we got to DC, we had no work space or vehicle, so we wrote, edited, and did our live shots in the park across from the Capitol. A couple of times I had to resort to recording my audio in a portable outhouse, the only quiet place I could find.
In spite of some logistical challenges, it was an honor to be a witness and reporter of history.
Whatever their politics, those we met in DC at both the Inaugural and the Women's March were energized to be there, too.
But it was clear, Americans were deeply divided. Fast forward a year, and how far have we come?
As many of us started our work week this Monday, our federal government was shut down. The nation's Capital came to a grinding halt because Congress couldn't agree on a budget deal.
Daughter Ali is a federal worker and for a time over the weekend, she didn't know when she would get to work again, and how long she'd go without pay.
Congress did eventually pass a three-week budget later Monday, but one wonders if we will end up back in the same place in a few weeks.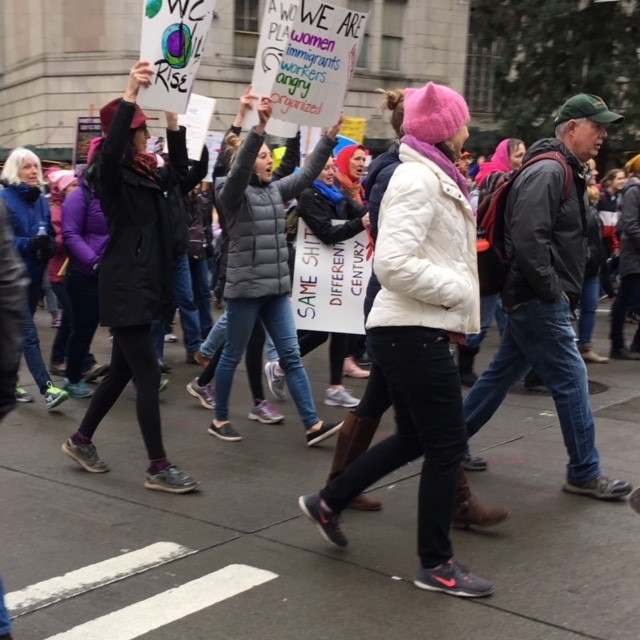 Hundreds of Facebook friends responded to my question, "Who do you blame for the shutdown?"
There seemed to be equal numbers holding either Republicans, Democrats, party leaders, or President Trump responsible.
However, there was one common message I heard from many of you: Lawmakers and the President need to find a way, in spite of our differences, to make our government work for everyone.
A year from now, will we be moving forward, or in ever-widening different directions making it harder and harder to hear each other?
What do you think? Where do you want to see the country a year from now?