PORTLAND, Ore. -- I am starting a new blog to share some of my life with you "off the air." From my new ventures becoming a grandma, and trying to learn to knit, to my thoughts about life and living in Portland.
And I hope you will join in the conversation with your comments and ideas for future blog topics. So, here's to what I hope is a deeper friendship.
Here's my next entry in "Off The Air" with Laural Porter.
North Pole In the Northwest
It's a quick trip from here to the North Pole. I don't even need a coat or snow boots. It's warm and cozy in our living room where Santa's village has a home on our mantle.
Dozens of buildings make up the North Pole, from Santa's Sleigh Launch, to Elfie's Sleds and Skates, to KOLD, the North Pole Radio Network, one of my favorites.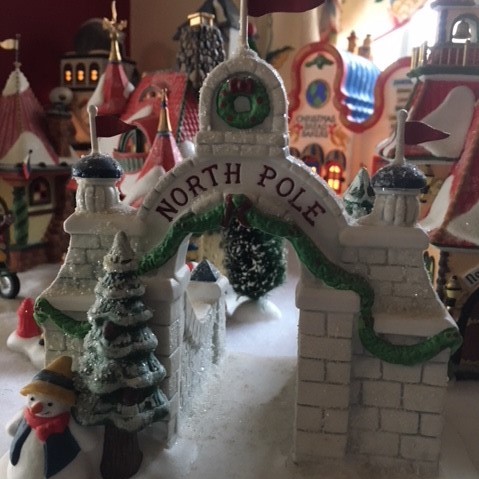 Elves are busy testing lights, splitting wood, baking bread, and tending the reindeer. Others are having winter fun, ice skating,sledding, and hot tubbing.
My husband has the biggest job of all. The weekend before Thanksgiving he carries out and unpacks all the boxes that have been tucked away since last holiday season.
It's a tedious job. Preparing the mantle with cotton to look like snow. Untangling chords. Arranging 80-plus buildings. His back aches when he's done. It's a labor of love.
He wants it to be ready when the kids arrive for Thanksgiving. It's a tradition they've known since they were babies.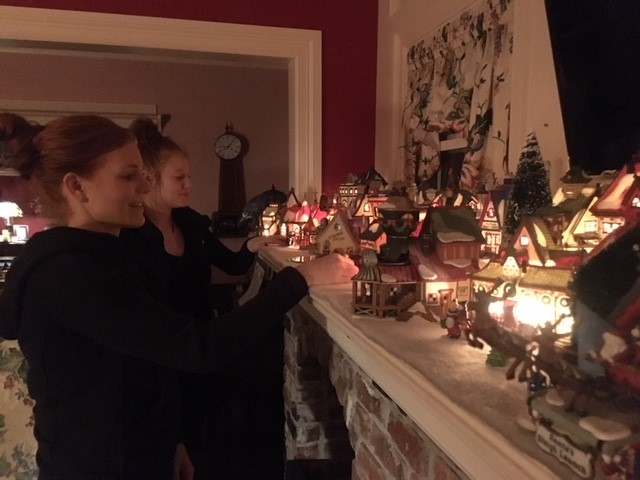 I started collecting the Department 56 North Pole Village in 1991. It started as just a few buildings.
Neenee's Dolls and Toys, Orley's Bell and Harness, Rimpy's Bakery, and so on, until they spelled out North Pole. It took me a few years to collect them all.
But then, as collections often do, it took on a life of its own. Department 56 added more buildings and began retiring old ones. Every year I would buy a few more.
Santa sometimes brought me one on my wish list on Christmas morning.
The kids grew to love the village. When we put out the Christmas decorations, their job was to place the elves among the North Pole houses.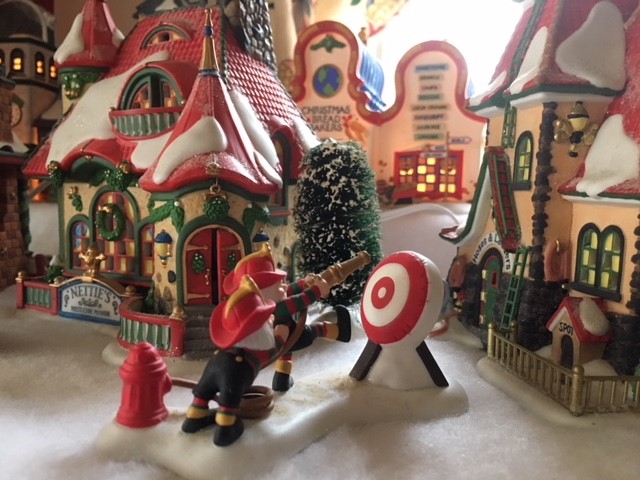 They imagined which magical shop or cozy chalet they'd sleep in while they dreamed later that night. As I collected, the village outgrew the mantle. We now needed an additional long table to accommodate the growth.
When we ran out of storage space, my husband encouraged me to put at end to the North Pole development (a sort of urban growth boundary). It was beginning to sprawl.
Our kids are grown now. But the magic of the holidays and its traditions makes us all children again. We get giddy with excitement anticipating our youngest daughter's arrival home from DC, and our son's from L.A. for Thanksgiving. ( Our two oldest daughters live in Portland now.)
The weekend before their arrival, my husband is up early making sure the North Pole is ready to welcome them home.
All four of our children will be home this Thanksgiving. And this year -- another reason to be grateful -- our first grand baby, Ella, will join us for her first holiday season.
Maybe one day she, too, will dream of sleeping in Santa's bunkhouse in the North Pole village.
What holiday traditions do you have?