PORTLAND, Ore. -- I am starting a new blog to share some of my life with you "off the air." From my new ventures becoming a grandma, and trying to learn to knit, to my thoughts about life and living in Portland.
And I hope you will join in the conversation with your comments and ideas for future blog topics. So, here's to what I hope is a deeper friendship.
Here's my next entry in "Off The Air" with Laural Porter.
I've been in the gutter from East Portland to Tigard to Beaverton. I'm never happy to find myself there, but it's reinforced one of life's important lessons.
As I watch my bowling ball drop into the gutter again and fight off the frustration, I am reminded of one of our family's all-time favorite movies,"It's a wonderful life."
Clarence leaves George Bailey with a clear message,
"Dear George, remember no man is a failure who has friends. Thanks for the wings. Love, Clarence."
Sometimes I wish I had those wings to fly my bowling ball right down the center of the lane and watch those pins fall. Instead, I often find my ball curving off to the left or right plunking unceremoniously into the gutter.\
The screen above the lane displays for all to see the bold letters, "GUTTER."
For years, my husband, Mike, and I have had a dinner and bowling date every month or two with our good friends Joe Smith, and his wife, Barbara Kerr.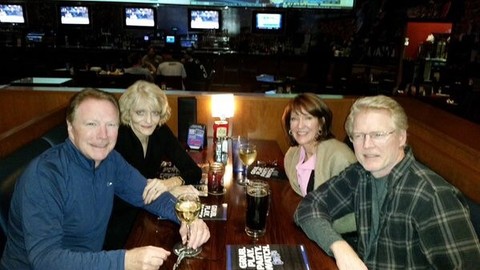 We took some time off while Joe was anchoring the news in Burlington,Vermont.
When he came back to Oregon, we dusted off our bowling balls and shoes, and headed for the lanes.
One Christmas, Joe Donlon even gave me a bowling shirt with my initials on it. I wear it faithfully on our bowling outings.
With all the appropriate gear, you'd think I was a real bowler. But I struggle to get within striking distance of 100.
Barbara, Joe, and my husband are good bowlers. And depending on the night, even great bowlers. I'm pretty consistently in the gutter.
And they are consistently encouraging. They offer suggestions on how to straighten out my ball. We laugh. Applaud one another when we get a spare or a strike. And, when I do, it's cause for real celebration.
Sometimes at the end of the evening, I feel a bit defeated as a bowler. I tell myself I should take a lesson or two, but I still haven't.
It's the companionship of my husband and our good friends that lifts me up.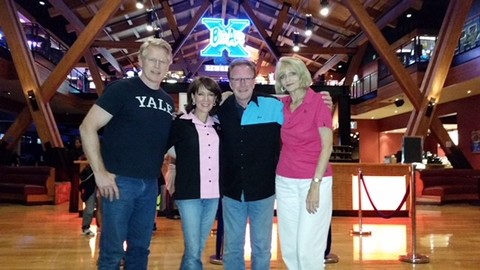 Sharing dinner, talking politics, what shows we're binge watching, where we want to travel. Cheering each other on. Squinting to see the pins when the lights go down and the music videos come up for cosmic bowling.
It's a date I circle on our calendar and eagerly anticipate.
This time, I tell myself, maybe I'll break a 100.
This weekend, our bowling date started at Pepitas Family Mexican Restaurant in Beaverton for fajitas and margaritas. Then on to Sunset Lanes. The alley was packed. The group next to us was bowling with their left hands (they were righties) for fun. Their score looked like mine on my best night.
I was determined to at least beat their scores.
I had practiced my bowling style in front of the mirror before we left. I thought maybe I'd figured out what I'd been doing wrong. While I thought I had been throwing the ball straight in front of me, I noticed in the mirror, I was actually bringing my arm slightly across my body. I would try something new tonight.
At Sunset Lanes, I broke out my new bowling approach, swinging my arm more like a pendulum.
In my third frame, I got a strike. And then again in my fifth frame. And another in my seventh. Three strikes!
The most ever for me. I still got two gutters and several open frames, but I broke 100! Mike, Barbara, and Joe stood and applauded.
A standing ovation! You'd think I'd won a championship! Barbara even got video of my last strike. They did make me feel like a champ.
And that's the lesson I've learned. Whether I'm in the gutter or out -- like George did for Clarence -- my friends give me wings.