PORTLAND, Ore. -- I am starting a new blog to share some of my life with you "off the air." From my new ventures becoming a Grandma, and trying to learn to knit, to my thoughts about life and living in Portland.
And I hope you will join in the conversation with your comments and ideas for future blog topics. So, here's to what I hope is a deeper friendship.
Here's my next entry in "Off The Air" with Laural Porter.
My Husband's Secret
He doesn't know I know. But, there are tell-tale signs.
It starts at this time of year.
The leaves are falling. The days are growing shorter. There's a chill in the air. He puts on his warm winter vest, laces up his boots, strokes the longer whiskers he's growing on his face as winter nears and he looks at the list. And heads for his workshop.
With the holidays swiftly approaching, he knows he has long hours ahead if he's going to get the job done.
There are handcrafted snowmen, angels, and Santas to carve. Each one with its own meticulously crafted design. Each with its own endearing personality.
Ornaments, brooches, figurines. Heirlooms. He devotes hours to make each one special for the special person on the list.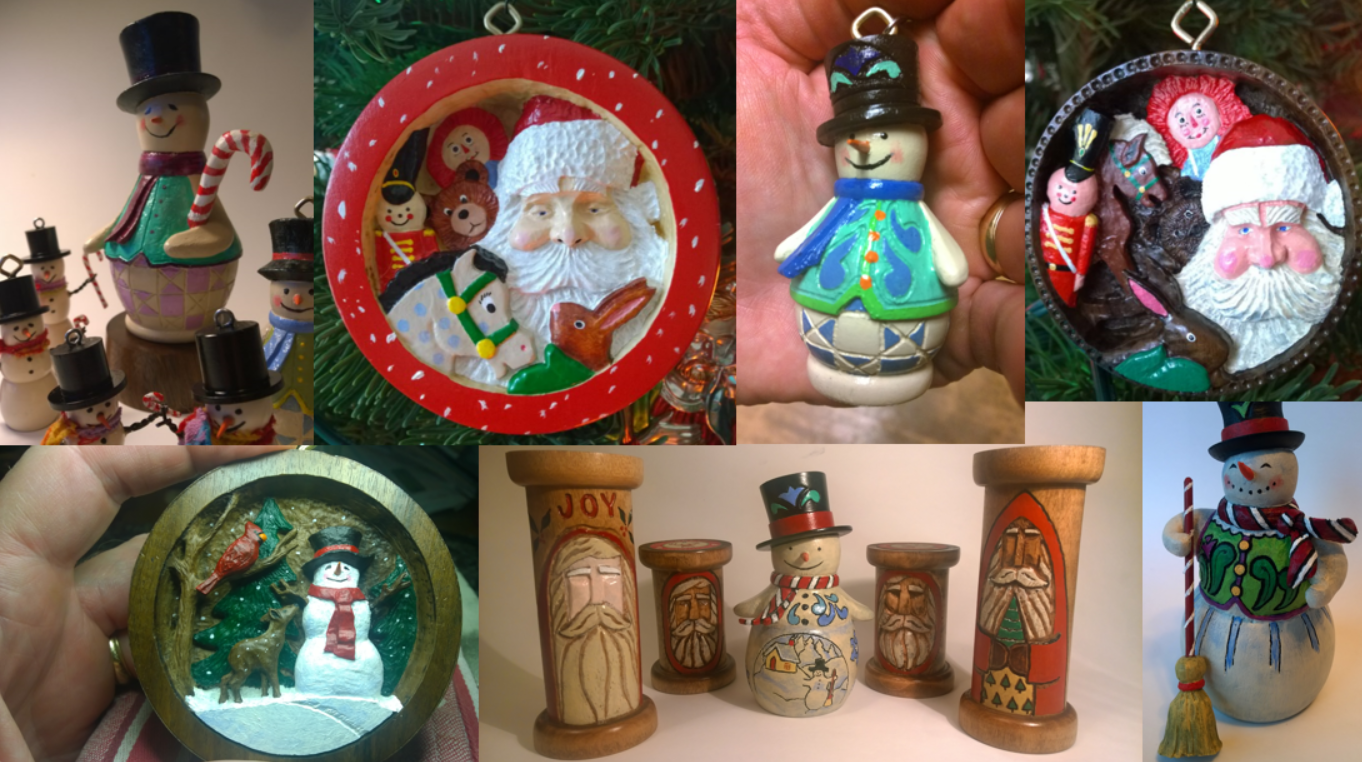 First, he studies and sketches to come up with a unique design. Then, it would seem to me by magic, using knives, chisels, and other hand tools, he delicately carves a Christmas creation, mostly from Oregon walnut he gets from a local saw mill.
They begin to take on a personality. As I sometimes peek into his workshop, I see him patiently, lovingly paint in the hair, eyes, nose. Adding flourishes. A top hat for a snowman, a cardinal on the arm of another. A songbook for an angel.
He has a busy day job, but after hours, he'll slip away to his tiny workshop in the corner of our old one car garage. When it gets cold, he'll put on extra layers, and sip a hot cup of coffee, knowing he has no time to spare for inclement weather.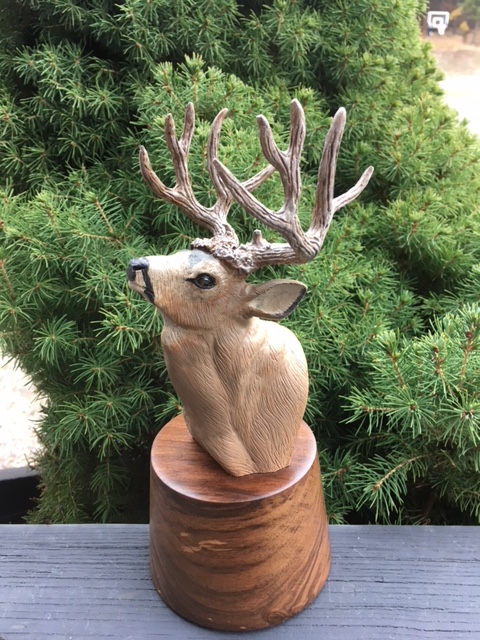 Christmas is coming fast.
He calls them do-dads. I call them art. He's the most talented artist I know. (He says I don't know enough artists).
The rest of the year he carves duck and turkey calls and the occasional 3D bust of a deer or elk.
Sometimes he makes knives in a homemade forge, including the leather sheaths, as well as other leather goods, too. These aren't just utilitarian. But they are that.
The sound of the calls so realistic, if there were a duck or turkey within ten miles of our Northeast Portland home, we would have a backyard full of them.
But these calls are masterpieces of art. Carved with detailed depictions of turkeys, ducks, and dogs. They're almost three-dimensional down to the feathers of the duck's wings, the hairs on the dog's tail, and the red fleshy part of the turkey's snood.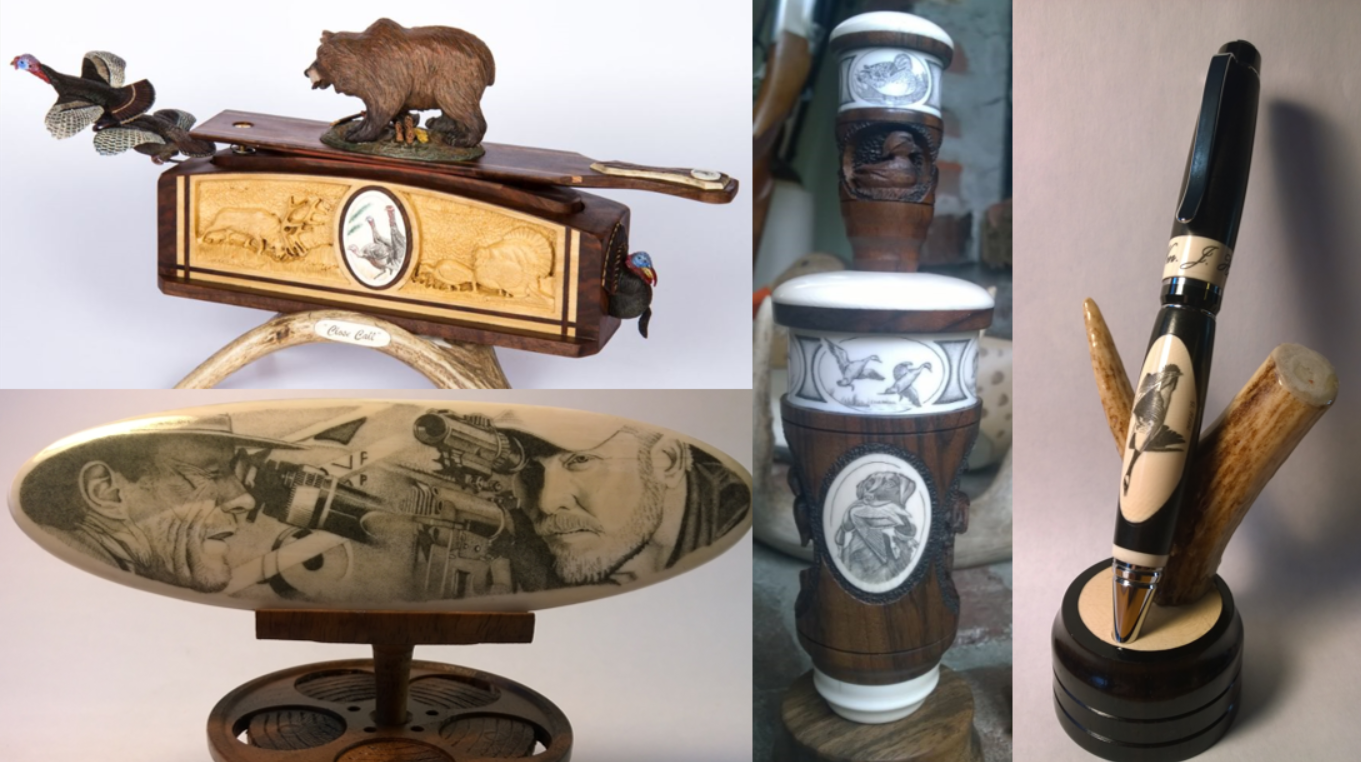 He carefully scrimshaws exacting wildlife scenes on antler and bone to complement each piece. The scrimshaw alone takes hours as he precisely places tens of thousands of needle point dots on the piece.
He's won multiple national awards for his calls from turkey and duck wildlife groups. They've sold at auction for many thousands of dollars. But he'll never get rich doing it. He donates much of the money back to the organizations.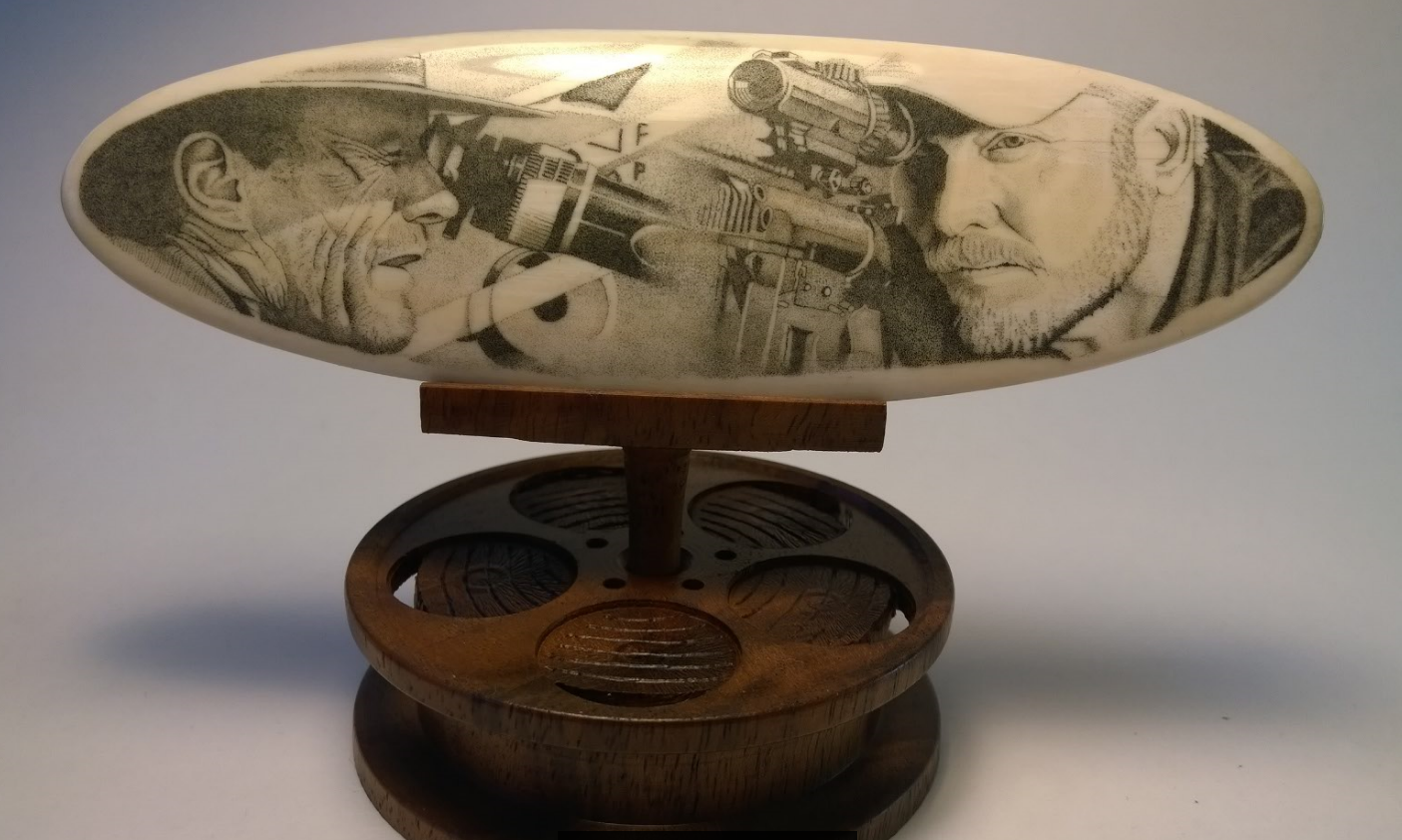 Clint Eastwood has one of his scrimshaw pieces...presented to him as a gift for speaking at our son's college. He doesn't brag. Few people know my husband's secret talent.
Here's what he doesn't know I know.
When summer has come and gone, department stores start putting out their holiday decorations, and children start dreaming about sugarplums and such; my husband starts moonlighting. He has a job to do.
The list is long and those with names there will be delighted when they open their Christmas package to find a treasure created just for them. He doesn't sell any of them making them even more collectible.
It's not a hobby for him. Sometimes when I walk by the workshop when evening has fallen, I could swear he's not alone in there.
I can hear amid the sound of drilling, sanding, and sawing; the sound of jolly laughter. I know my husband has someone important counting on him.
I'm pretty sure I've learned the secret of Santa's right-hand man.