That has been a motto for my career.
From my first job as the KSON Cowgirl giving out belt buckles to today as a news anchor at KGW, it has been a guiding light.
Here's my a video of my career from my recent induction into the National Academy of Television Arts and Sciences Silver Circle and my acceptance speech. Put on your cowgirl or cowboy hat and join me as I hit the trail on a wonderful Journey.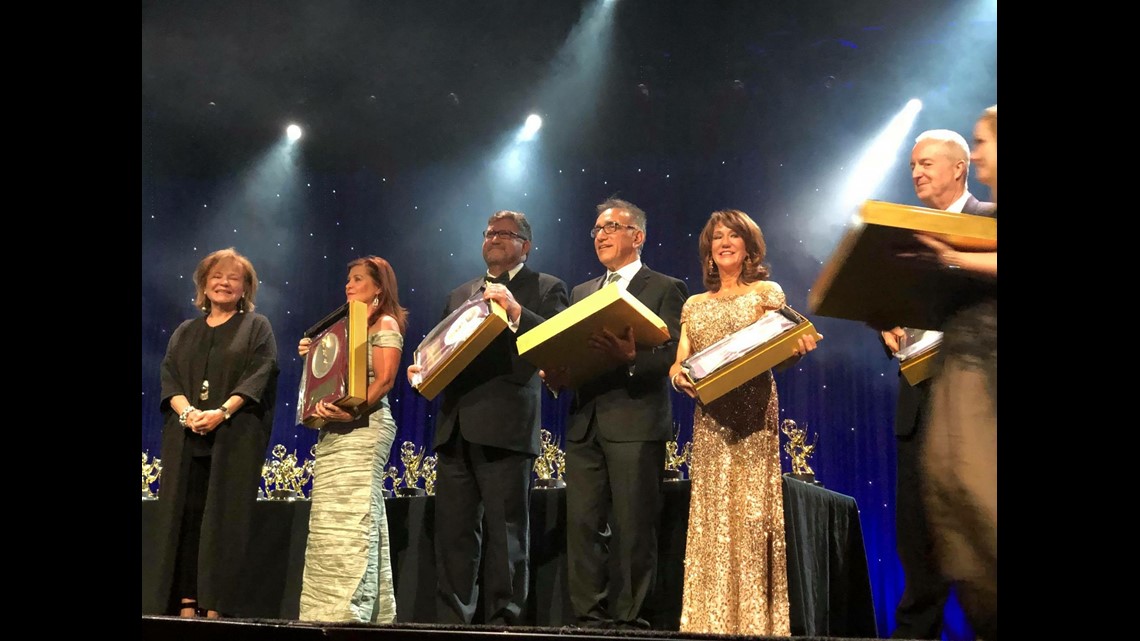 Laural Porter's Silver Circle Speech

Tonight is a dream come true...
I have admired and looked up to colleagues inducted into the Silver Circle for many years.
To me, they represent the best in the broadcast industry and the journalistic values we hold dear.
I am incredibly humbled and thrilled by this honor.
Thank you to NATAS Northwest and to members of the selection committee. I am so grateful.
I have a few others to thank in a moment.

This induction has given me the opportunity to reflect on the wild and wonderful journey that led to tonight.
The trail started -- and I have a couple of props... (Put on cowgirl hat)
The trail started with the Kayson Cowgirl. My first job out of college...at KSON radio.
I rode around in what was known as the Cowboy Cadillac-- which was a silver and maroon pickup truck with all the bells and whistles...giving out these (prop) collector's edition belts.
Country radio fans sought the Kayson cowgirl out for one of these beauties. I'd interview the lucky winners on the radio and rush back to read the afternoon news... Still in my cowgirl getup. Good thing it was radio. I hoped a photo no longer existed... But we somehow dug one up for my Silver Circle video.
A woman I worked with suggested I try TV news.. Not sure why she thought that was a good idea...
But I hit the dusty trail in my" cowgirl jalopy" this time.. A 1967 VW bug... On a ten day trek to visit and interview at TV stations in the west.
A news director/anchor in Phoenix suggested a father- daughter chat... Where he told me I didn't have what it took for TV... I am pretty sure he used the phrase... Maybe coined it before it became a cliche... "I had a face for radio."
Dejected... Somehow I dusted off my cowgirl boots and headed to TV stations in Bakersfield... (Where a cowgirl might fit in a little better.)
A news director there said he saw a "spark of potential".. God bless him... But he'd already hired his one female reporter.
However... She had just turned down a job in Idaho Falls,Idaho to take his job.. And that lead took me on a journey.. That changed my life.
Later... An Eastern Idaho newspaper wrote an article about my arrival with the headline "Persistence Pays Off For Porter."
That headline has become somewhat of a mantra for me throughout my career.. To never give up on yourself... And your dream.. But also... to unfailingly persist in the pursuit of the truth.
In these days, where we all get emails and tweets, Facebook posts about fake news...sometimes accusing us of being a part of fake news.., it occurs to me that that it's our job... Our responsibility to
PERSIST.
Persist in the pursuit of fairness… To be accurate, thorough... Giving voice to the voiceless... Hold the powerful accountable... And most importantly serve the public.
We've heard the saying all politics is local...
To play on that... I believe the integrity of journalism is local. Local news has never been more critical. It's where we can make a difference.
With the stories we tell... Where we touch our viewers one on one. Where we illuminate critical issues.
Hold our local office holders accountable, Deliver our local news fairly and accurately. Where we seek to earn our local viewers' trust each and every day.
I think of the story we did in Idaho Falls years ago that helped a woman named Holly Shaw get a life-saving liver transplant... The investigative story about Idaho's practice of putting people in mental health crisis--in jail… That series helped changed Idaho state law.
The story Kurt Austin and I did on a man named Jeff who searched for years for his long lost sister --Molly who had been institutionalized in the state of Oregon in the 1960s..
His efforts and our story helped change Oregon law making it easier for others to find loved ones who had been institutionalized years ago. These are the stories we do in local news... Many of you have similar examples.
We do make a difference with our persistence to serve our viewers. I want to thank my company Tegna for setting that high standard.
My fellow Silver Circle inductee, friend and boss... KGW General Manager DJ Wilson. I couldn't be more honored to be inducted alongside DJ
I admire DJ... One of the few female GMs in the country... Her entire career she's been a trailblazer... And she pioneered/created our current affairs show... Straight talk... Which I am so grateful to moderate.
News Director Rick Jacobs... He sets the bar high for all of us in the KGW newsroom and supports and encourages us to bring our best everyday.
Kurt Austin.. 2017 Silver Circle inductee-- my good friend and extraordinary storytelling partner... I'm the luckiest reporter ever to get to work with Kurt.
And good friends Joe Smith and Barbara Kerr spent a lot of their valuable time nominating me for this incredible honor .- and all those who wrote letters to support my nomination Barbara and Joe -- a special heartfelt thank you to you.. There are no better friends on earth.. Thank you.
Most especially... My wonderful family... My daughters Meg, Kate, Ali, and son, Will. Ali and her fiancé, Nick are here tonight. They are the crown jewels in my life.
And my husband of nearly -- coming up in 10 days... 31 years... Mike. On whose shoulders I stand tonight. My story is his story. I wouldn't be here now if it weren't for his support and wise counsel through the years. And his reporting skills.. He taught me to shoot and edit at my first job.
All of you here tonight are part of that mission…whether journalists... Other broadcast and communications professionals... Family and friends who support us.
It's up to us-- to safeguard this precious fourth estate on which our Democracy depends. It's been a long and wonderful ride since The KSON cowgirl first rode the trail...(put hat back on)
And much has changed...along the way.
But one thing remains the same -- Persistence is a guiding star... and has never been more important.
Thank you so much!