PORTLAND, Ore. -- I am starting a new blog to share some of my life with you "off the air." From my new ventures becoming a Grandma, and trying to learn to knit, to my thoughts about life and living in Portland.
And I hope you will join in the conversation with your comments and ideas for future blog topics. So, here's to what I hope is a deeper friendship.
Here's my next entry in "Off The Air" with Laural Porter.
I've been wondering... am I the last woman in the Northwest who wears pantyhose?
I wear them just about every day to work, but I've been noticing that none of the other women I work with seem to wear them. My husband says the women in his office don't wear them.
When I go to Freddy's to buy pantyhose, I'm alone in the aisle. I've never seen anyone else ever buying pantyhose these days. And the pantyhose section has shrunk. There was a time when that section in the grocery store was bigger and busier.
The store shelves boasted wall-to-wall plastic eggs stuffed with nylons promising, "Nothing beats a great pair of L'eggs." There were also racks of "No Nonsense" nylons. But no more.
It turns out pantyhose sales have been sagging for the last two decades, because of self-tanner, open-toed shoes, women wearing pants more often, and, generally, more casual dress in the workplace.
Millennials don't own pantyhose. One article says, "Many people associate sheer with grandma."
There it is: I've been wearing pantyhose because I have for years. My legs are Northwest pale. I feel under-dressed without nylons. They cover flaws. But, I've become my Grandma.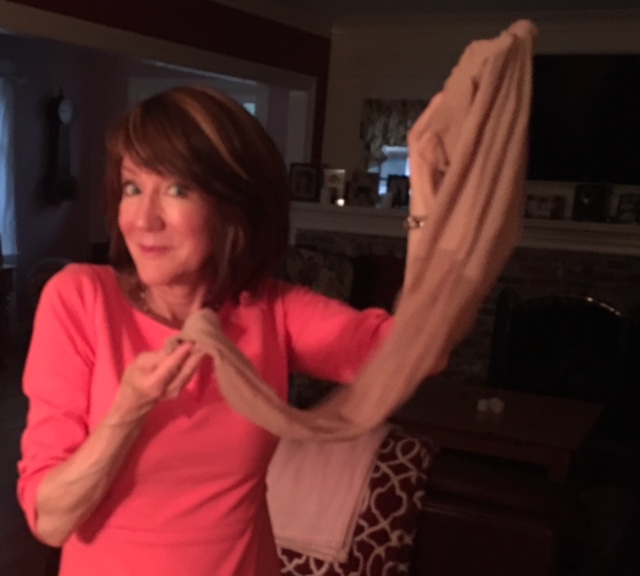 According to Smithsonian.com, former First Lady Michelle Obama, known for her great fashion sense, retired her pantyhose. She told the talk show, "The View", "I stopped wearing pantyhose a long time ago because it was painful. Put 'em on, rip 'em -- it's inconvenient."
Inconvenient and expensive. I made a strap to attach my microphone battery to wear under my dress "on air." It attaches with Velcro and it frequently pulls a hole in my nylons. (I still use that old nail polish trick to try to stop the run or hole from growing.)
But often, it's back to the Freddy's pantyhose section looking for that just right shade of nude hose in my size. I am helping keep the hosiery industry in business.
This was encouraging, though. I read the Duchess of Cambridge, Kate Middleton, still wears pantyhose. Fortune.com reports after her royal engagement in 2010 the "Kate effect" caused hose sales to surge.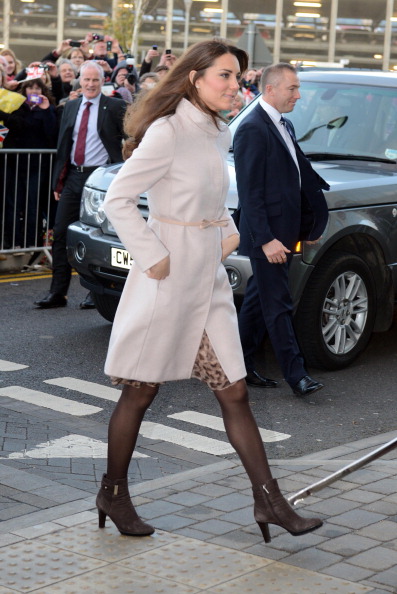 And "Fortune" mentions a number of workplaces still requiring or encouraging women to wear panty hose; health care, financial services, flight attendants, and on Capitol Hill.
This one from @glamourmag is fun: I Tried Secret Behind Kate Middleton's Flawless Legs. https://t.co/dyyOy6fBET (Hose debate never ends.) 😀

— WhatKateWore.com (@WhatKateWore) May 18, 2016
But, here in the Northwest, where casual is king, do you know anyone else wearing pantyhose? Tights and leggings, yes. But, pantyhose?
During our summer heat wave, I did try ditching the pantyhose. Nothing like stockings that are sticking to your legs in 106 degree heat. I still felt under dressed, but at least I was cooler.
I don't think I'm quite ready to retire my pantyhose like Michelle Obama did. After all, fashions go through cycles. What's old is often new again.
How about you? Do you or anyone you know still wear pantyhose?
Are there other fashion trends that have come and gone that you embraced?