PORTLAND, Ore — Crews on Swan Island have been slowly and steadily constructing a massive building-sized structure that some believe may be the future of wave energy.
In the next few weeks it's heading out to sea.
It's a wave energy converter made of 826 tons of steel that took 55 workers and 14 months to build.
"It is one of the most commercially viable units that's been constructed or designed yet," said Vigor Vice President of Sales and Marketing Thomas Hickman.
Here's how the device will work once out in the ocean: Waves will roll into three underwater compartments. As the do, they'll push air up through a turbine above the water line, generating electricity. Then when the waves roll out, it will create a vacuum that will also generate power in the other direction.
The device built at Vigor is a prototype.
The final version could power about a thousand homes. Photos
Photos: Wave energy buoy under construction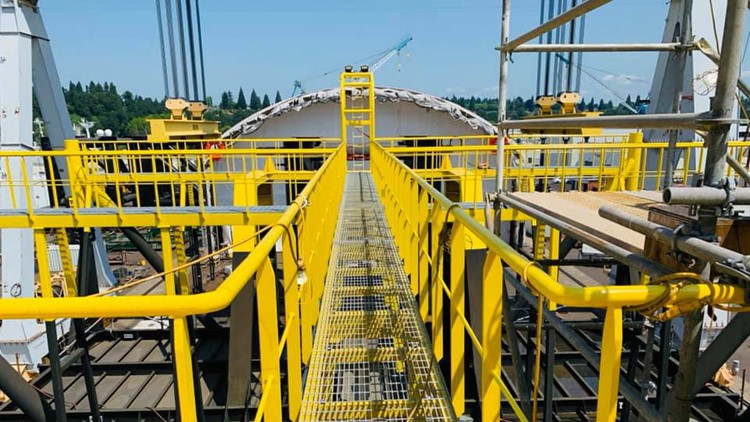 "If we can imagine a field of a hundred of these off the coast of Oregon or Washington or California, you have an energy source that will run small cities," said Hickman.
And its creators say, although large, the buoy won't harm marine life. In fact, they can come and go as they please.
"If the fish happen to swim into the intake, they can swim right back out again," explained Hickman. "They don't get trapped and they don't get sucked into any kind of turning blade or any kind of a device that would injure them at all."
In July, the device will be moved to a testing site off the coast of Hawaii. If all goes well there, it will be towed back to a wave energy test site off the coast of Newport with more likely to follow.
"Vigor is excited to be involved in these kind of projects because we strongly believe that our society is moving from a fossil fuel based economy to a cleaner energy future," said Jill Mackie, Senior VP of Public Affairs.
The $12.5 million project was funded in part by the U.S. Department of Energy.
Ocean Energy, the company that designed the buoy, is currently in talks with Vigor to build as many as ten more.