PORTLAND, Ore. — An official-looking text message created confusion among some Oregon voters because the information in the text — including the voter's name or address — was incorrect. It didn't match official voting records.
"They have my first name correct. The address is one in Eugene that I have never lived at," explained Lauren Dunn in an email to KGW. "Seems like a scam."
The Oregon Secretary of State's Office and Multnomah County Elections have received complaints about the text messages. Tim Scott, director of Multnomah County Elections said he personally received one of the text messages.
The texts claim to be from someone named Myra, a volunteer with Voting Futures. The message explained that if you live at a particular address, you will receive your 2022 ballot in the mail soon.
"Do you have any questions about your ballot?" the text message asked.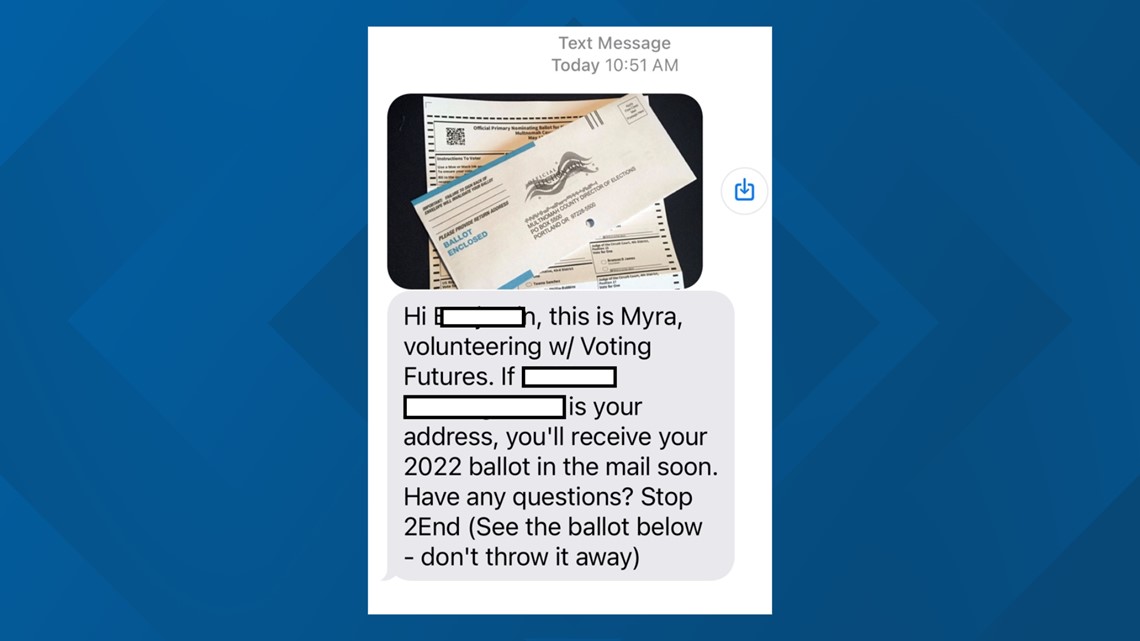 Several viewers, along with this reporter, received identical messages with an incorrect name connected with their phone number or the address listed was wrong.
THE QUESTION
Did election officials send this text message?
THE SOURCES
Ben Morris, communications director for Oregon's Secretary of State
Tim Scott, director of Multnomah County elections
Ameer Patel, vice president of program, Voto Latino
Yoni Landau, Movement Labs
Scott Goodstein, Catalyst Campaigns
Shaydanay Urbani, Information Futures Lab
THE ANSWER
No, Oregon election officials did not send this text message. A company hired by political organizations that rally people to cast their ballot sent the text message.
The company, Movement Labs, admits some of the text messages were addressed to the wrong person or had incorrect voting information because of old or outdated cell phone records.
To verify, KGW contacted Ben Morris, communications director for Oregon's Secretary of State and Tim Scott, director of Multnomah County elections.
Both Morris and Scott confirmed — no, election officials did not send the text message.
"It seems to be a widespread outreach effort by an organization named Voting Futures, but unfortunately, they are using data that isn't accurate," explained Scott.
Voting Futures could not be located for comment. The organization is not registered with the Oregon Secretary of State's Office or the Oregon Department of Justice Charitable Activities Section.
Identical text messages were also sent by Voto Latino, a nonprofit political organization based in Washington D.C.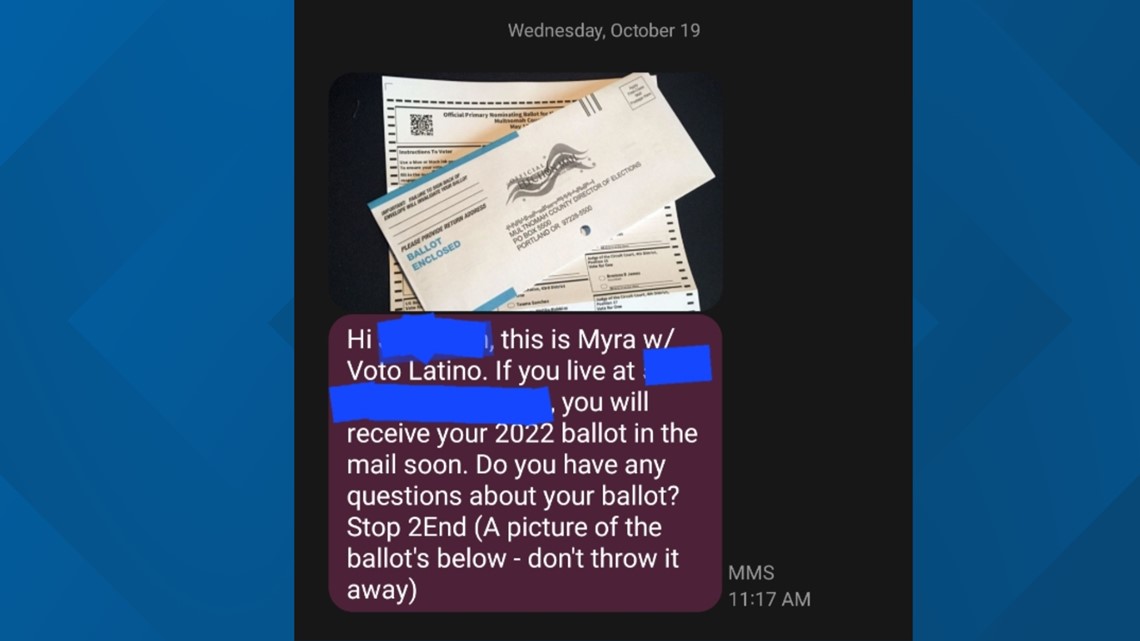 Ameer Patel, vice president of programs for Voto Latino explained that the organization hired Movement Labs to send text messages as part of a national campaign encouraging people to vote in the upcoming mid-term election.
After learning about the confusion in Oregon, Patel said Voto Latino paused the text messaging campaign in Oregon on Friday afternoon.
Yoni Landau of Movement Labs confirmed the company sent the text messages to Oregon voters.
"We gather data from public voter file information and believe that 98% of our data is accurate, but unfortunately cell phone numbers change hands and the database does sometimes contain errors," explained Landau in an email to KGW.
"We're deeply sorry for the people who receive text messages addressed to the wrong person, or with incorrect voting information," Landau said.
No matter the intent — flawed political information sent by text can be harmful, warned Scott Goodstein of Catalyst Campaigns.
"It's horrible. Even if the intention is good, it still is called voter suppression," explained Goodstein, who built the text messaging operation for Barack Obama's 2008 campaign.
"If you say in a text message your voting location is 'X' and you don't know that phone is actually registered to that person at that address — you could be suppressing the vote," said Goodstein. "You could literally be sending that false information to someone else."
Text messaging has become a big part of political messaging. There's little stopping political groups from spamming voters with disinformation, explained Goodstein.
"This is not a Democrat or Republican issue," Goodstein said. "Hustle on the left and rumble up on the right are selling packages of hundreds of thousands of text messages for 'get out the vote' efforts."
Unlike social media, text messages are private, which make it even more difficult to determine if the information is false. There are no friend groups watching or commenting. Additionally, no company or regulatory agency is monitoring the content of those political text messages.
"It is much harder to track where that information is coming from," explained Shaydanay Urbani of the Information Futures Lab at Brown University. "It is not as if there is a photo on Twitter and we can go and see exactly how many shares it has and whether that photo appears in different places."