Update: Garcia was granted release Tuesday Dec. 20 by a judge who determined Garcia was not a flight risk or a danger to the community, according to his lawyer. Garcia's boyfriend, Sean Sexton, was expected to post bond with the U.S. Immigration and Customs Enforcement Tuesday afternoon.
PORTLAND, Ore. -- A dedicated nurse who takes care of the elderly, a man who pays his taxes and contributes to society. That's how Sean Sexton describes his boyfriend, Luis Garcia.
"This is someone who is a positive member of our society," said Sexton.
But a big surprise came two weeks ago when U.S. Immigration and Customs agents came knocking at 6 a.m. looking for Garcia.
"I had to put shoes and socks on him cause he was just in his PJs and they took him away," Sexton said.
Originally from Venezuela, Garcia was convicted of meth possession. He's been living legally in the U.S. for about 15 years and now faces deportation.
"Luis is gay and has HIV and would not be able to get medication," said Sexton.
"For him to be deported would be a death sentence," he continued.
But before dating Sexton, Garcia was married. That marriage deteriorated when Sexton said Garcia's then-husband became addicted to drugs. Garcia checked himself into rehab in January. Then tried to get rid of the drugs at the home he and his husband shared. Sexton said the drugs never made it out of the house, Garcia's husband got physical. Garcia called police to help get rid of the drugs. Both Garcia and his then-husband were charged for meth possession.
The resulting conviction sent immigration and customs agents to his door. The agency said they've put Garcia in removal proceedings based on his felony conviction.
"If you are convicted of a felony for example, you are priority one," said Nicholas Costa, an immigration attorney with Nelson Smith LLP Immigration Law.
Costa said drugs are treated harshly but a deportation can be canceled. Chances are better if there's no criminal history and loved ones can vouch for you.
"It's going to come down to do you deserve a second chance," Costa said.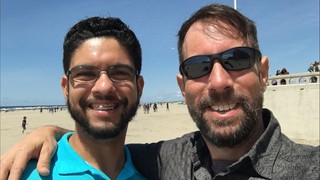 "The system that we have isn't capable of discerning good people from bad people and this is obviously a good person," began Sexton.
"He is my soulmate," he said.
Garcia's bond hearing is set for Dec. 20.
He said for now, he's raising money to pay for attorney's fees. He's sold Garcia's car, his own car, emptied his savings account and has a GoFundMe page. Click for more