KALAMA, Wash. — A Kalama man and his dog are thankful to be safe after a harrowing rescue in Cowlitz County.
Several agencies responded Sunday afternoon to rescue Nathan Mueller and his bloodhound, Jamison. The pair was trapped on a steep, narrow ravine, 150 feet above the Kalama River near Fallert Road.
Jamison and Mueller's other bloodhound, Bailey, had run away from home on Friday night and had been missing ever since. A tip on social media alerted Mueller and his fiancée to the dogs' whereabouts, which was approximately 10 miles from their home. Mueller said he'd gone down to the ledge to rescue Jamison but ended up getting stuck as well.
"There was no way we could get him out," Mueller said. "We shouldn't have even climbed down there."
Once trapped, Mueller called 911 and shared a pin-drop location from his cell phone with dispatchers.
Cowlitz County Sheriff's Office deputies James Doyle and Landen Jones were the first to respond. They prepared ropes and gathered medical supplies. Jones held the rope and Doyle rappelled and scrambled over an old landslide to reach the pair. A member of the Clark County Rope Rescue Team also responded, along with Cowlitz County Fire District 5. Together, they were able to pull Mueller and Jamison to safety.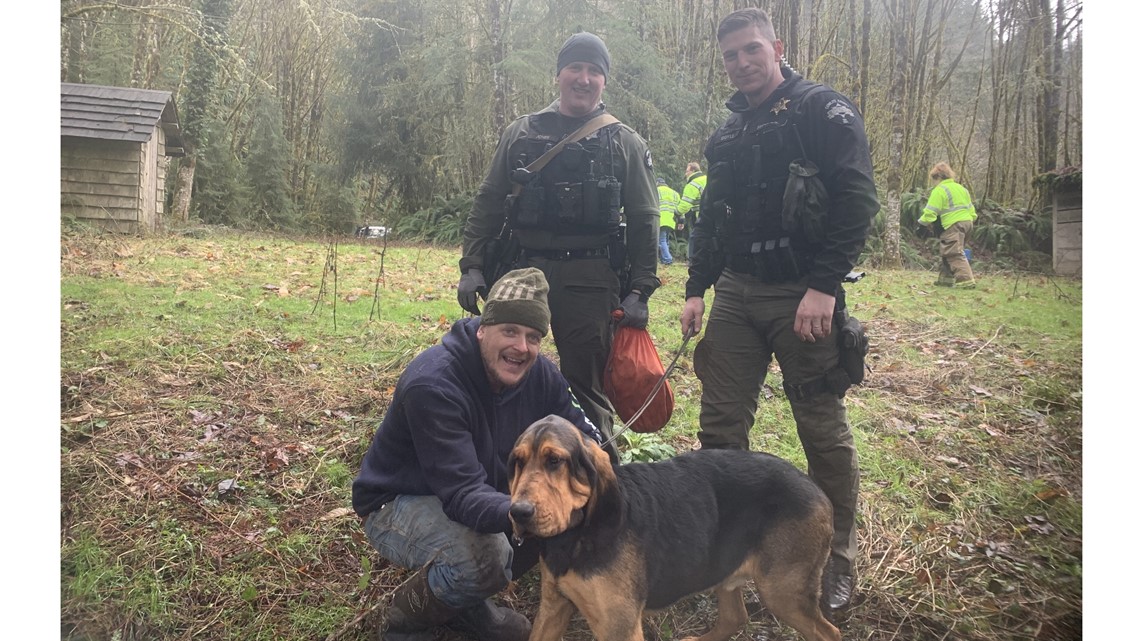 "I'm very happy," said Cowlitz County Fire District 5 volunteer Captain Shayne Mazza. "It's always a good outcome when everybody's up and there's no injuries or anything like that."
Mueller said he's extremely grateful for each agency's work and willingness to respond.
"Everybody came up and was tremendous," Mueller said. "The gentlemen that were rigging up the ropes to get us out of there knew what they were doing. ... It was a crazy adventure but it was a happy ending."