The inauguration came a few hours after the Oregon House and Senate both convened for organizational sessions to swear in legislators, elect leaders and adopt rules.
In an inauguration speech that lasted a little over 15 minutes, Kotek promised to take aggressive action to meet Oregon's biggest challenges, including homelessness and the housing crisis, education and behavioral health and addition.
"I have heard from people loud and clear: The status quo is not working," she said. "And for many Oregonians, it has never worked."
She pledged to follow up on her recent statewide "listening tour" by visiting every county in Oregon within her first year of office, citing as inspiration a similar inaugural pledge from former Gov. Vic Atiyeh, Oregon's last Republican governor.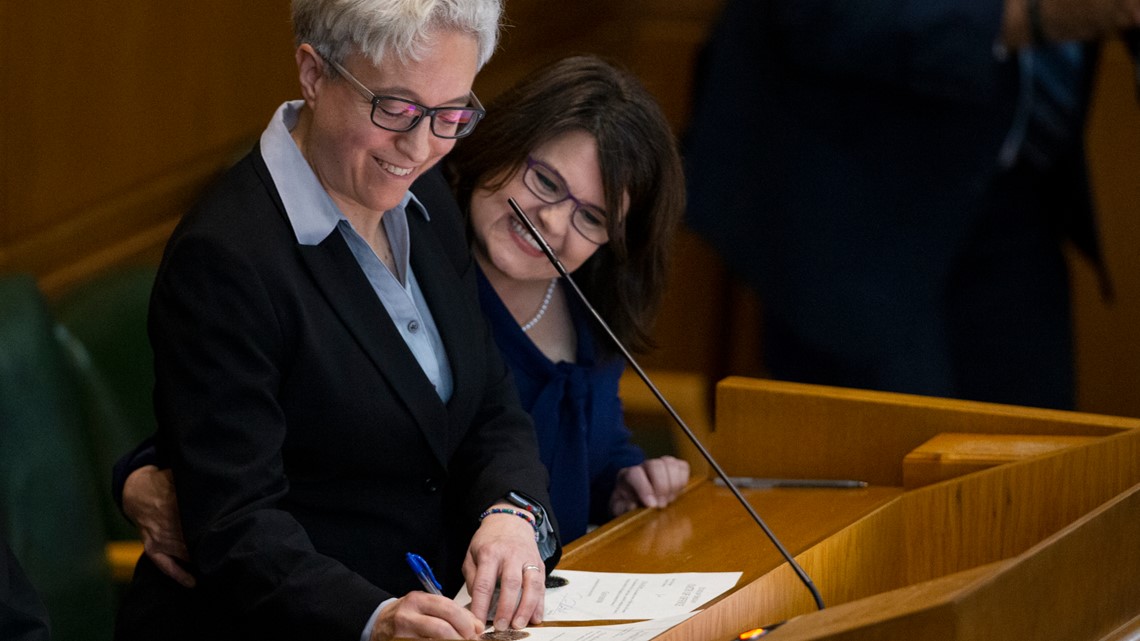 On the policy front, Kotek pledged that on Tuesday she would sign an executive order establishing a statewide production target of more than 36,000 new homes per year, which she claimed would be about an 80% increase over recent construction trends.
"We must take on our housing crisis at the scale needed to solve it," she said.
The declaration of a homelessness state of emergency was at the top of a policy wish list that Portland Mayor Ted Wheeler delivered at a meeting with Kotek last month, and he acknowledged the news in a tweet Monday evening.
In her address, Kotek said the declaration would be accompanied by a proposal for a $130 million investment package aimed at helping 1,200 Oregonians move off the streets within a year. She urged state lawmakers to take up the package early in the upcoming session.
The $130 million package would be only a first step, she added, and said she wanted to follow up on it with "a comprehensive housing and homelessness package by the end of this session."
Kotek also said she was committed to pursuing increased accountability in state government and improved service for Oregonians seeking assistance from state agencies.
She asked state legislators and individual Oregonians to help act as "a force for positive change" by supporting and being involved with their communities.
"Today I ask all my fellow Oregonians to believe in our state and its future," she said.
Kotek succeeds fellow Democrat Kate Brown, who has served as Oregon's governor since 2015, but was prevented by term limits from running again last year. Kotek previously served as Oregon House Speaker for nine years. She's one of the first openly lesbian governors to be elected in the country.
See a typo in this article? Email web@kgw.com for corrections