SALEM, Ore. — About a dozen teachers convened Tuesday morning at the Oregon Capitol to oppose a piece of legislation they say will siphon money from their retirement accounts.
State lawmakers are considering Senate Bill 1049, which would divert retirement contributions from the accounts of public employees to help pay down the public employee retirement system's $27 billion debt. If the bill is signed into law, most public workers would see a 1-2% reduction in their overall retirement benefits, according to Oregon Public Broadcasting.
The bill passed the Senate on May 23 in a narrow 16-12 vote, with three Republicans joining 13 Democrats in voting for the bill. Tuesday was the first reading in the House, and a floor vote is expected sometime this week.
Teachers, union officials and others who oppose the bill say it unfairly targets public employees. They've also expressed concern that if the bill passes, it would pave the way for future lawmakers to make similar benefit cuts.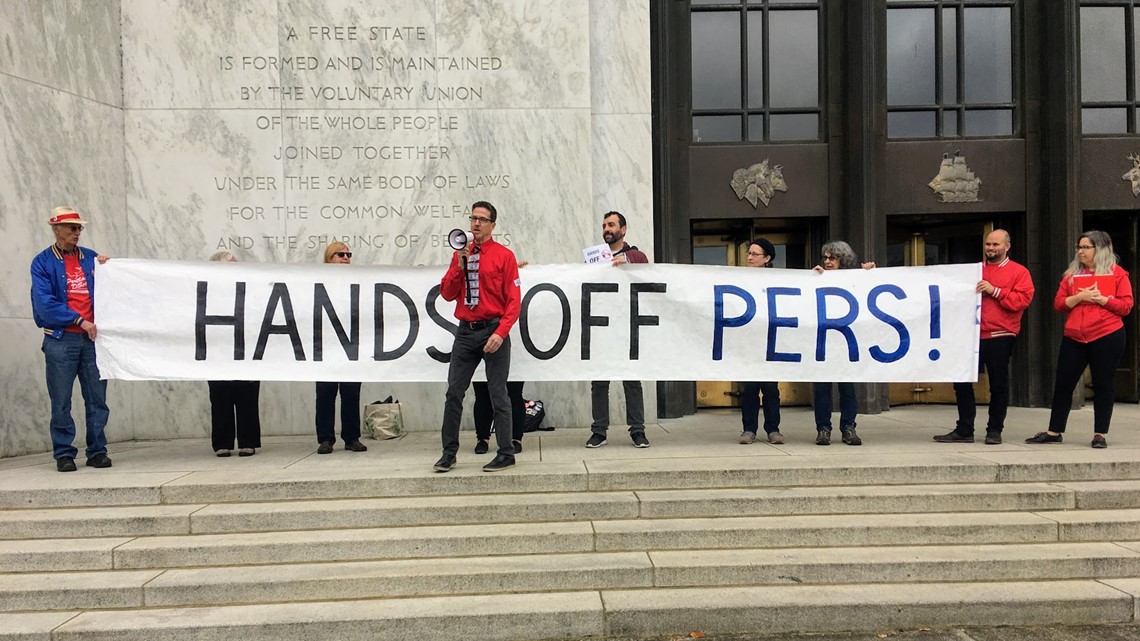 "They're looking at solutions that work for people that have a lot of money," said Stephen Siegel, a special education teacher at Reynolds High School. "They're not looking at solutions that work for everyday working people — firefighters, teachers, public employees."
The activists at the Capitol on Tuesday made a stand inside House chambers, unfurling a sign that read, in part, "NO CUTS TO PERS," but the sign was immediately ripped down.
The teachers were led out of the chambers, chanting and singing, "Which side are you on? Which side are you on? Hands off PERS!"
Rep. Chris Gorsek said he understands that the PERS debt is a serious problem, but thinks this bill is the wrong solution.
"We know we have a serious problem. I don't think anyone doubts that. But I oppose this bill, mainly because ... it impacts public employees," Gorsek said. "I think there are other ways to get there without using public employees."