SALEM, Ore. — Oregon Gov. Tina Kotek has ordered a pause on tolling in the state until January 2026, according to news releases Tuesday morning from multiple state legislators. The change will presumably push back tolling on Interstate 205 by at least a year from the currently planned late 2024 start.
The Oregon Department of Transportation is working on a plan to add tolls to a stretch of I-205 from the Interstate 5 junction to Oregon City on the east side of the Abernethy Bridge. They would be followed a few years later by a separate plan to add tolls along most of I-5 and I-205 in the Portland metro area.
Oregon Senate President Rob Wagner and House Speaker Dan Rayfield have agreed to create a Special Subcommittee on Transportation Planning that will oversee ODOT's infrastructure repair and modernization plans, including efforts to mitigate the impact of tolling on vulnerable communities, according to a joint the news release from their offices.
Kotek is suspending toll collections in response to requests from the legislature, according to a news release from three Clackamas-area legislators, in order to give the subcommittee time to do its work. The news release from Wagner and Rayfield said they also support the delay.
Kotek's office confirmed the delay in an emailed statement Wednesday, writing that the revised Jan. 1, 2026 start date, "which also aligns with updated schedule information from the project, will allow time for our office, the Oregon Transportation Commission, and the Legislative Subcommittee on Transportation Planning, to receive more information on the agency's plans to mitigate diversion and address equity concerns."
The governor's office also clarified that the order pauses collection of all future tolls, such as those along I-205, but does not suspect collection of existing tolls such as those on the Bridge of the Gods and the Hood River Bridge in the Columbia River Gorge.
ODOT director Kris Strickler issued a statement Tuesday afternoon saying the agency looks forward to working with Kotek and the new subcommittee.
"Implementing a modern toll program, for the first time in Oregon, requires extensive planning and community engagement. We understand our drive to meet legislative intent to implement tolling quickly left communities and elected officials feeling unheard," Strickler said. "We appreciate the guidance of our elected leadership that our top priority should be to set this program up right."
A spokesperson added that ODOT can't yet provide details on the impacts of the delay order, and expects to discuss it with the governor and the Oregon Transportation Commission in the next few days.
ODOT's tolling plans stem from legislation passed in 2017 that directed the Oregon Transportation Commission to develop a "congestion relief fund" and ask for federal permission to start tolling I-5 and I-205, which the federal government eventually granted.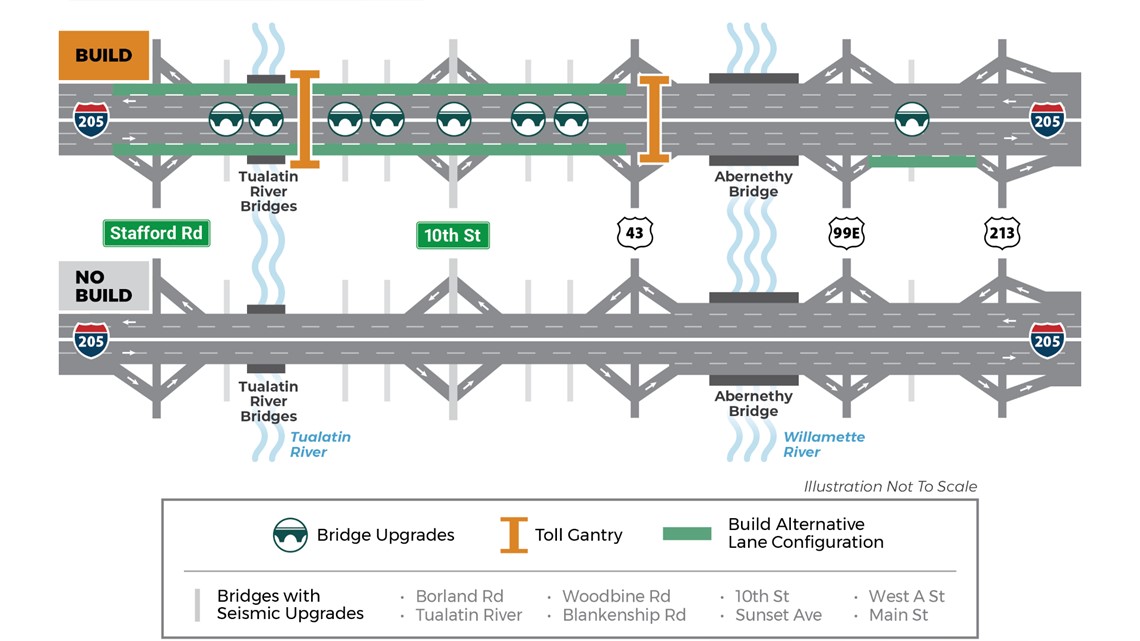 Tuesday's news release from Reps. Jules Walters (D-West Linn), Courtney Neron (D-Wilsonville) and Annessa Hartman (D-Gladstone) described the tolling pause as a victory for communities that would be impacted by tolling along Interstate 205. Hartman will serve on the subcommittee.
"I know firsthand that our communities have not felt heard by ODOT, and that they feel their deep concerns were being ignored by the agency," Hartman said in a statement. "Since being sworn into the legislature, I've advocated fiercely in the Capitol for our voices to be heard and for ODOT to pause, listen to our constituents and get this right. There is a lot of trust that needs to be rebuilt and I am proud to serve on this committee to give our districts a seat at the table."
According to ODOT's environmental assessment for the project, released in February, the expected prices range from $0.55 to $0.65 at off-peak hours to between $1.65 and $2.20 to cross each bridge — Abernethy and Tualatin — at peak hours, for a total of as much as $8.80 per day for roundtrip commuters who drive the full corridor at rush hours.
Much of the criticism has focused on how the tolls would impact low-income drivers. ODOT has been exploring discount options for those drivers, but the concerns have persisted, and were echoed again in Tuesday's news releases.
"Our communities should not disproportionately shoulder the cost of interstate infrastructure. A flawed tolling program would harm working families, individuals on fixed incomes, and businesses in my community. I don't believe a toll should divide someone from their own town," Neron said in a statement. "We have an obligation to ensure community voices are heard, legislative sideboards are in place, and that ODOT cannot proceed without truly taking our needs into consideration."