Ballot Measure 106 would prohibit the use of taxpayer dollars to pay for certain abortions.
While supporters say this measure only limits what money could be used for abortions, opponents fear it is a backdoor ban on the procedure and disproportionately affects low-income Oregonians.
Oregon is one of 17 states that uses its own money to provide abortions to women eligible for Medicaid, according to the reproductive health research organization, the Guttmacher Institute.
And last year, Oregon lawmakers expanded taxpayer funding for abortion via the Reproductive Health Equity Act, or House Bill 3391. Because the bill was declared an emergency, it was not referred to the public for a vote.
Nichole Bentz, the chief spokesperson for the 'Yes on Measure 106' campaign, said this is the public's chance to make a choice — do they want public money used to fund abortions or not?
The campaign uses the slogans, "Your money, your choice," and "Life's worth more."
About $1.9 million of public funds were used to pay for about 3,600 abortions via the Oregon Health Plan in the 2017-18 fiscal year, according to the Oregon Health Authority.
The number of procedures has declined over the past three years, with a peak of about 4,180 abortions in 2015-16. Spending is also down from previous years, with a peak of about $2.5 million spent on abortions by the state in the same budget year.
Additionally, as the number of Oregon Health Plan clients has more than doubled in the last 12 years, the rate of procedures has steadily declined from 20.4 percent of clients in 2005-06 to 7.6 percent of clients in 2017-18.
Measure 106 — also known as the Oregon Ban Public Funds for Abortions Initiative — would prohibit public dollars from being spent on abortions. But it does specify certain exceptions.
If passed, public dollars could still be used when federal law requires states pay for abortions, such as cases of rape or incest.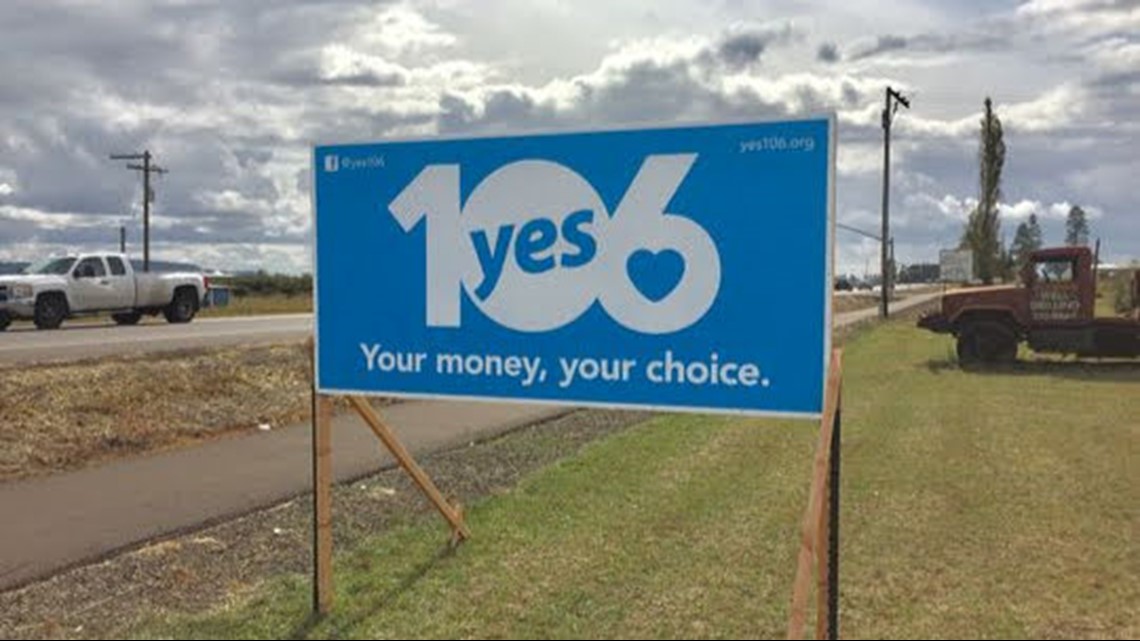 Public funds also could pay for abortions of a clinically-diagnosed ectopic pregnancy — when a fertilized egg becomes implanted outside the uterus, has no chance of proceeding normally to birth and could cause fatal bleeding to the mother.
"This isn't a ban on abortion," Bentz said. "This is specifically talking about how public funds are used."
Opponents to the measure — organized under the 'No Cuts to Care' campaign — argue this measure is "a backdoor ban on abortion" because it takes away the full range of reproductive health care for all women, specifically those unable to pay for a procedure without state health insurance.
"No matter how you feel about abortion, no one should be denied health care because they can't afford it," said Emily McLain, executive director of Planned Parenthood Advocates of Oregon. "A right is not a right if you can't afford to access it."
Planned Parenthood Advocates of Oregon is one of more than 100 groups and leaders in a coalition against the measure. Also on the list is the ACLU of Oregon, Basic Rights Oregon, Catholics for Choice and the Oregon Nurses Association.
Bentz with Yes on Measure 106 said it was not an intentional consequence to make access to abortions more difficult for women who are low-income, but that Oregonians should have a chance to vote on how their money is used.
McLain wasn't buying that. "To file a petition is very intentional," she told the Statesman Journal.
Leaders of the initiative first filed the proposal with the Oregon Secretary of State in 2016. They submitted a petition with almost 138,000 signatures earlier this year to earn a spot on the November ballot.
McLain said the change would impact Oregon's most vulnerable — those who qualify for Medicaid — and could force thousands of women who otherwise would have sought abortions to carry to term.
"Whether or when to become a parent is a big decision and Measure 106 interferes with that," she said. "Access to health care shouldn't be dependent on how much you make or what type of insurance you have."
The national conversation
Oregon's ballot measure is state-specific and the supporting organization is run via a local grassroots effort, Bentz said. But other states also have abortion-related measures on their November ballots.
West Virginia voters will decide on a constitutional amendment stating there is no right to abortion.
Alabama voters will decide if the state policy should recognize and support "the sanctity of unborn life and the rights of unborn children" and state that "nothing in (the state constitution) secures or protects a right to abortion or requires the funding of an abortion."
Both of these measures were referred to the ballots by the respective state legislatures.
Additionally, national discussions have sparked surrounding the nomination of Judge Brett Kavanaugh to the U.S. Supreme Court and allegations against him of sexual assault when Kavanaugh was in high school.
"Conversations around women and health care couldn't be more prevalent," McLain said.
Bentz said she believes the measure has a good chance of passing because tens of thousands of people had to sign the petition to get it on the ballot.
"That shows a lot of interest," she said. "Also, when we were out the State Fair, the conversations we had showed support for the measure."
The initiative needed 117,578 valid signatures on the petition to get on the November ballot this year, according to data from the state's Elections Division. Of the submitted signatures, 117,799 were valid, allowing the measure to move forward by about 200 signatures.
In the last mid-term election in 2014, around 1.4 million Oregonians voted on each individual initiative.
This was the third attempt to move the initiative forward.
Over the decades, Oregon voters have consistently voted in favor of abortion access, including in 2006, when voters defeated a ballot initiative that would have required parental notification before a minor could get an abortion.
For that reason, McLain said she's cautiously optimistic Measure 106 won't pass.
"This is an overall effort to chip away at access to health care and reproductive rights," she said. "I don't think Oregonians will stand for that."