PORTLAND, Ore. — The national union representing U.S. Immigration Customs and Enforcement employees has once again set its sights on Portland Mayor Ted Wheeler.
In a letter addressed to Oregon Attorney General Ellen Rosenblum, ICE union attorney Sean Riddell asked for a criminal investigation of Wheeler. Riddell alleges Wheeler violated state law by not enforcing city and state laws, and using the police bureau to advance his own political agenda.
"Our hope is that Mr. Wheeler relinquishes his supervisory authority of the Portland Police Bureau pending the outcome of your investigation," Riddell wrote in the letter to Rosenblum.
Wheeler said he's being targeted for political reasons.
"Make no mistake. They are coming after me because I am a vocal opponent of the administration's policy of separating kids from their parents," Wheeler said in an emailed statement.
"Previous claims made by Sean Riddell have fallen apart upon further inspection and these claims, if investigated, will too," Wheeler said.
The ICE union's call for a criminal investigation is the latest development in its ongoing feud with Wheeler over his handling of the 38-day Occupy ICE PDX protest in front of the agency's Southwest Portland office.
PHOTOS: Occupy ICE protest in Portland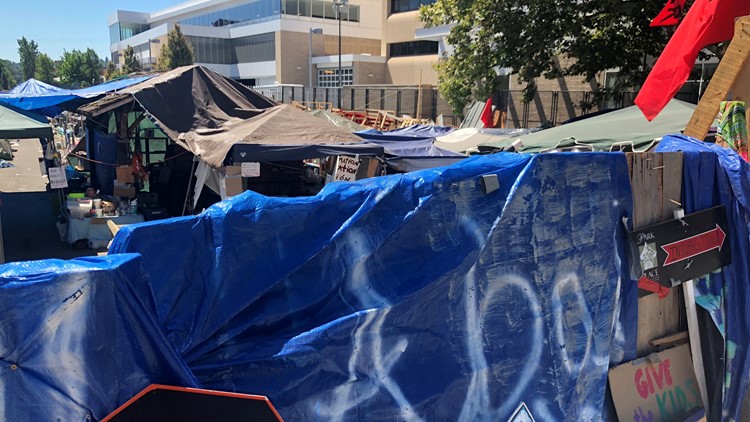 Occupy ICE PDX started protesting at the ICE holding facility in mid-June, in response to the Trump administration's policy of separating migrant families at the border.
On June 20, the day the protest first shut down the ICE facility, Mayor Wheeler – who is also the police commissioner – announced he would not involve the city's police department in the protest.
Protesters shut down the ICE office for about two weeks, in part due to employee security concerns. The ICE office reopened in early July and the protest was disbanded by Portland police on July 25 amid health and safety issues present at the camp.
In the days after the camp was cleared, the ICE union accused Wheeler of violating the U.S. Constitution and said police, at the direction of Wheeler, did not respond to 911 calls placed by federal agents during the protest. Wheeler called the allegations "inaccurate and inflammatory." Portland Police Chief Danielle Outlaw said officers responded to all 911 calls around the protest.
Records of 911 calls showed Portland police officers responded when ICE employees called emergency dispatchers for help during the protest.