Voter Guide 2020: Everything you need to know about voting in Oregon
Get details here for important dates in the upcoming Oregon general election, how to register and how to vote, state and local measures on the ballot and much more.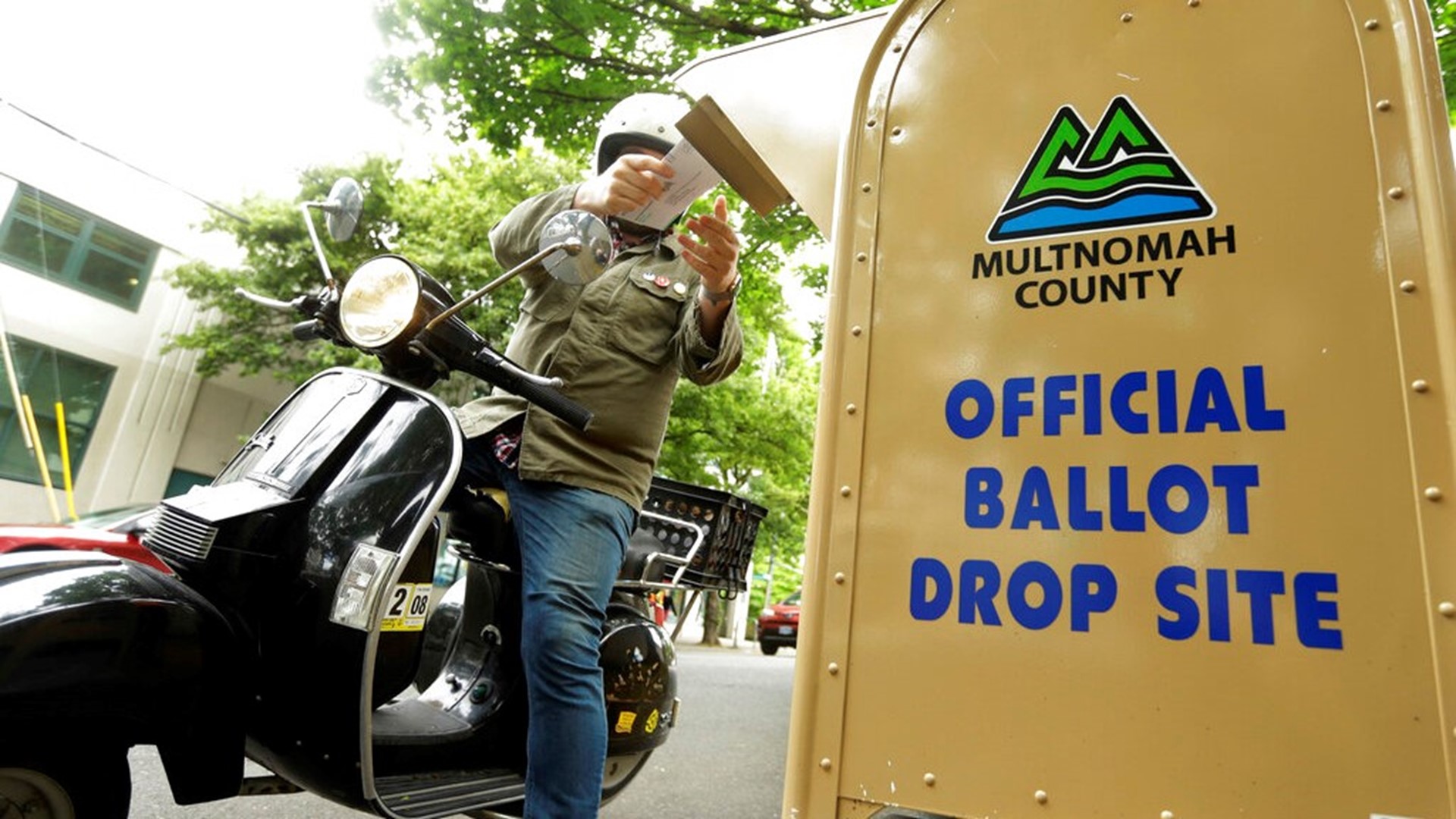 Election Day 2020 is less than a month away and it's shaping up to be an election unlike any we've seen.
Because of the pandemic, many voters are reluctant to vote in person and states are scrambling to adjust to a dramatic increase in mail-in votes and absentee ballots.
This voter guide will provide you with everything you need to know to get registered, keep track of key election dates, better understand the Oregon voting process and help make sure your vote is counted on Election Day, Nov. 3.
Even if you've been displaced by wildfires, do not have a permanent residence, will be out of the state on Election Day or have other special voting circumstances, you can still receive a ballot and vote in the 2020 general election.
Important election dates
:
The last day to register to vote in Oregon is on Oct. 13; the following day ballots will start going out to voters. Ballots will be due by 8 p.m. on Election Day, Nov. 3, so if you plan to mail yours in it must be postmarked by Oct. 27.
Here's a look at some key dates for voters in the 2020 general election:
How to register to vote
:
To register to vote in Oregon, you must be:
A U.S. citizen
A resident of Oregon
At least 16 years old
If you are not yet 18 years old, you won't receive a ballot until an election occurs on or after your 18th birthday.
What You Will Need
To register to vote online you will need an Oregon driver's license, permit or ID card number issued by the Oregon DMV.
If you don't have an Oregon driver's license, permit or ID card, you can still use the online voter registration application. The information you enter will display on a voter registration card, via PDF, that you will need to print, sign and deliver to your county elections office to complete your registration.
Registration Deadline
According to the secretary of state's office, "A new registrant must submit their online registration by 11:59:59 p.m. Pacific Time on the 21st calendar day before an election to be eligible to vote in that election."
That means you must register to vote in Oregon by Oct. 13
Alternative to Registering Online
Already Registered to Vote?
If you want to double-check you registration or party affiliation, or are not sure whether you are registered to vote, you can use Oregon's My Vote system to:
Check if you are registered to vote
View your voter registration information
Update your voter registration
Check the status of your ballot
How voting by mail works
:
Oregon has been voting by mail for 20 years and consistently sees high voter turnout due to the ease of the process.
As a registered voter, you will receive voter's pamphlets in early October to research the candidates and measures on the ballot in your county and statewide.
Soon after that you'll receive your ballot in the mail (they'll be sent out starting on Oct. 14). With your ballot, you'll receive a security envelope and a ballot return envelope, which you must sign before mailing the ballot or dropping it off.
That ballot return envelope can be dropped in the mail, by Oct. 27 at the latest, or taken to any official drop box across the state by 8 p.m. on Nov. 3.
After you've mailed your ballot or turned it in you can check on its status using the Oregon My Vote system. You can even sign up to get a text notification when your ballot is officially counted.
What you're voting on
:
The official Oregon Voters' Pamphlet is now available for the 2020 general election. Voters can use the online guide to research:
Partisan Candidates
Nonpartisan candidates
Measures
Political party statements
How to vote with a disability
:
Any Oregon voter can get assistance registering to vote, filling out a ballot and returning a ballot. Voters can receive help from anyone other than their employers or unions, or agents of their employers or unions.
Even during the pandemic, people with disabilities can receive in-person assistance from county election officials at their homes or long-term care facilities. Call your County Election Office or 866-673-8683 to get assistance. If you are hearing impaired, call 800-735-2900.
In Multnomah County, bipartisan elections teams are setting up pop-up tents outside care facilities and helping residents by appointment. These services are available upon request by resident or facility staff. People with disabilities can also receive help in their homes, at an election office or the Gresham Voting Center Express, when it is open.
Voters without or with limited vision can use a screen reader to have ballots and voters' pamphlets read aloud via My Vote. This option requires printing, signing and returning the ballot in a signed envelope and on time.
County officials will bring voters tablets to mark their ballots, where they can increase the size of the font or change the color and contrast of the text. These tablets can help voters with cognitive disabilities, limited reading capabilities or a limited range of motion. The ballots will look like this demo ballot.
Voters who are not able to sign their names can use a stamp or other mark as a signature, but they must fill out a form first with the county election office.
Disability Right Oregon also offers an Easy Voting Guide for simple and accessible information available in English and Spanish. Contact Disability Rights Oregon at 888-ORE-VOTES (866-673-8683) with any problems or questions about the rights of voters with disabilities.
People living in long-term care facilities in Oregon can also contact the Long-Term Care Ombudsmen, which advocates for residents' civil rights, including voting rights. Call 800-522-2602 with complaints or concerns.
Answering your questions
:
We've taken some of the questions you've asked us and reached out to experts and voting officials for answers.
We've also put together several other voter guides that will help you through the process, whether you're new to Oregon, new to voting or just want to know more about the process, the measures, or the candidates on your ballot.
Remember: The 2020 general election is underway already; Nov. 3 is just when the voting process ends.
What questions do you have?
Are Oregon's elections secure?
:
Oregon voters began marking ballots that came to them in the mail back in the early 1980s.
According to former Secretary of State Phil Keisling, the tradition began with the Linn County elections clerk, who wondered why the county was sending sample ballots to voters and not the real thing. That soon changed, and in the mid to late 1980s, many local elections in Oregon featured ballots that were mailed to voters.
It really took off after the resignation of Oregon Senator Bob Packwood in 1995.
Keisling was the Secretary of State at the time and had just seen a fellow Democrat, Gov. John Kitzhaber, veto a bill passed by the Oregon Legislature that would have instituted vote by mail for statewide elections.
The election to replace Packwood gave Keisling the opening he needed.
"Under Oregon law that was a special election," he said. "And a special election could be done in this manner, and we had the nation's first-ever federal election using all mailed out ballots to everybody and turnout went through the roof. Participation hit 66%."
The state never looked back. Voters passed the method for all elections in 1998 with a 69% yes vote. Fast forward 22 years and the country faces a general election in the time of the coronavirus pandemic.
Only Oregon, Washington, Colorado, Utah and Hawaii have full vote-by-mail systems. But many other states are thinking of adopting some form of it now. Voters are not as excited about standing next to each other in line for voting booths.
Oregon Gov. Kate Brown thinks other states should make the switch.
"It's very secure, its very cost-effective, and it's extremely accessible to our voters. It's one of the reasons we have one of the highest voter turnouts in the entire country. Because folks like to vote from their kitchen tables. It's very, very accessible," said Brown.
Like many, Gov. Brown noticed the long lines in Wisconsin during the primary election as voters tried to keep their distance from each other.
"I was horrified. I was horrified that the Legislature in Wisconsin would put people's lives and health at risk," said Brown.
While thousands waited in line, 71% of voters used absentee ballots to cast their votes.
Washington Gov. Jay Inslee said every state should move to the mail-in ballot.
"There's no reason not to go to mail-in voting ever, particularly now when physical voting exposes everybody to risk. This is a no-brainer. It has increased participation, it has maintained security, it has been scandal and largely glitch-free. It's widely accepted by both parties. There is no reason to not do this," he said.
At least one leading Republican, President Donald Trump, disagrees.
"Mail ballots, they cheat, OK? People cheat," he said. "Mail ballots are a very dangerous thing for this country. They're cheaters."
While there is no evidence to back that up, some Republican governors agree with the president and are resisting a move.
But in Oregon, the current Secretary of State, a Republican, said mail-in elections are indeed safe.
"I think after 20 years, we've proven that our system is very secure and voters love it," said Bev Clarno. "The voters voted it in, they've never made an attempt to vote it out. I think they're happy with it and I think it's a 20-year history of success."
Some people, including the governors of Oregon and Washington, believe forcing people to line up at voting booths is a form of voter suppression, a way to keep the vote low.
"There has been a concerted effort to suppress voting in this country. And it is one of the most venal, un-American things I've ever seen in my time in politics," Inslee said. "Not only do we have to stop the voter suppression, we have to increase voter participation in general and I really hope that Washington and Oregon's experience will be enjoyed by all Americans as soon as possible."
Keisling, the former Secretary of State warns that voters nationwide will find a way to avoid standing in those lines and worrying about coronavirus, whether political leaders like it or not.
"Be very clear-eyed that the alternative is one in which you will be flooded with absentee ballot requests from voters who have figured out this may be the only way they can vote without endangering their lives and they're going to demand it," said Keisling.
Why results may take a while
:
Barring a clear landslide, Americans will likely not know the 2020 presidential election winner between President Donald Trump and former Vice President Joe Biden on Election Night. The results may not be clear for days or weeks due to the expected record flood of mailed ballots and the legal challenges that will surely follow.
Live results on Election Day
:
KGW will bring you special coverage on Election Day 2020, including live results and analysis. And we'll have vote tallies live here as soon as they start coming in at 8 p.m. on Nov. 3.
If you were displaced by Oregon wildfires
:
Hundreds of Oregonians have lost their homes in wildfires so far, and many more have been evacuated from their homes because of the threat of wildfires.
With Election Day just 50 days away, and mail-in ballots being sent out in mid-October, many Oregonians are rightfully asking how displaced individuals will be able to vote.
"The families and communities affected by the devastating wildfires across Oregon are in my thoughts and prayers," Oregon Secretary of State Bev Clarno said in a statement Tuesday. "For any Oregonians displaced from their home and concerned about voting in the general election this November, rest assured we have a plan and are working closely with local election officials to ensure you can receive your ballot, vote, and make your voices heard."
People who don't have permanent housing - or no housing at all - can still vote. The same goes if you've lost your home in the fires. You need to provide a residential address and a mailing address for your voter registration.
The residential address can be the address of a shelter or somewhere else you're staying.
The mailing address is where your actual ballot will be delivered. If your mailing address is your home that burned down or was evacuated, your ballot will not be delivered.
Instead, you can put down the address of where you're staying, a PO box, or even the county elections office. If you do that, you can pick up your ballot at the elections office and return it there, to any mailbox or use a ballot drop box.
How can I receive my ballot if I have been displaced by wildfires?
If I submit a change of address through USPS, will my ballot be forwarded to the new address?
No. Ballots are unable to be forwarded. It is one of the security features of our system. You must inform election officials of your temporary address using one of the methods above in order to have your ballot sent there.
Do I need to register to vote from my temporary address?
No. You do not need to re-register to vote if you are living somewhere temporarily because you have been displaced by wildfires. You just need to let us know where to mail your ballot by one of the methods above.
Will I be able to vote on the local measures where my permanent address is located, even if I am temporarily living outside that area?
Yes. The ballot you receive will contain the contests for your residential address, not your temporary mailing address.
What if my mailbox was destroyed?
If mail cannot be delivered to your home or mailbox, it will be held at your local post office and you can pick it up there.