PORTLAND, Ore. -- The memorial for the victims of Friday's deadly MAX attack begins at the corner of Northeast 42nd and Halsey. Dozens of bouquets, some carefully picked from home gardens cover the sidewalk at the Hollywood transit center.
People like Janet Leonard stopped by all day Monday to pay respects.
"All the people of Portland are heartbroken over it. We're part of that. And god bless the families. God bless the families," she said, clutching a bouquet of flowers.
In the middle of the grass field behind the Hollywood sign, more flowers and notes and gestures of love.
Photos: Memorial for MAX attack victims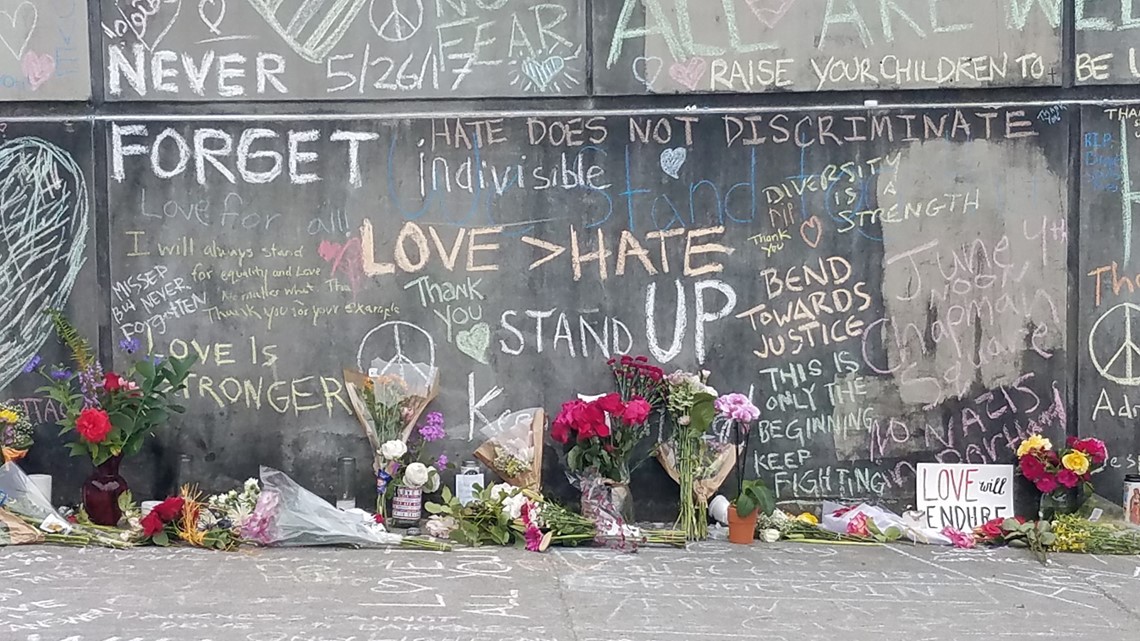 Trent Berry's wife was on the train just behind the one where the good Samaritans, 53-year-old Rick John Best and 23-year-old Taliesin Myrddin Namkai Meche, were killed standing up to a man shouting racial slurs at two young women. Micah David-Cole Fletcher, 21, was also stabbed, but survived.
"This is really heartwarming, to see everybody come together like this. Those guys were heroes. Serious business bud," he said.
More: Mayor Wheeler calls for permanent memorial after stabbings
And then, as you walk toward the stairs to MAX train platform, you see it. A soaring wall of statements, proclamations against the darkness that descended here Friday night.
One uses a math symbol to show love is greater than hate.
Another states, "Not all heroes wear capes."
There's also a thank you in Spanish, next to the words, "no hate."
"You cant help but be moved," said Nancy Wells, her fingers still yellow with chalk.
Wells was one of many who contributed to the wall. She wanted people to think about mental health.
Up on the overpass to the train station, sits more flowers and cards.
Laura Mlyn placed a bouquet of flowers along the overpass wall. She and her daughter, Jesse, came to honor the sacrifice of the men who died on the MAX train protecting others.
They felt the love pouring out of the memorial.
"It's beautiful. Makes you feel better and brings the community together," said Laura.
And celebrates bravery and selflessness.
"I feel like the people who did die on the train embody the Portland spirit in a way," said Jesse.
Perhaps that's why so many had to visit the memorial site on this Memorial Day. In their reverence, they made a public space sacred.
"Words, can't describe it you know. When it hits close to home…everyone feels it," said Tom Stebbins.
The unique memorial stands as a reminder to the families of the heroes and to each of us, that we are not alone, we do care and we do feel the pain.