WASHINGTON – Turkey fired the latest salvo Wednesday in its growing confrontation with the Trump administration by imposing heavy tariffs on products imported from the United States, including cars, alcohol and tobacco.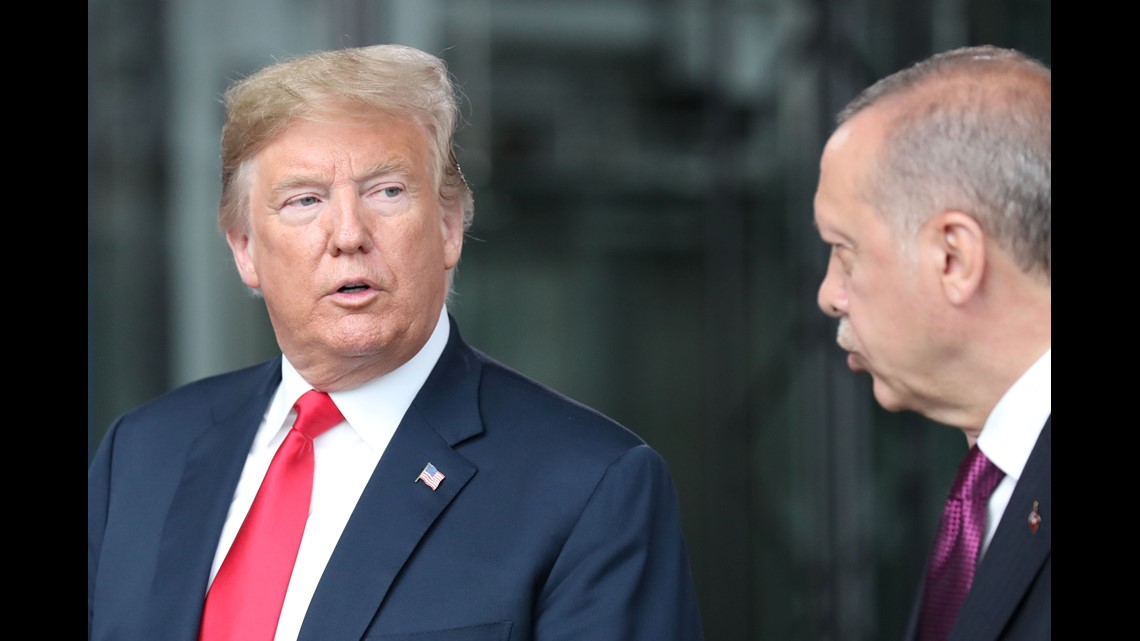 Less than a week after President Donald Trump announced that he would increase duties on steel and aluminum from Turkey, Turkish officials retaliated with new duties on nearly two dozen U.S. goods.
Turkey placed a 140 % tariff on U.S. alcohol, 120 percent on passenger vehicles and 60 % on tobacco. Other products subject to new tariffs include rice and nuts, cosmetics, uncoated paper and machines and mechanical appliances.
"In response to deliberated and continued trade tensions, Turkey has again raised tariffs on key U.S. imports," Turkish Trade Minister Ruhsar Pekcan said in a statement. "Trade wars help no one, but Turkey will do what is necessary to protect our industries and economy from assault."
In Washington, White House spokeswoman Sarah Huckabee Sanders called Turkey's actions "certainly regrettable and a step in the wrong direction."
The tariffs imposed by the Trump administration were put in place for national security reasons, she said, while "theirs are out of retaliation."
She declined to say if the U.S. would respond with additional duties on Turkish goods.
The escalating trade dispute comes amid an argument between Washington and Ankara about imprisoned American pastor Andrew Brunson, who was arrested in 2016. Turkey accuses Brunson of being a spy and says he was involved in an attempted coup. The U.S. says he has been falsely charged.
In addition to the tariffs, the Trump administration has placed sanctions on Turkey's Minister of Justice, Abdulhamit Gul, and Minister of Interior, Suleyman Soylu. Although narrowly tailored, those penalties have contributed to a slide in the value of the Turkey's currency, the lira, amid fears of a broad economic crisis.
Sanders said the U.S. tariffs on steel and aluminum will not be lifted even if Brunson is freed, but suggested the sanctions against Turkish officials could eventually be removed.
Following Trump's move to increase duties on steel and aluminum from Turkey, Turkey's President Recep Tayyip Erdogan said this week his country will boycott U.S. electronic goods, including the iPhone.
U.S. exports and imports to Turkey totaled around $5 billion in 2016, according to the U.S. Trade Representative's office. Exports were around $3.1 billion, while imports totaled $1.9 billion.