MOSIER, Ore. -- Dozens of residents of a Columbia River town in northern Oregon have been given the all clear to return home, after crews repaired some of the damage caused by an oil train derailment that sparked a fire.
About a hundred people - a quarter of Mosier's population - were evacuated Friday after several cars carrying the volatile oil went off the tracks.
Raw video: Flames, plumes pouring from oil train fire
But officials said late Sunday night that the Wasco County Sheriff's office lifted the evacuation order, after progress was made in cleaning up the derailment and restoring essential services, including a waste water treatment plant.
The remainder of the school year was canceled.
A statement by incident spokeswoman Judy Smith of the U.S. Environmental Protection Agency said 10,000 gallons of oil had been removed from the plant. She said water and sewer services were usable, but a boil water order remained in effect.
"We're doing everything we can to get you back home, but we're not going to risk your safety," Union Pacific Railroad official Raquel Espinoza said Sunday, before the all-clear was signaled.
While that may be the case, Mosier residents were very unhappy to see that UP had resumed service Monday, with freight cars rolling past the oil tankers resting along the tracks. They hope for intervention from Gov. Kate Brown to halt the freight trains.
The train that wrecked was passing through the Columbia River Gorge near Mosier when it derailed just after noon Friday, igniting a fire and sending out large plumes of smoke. The fire was put out a little after 2 a.m. Saturday.
Union Pacific says more than a dozen rail cars from the 96-car crude oil train derailed. The train was on its way to Tacoma, Washington from Eastport, Idaho.
An official with Union Pacific Railroad said Sunday that some kind of track failure was likely the cause of the derailment.
A light sheen of oil was spotted about six feet offshore in the Columbia River at the mouth of Rock Creek. Responders deployed about 1,000 feet of containment boom. Environmental crews were working to identify and control the source of the sheen.
No one was hurt and no structures were lost, according to the Oregon Department of Transportation.
Interstate 84 was closed from The Dalles to Hood River until about 11 p.m. Friday. ODOT recommended that drivers use the Hood River Bridge as a detour and the toll was waived during the closure.
Photos: Train derailment in the Gorge
Photos: Train derailment in the Gorge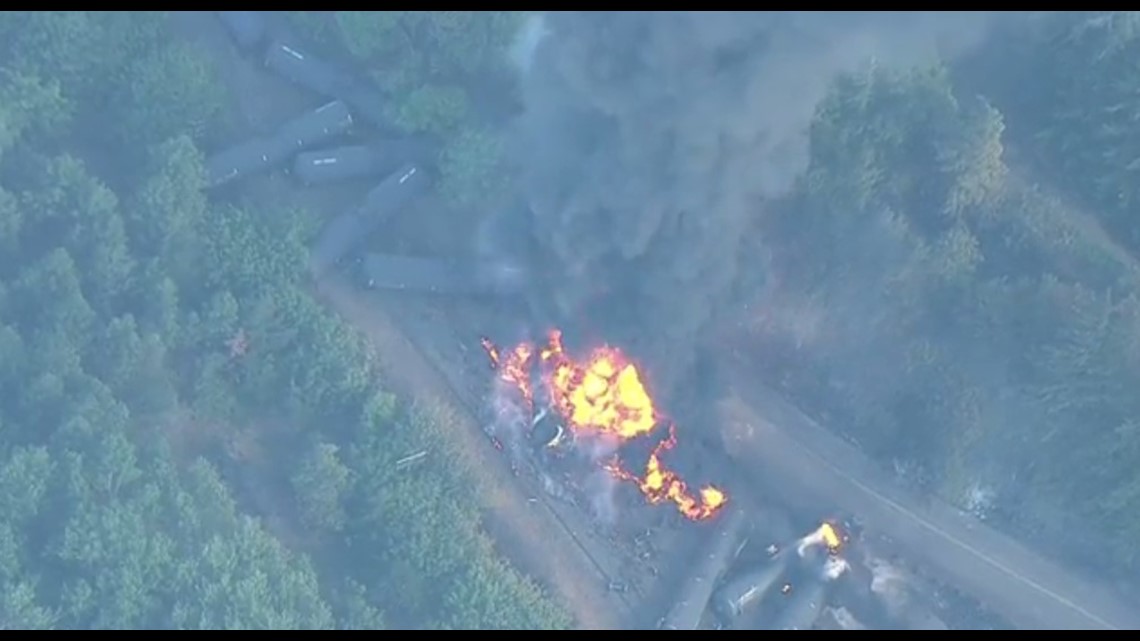 Residents within a quarter-mile of the crash were immediately evacuated when the train derailed. The evacuation was still in place Sunday afternoon as crews worked to cool down the cars and offload the oil from the remaining rail cars.
A Red Cross shelter was opened in The Dalles for evacuees on Friday and Saturday.
The derailment happened on a section of track that had recently been repaired by Union Pacific, according to ODOT. An inspection in April found 31 minor issues that did not trigger violations. All issues were fixed, ODOT said.
The train was carrying Bakken crude oil, which is more dangerous to ship than other oils because it can be more flammable. Hydraulic fracturing, or fracking, is often used to harvest oil from the Bakken region in Montana and North Dakota.
Three cars caught on fire initially. At about 5 p.m. Friday, there was an explosion and the fire intensified.
Burlington Northern Santa Fe (BNSF) Railway sent a foam truck to fight the fire. Portland Airport Fire & Rescue sent a specialized firefighting foam truck carrying about 1,300 gallons of fire suppression foam.
Gov. Kate Brown invoked the Emergency Conflagration Act to provide additional resources to crews fighting the fire.
"I am committed to making the necessary resources available to help keep the community of Mosier safe," Brown said in a press release.
She also praised first responders for their efforts. About 200 students were evacuated from an elementary and middle school near the scene. They did not return for their last three days on Monday, Tuesday and Wednesday.
Silas Bleakley was working at his restaurant in Mosier when the train derailed.
"You could feel it through the ground. It was more of a feeling than a noise," he told The Associated Press as smoke billowed from the tankers.
Bleakley said he went outside, saw the smoke and got in his truck and drove about 2,000 feet to a bridge that crosses the railroad tracks.
There, he said he saw tanker cars "accordioned" across the tracks.
Related: Worst fears realized for Mosier residents with train wreck
Environmentalists reacted quickly to the accident and called it a reminder of why oil should not be transported by rail.
"Moving oil by rail constantly puts our communities and environment at risk," said Jared Margolis, an attorney at the Center for Biological Diversity in Eugene, Ore.
Matt Lehner, a spokesman from the Federal Railroad Administration, said a team of investigators from Vancouver headed to the scene.