PORTLAND, Ore. — The first con of the year is coming to Portland. Wizard World, a traveling con, will kick off con season this year. Here's everything you need to know.
Where: Oregon Convention Center, located at 777 NE Martin Luther King Jr. Boulevard, Portland, OR, 97232

When: Friday, January 24 – Sunday, January 26.
Friday: Doors open at 4 p.m. and will close at 9 p.m.
Saturday: 10 a.m. – 7 p.m.
Sunday: 10 a.m. – 4 p.m.

What: Isn't that the question. How does one describe a con?

I went to my first Wizard World last year and erroneously thought it was going to be something Harry Potter related because my nerd knows no bounds, I guess.

I was wrong, but it was great! It felt smaller than Rose City, which checks out because it is a traveling show, but what I really enjoyed was the focus on creative vendors. There were lots of artists, some you recognize and some you wish you'd known about sooner but also unique jewelry and nerd-ware makers.
In terms of celebrity guests, Smallville fans are in for a treat because the following actors from the show will be there:
Michael Rosenbaum (Lex Luthor)
Erica Durance (Lois Lane)
Laura Vandervoort (Kara Kent)
John Glover (Lionel Luthor)
There will also be a number of voice actors from X-Men the Animated series:
Chris Britton (Mister Sinister)
While you're there getting your nerd on, you can donate to a great cause. Bring your old books, comics and graphic novels to the designated donation spot near the Special Guest Registration Desk to donate to Portland Books to Prisoners.
Oh, and don't worry, there promises to be plenty of cosplayers.
Cosplay and Costumes from Wizard World Comic Con 2019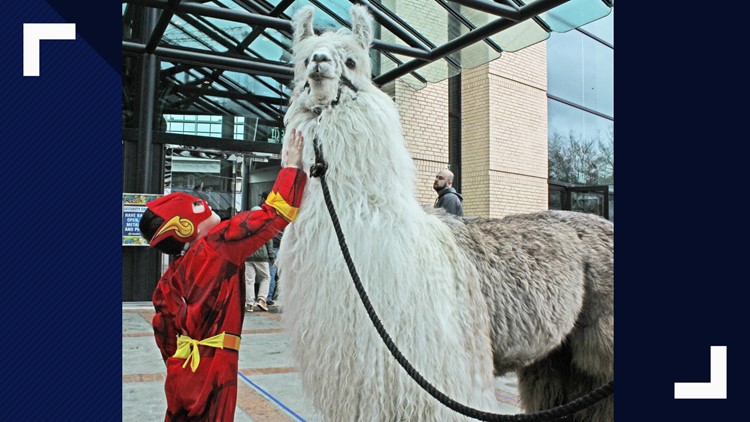 I will be live with Tonight with Cassidy on Friday at 7 p.m. and I'll be at the con on Saturday. Drop me a line on Twitter if you're there too!