JACKSON COUNTY, Oregon — Along the scorched path of Southern Oregon's Almeda Fire, there's little left of an apartment complex north of Ashland as Gov. Kate Brown steps through the rubble; half a staircase, brick pillars that once welcomed residents home, and a few metal car frames. Nothing else stood a chance.
"I've seen burnt cars, but nothing like this before," said Brown, who toured the Almeda Fire damage on Monday. "Everything that could have burned, did."
The Almeda Fire started Sept. 8 and burned more than 3,200 acres. It destroyed entire neighborhoods in the cities of Phoenix and Talent, along with parts of Ashland and Medford.
Besides exploring the damage, Brown also thanked first responders for their heroic effort. At the onset of the Almeda Fire, many local crews worked 48-hour shifts before the governor called for outside resources to assist. There were moments, though, when nothing could be done as high winds whipped flames into a frenzy.
"You don't fight these fires, you just get the hell out, right?" asked Brown to those leading the tour. "No," they responded. "You can't."
Gov. Kate Brown witnesses damage from Almeda Fire firsthand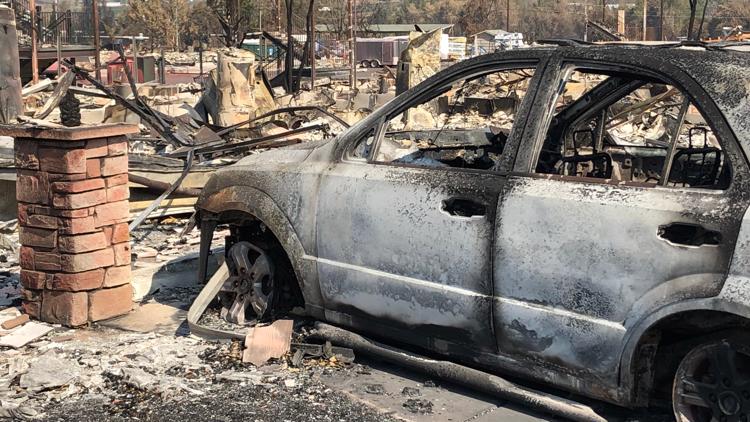 In Lane County, crews continued fighting the Holiday Farm Fire, which started Sept. 7. By Monday, it had burned more than 173,000 acers and was 22% contained. Nearly 1,000 firefighters from 18 states and Canada were working the fire lines. Five firefighters had been injured and 431 homes destroyed.
Back in Southern Oregon, Brown said her priority was to secure resources necessary to help rebuild an "even stronger Southern Oregon." Those displaced by the fire were encouraged to apply for federal funding for new housing.
"This community will rebuild," said Brown. "I'm sure."