BRIDAL VEIL, Ore. — A pilot program that required drivers to buy a timed permit to visit a stretch of the Columbia River Gorge last year won't be back this summer. The Oregon Department of Transportation (ODOT) said the program in its current form is too expensive to maintain.
Drivers needed to buy timed permits ahead of their visit to access a roughly seven-mile stretch of the Historic Columbia River Highway, nicknamed the Waterfall Corridor. The project was meant to address congestion and safety concerns along the highway.
During the permit period that ran between a week before Memorial Day to a week after Labor Day, drivers needed to buy a $2 timed-use permit to enter the corridor. Visitors who took a shuttle or rode a bike were not required to get a permit.
According to a detailed analysis of the pilot program, officials said it was a success. On the west end of the corridor, total daily traffic volumes at Bridal Veil Road were 50% less in 2022 than those in 2017, the report said. On the eastern end at Ainsworth State Park, the people hour of 140 vehicles per hour, between 3-4 p.m., was 65% less in 2022 compared to the peak hour of 404 vehicles an hour, between noon to 1 p.m. in 2017.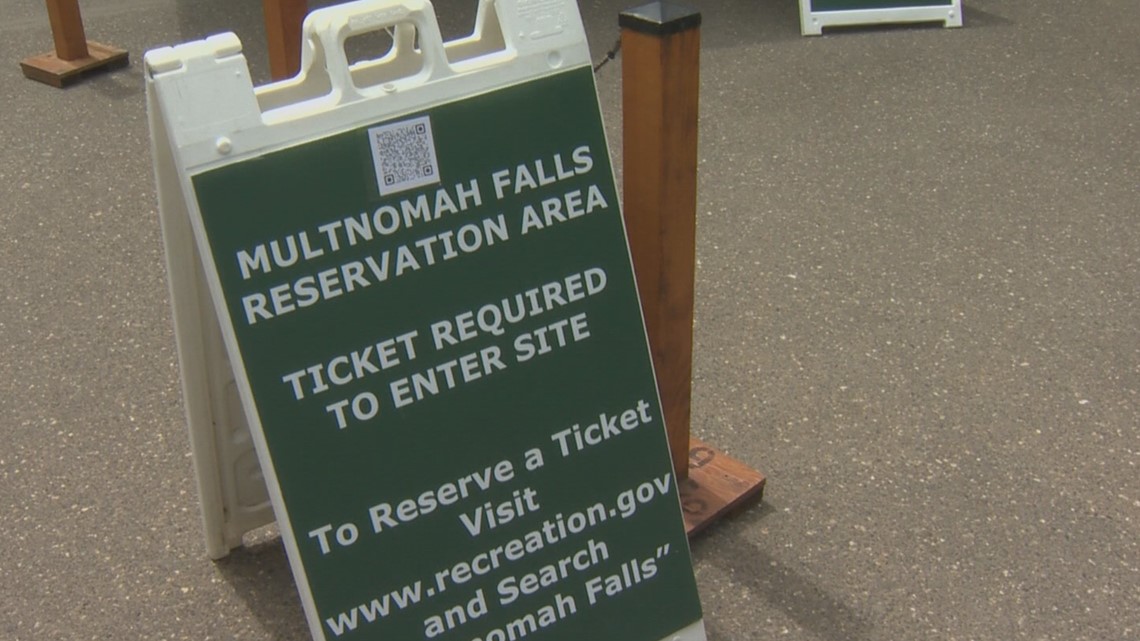 ODOT deemed the program a success and said it made the highway safer because of the lack of vehicles on the narrow highway, but it was too expensive.
The state estimates that between ODOT, the U.S. Forest Service, Oregon Parks and Recreation and the Columbia Area Transit, the program cost more than a half-of-a-million dollars to run, but when all of the costs were factored in, it most likely cost closer to $1 million.
Permit will be required for parking lot near Multnomah Falls
The state's pilot program did reveal one problem spot: Multnomah Falls.
"Turns out, Multnomah Falls was the center of where the congestion was happening and it expanded outward," said Terra Lingley, ODOT's Columbia River Gorge National Scenic Area coordinator.
For that reason, timed-use permits will be required over the summer to park in the Multnomah Falls lot off exit 31 of Interstate 84. The dates and times for those permits are not available yet, but they will be required from Memorial Day to Labor Day.
A flagger will be stationed at the crosswalk leading from the north side of the highway across to the falls and Multnomah Falls Lodge to help with traffic congestion and pedestrian safety. If the parking lot is full, flaggers will move drivers along.
"What happens is people are waiting to turn left into that parking lot and there's only about 50 spaces for vehicles, and it's like Christmas Eve at the mall. People are kind of stalking people seeing who's leaving and stopped on the highway," Lingley said. "So what happens is people who are trying to move through, they are just driving the historic highway. They are just stopped behind these other folks, and they get impatient and they make not great decisions."
Lingley said the state is looking at long-term fixes for the congestion problems that would require less staff. She added that when the state analyzed the data, visitors often waited until the last minute to buy permits, rather than get them two weeks in advance.
"It was like a day or two days in advance of their trip. People don't really plan ahead and we're really trying to encourage folks to plan ahead more," Lingley said.