CLARK COUNTY, Wash. – They may be gone, but they haven't been forgotten.
Dozens of makeshift crosses now mark the site where hundreds of chickens were injured or killed when a Foster Farms truck carrying more than 5,000 birds rolled over Monday afternoon.
It's unclear who put the crosses at the scene. Photos from a KGW viewer showed individual messages such as, "Still missing you," "Found out what's on the other side of the road," "RIP Friend" and "RIP Drumstick."
Photos: Crosses mark scene of chicken truck crash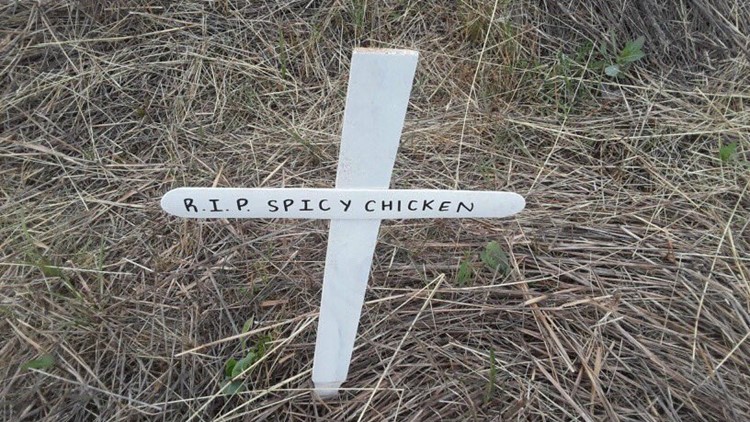 Monday's crash shut down the intersection of SR 502 and 29th Avenue in Clark County for several hours as Foster Farms workers cleaned up the scene. While that was going on, animal rights activists arrived. One of the activists, Amber Canavan, grabbed an injured chicken and refused requests from law enforcement officers to let it go. A standoff between the activists and police unfolded on Facebook Live.
The activists wanted to bring the lone chicken to a sanctuary, but sheriff's deputies told them Foster Farms would not allow it for liability reasons.
Negotiations stalled and deputies took the bird from Canavan. She was arrested for obstruction of justice and theft.