PORTLAND, Ore. — Washington County has submitted its application to begin a limited reopening under Phase 1 of Gov. Kate Brown's plan to restart the state's economy.
The county hopes to enter Phase 1 on Monday, June 1.
If the county is allowed to enter Phase 1, the following restrictions will be eased:
Restaurants and bars for sit-down service: Requirements include 6 feet of social distancing; a limit of groups to parties of 10 or fewer; food and drink consumption must end by 10 p.m.; and workers are required to wear masks. See more details on the requirements
Barbers, salons and massage businesses: Requirements include social distancing; appointment-only; and a personal protective equipment and customer list. See more details on the requirements
Gyms and fitness centers: Requirements include a maximum gathering limit; social distancing; and sanitation. See more details on the requirements
In-person gatherings: Up to 25 people, no travel
"As we await the state's decision about our application, we need everyone in our community to understand that our success under Phase 1 reopening will be of our own making," said Board of Commissioners Chair Kathryn Harrington. "Each of us will need to be responsible for following the public health guidelines necessary to prevent the spread of the new coronavirus. We all need to do our part so our community moves safely into our less restricted future, not backward into our more restricted past."
The county's application outlines how it met the seven criteria required to reopen, including hospital capacity, testing regimen, PPE supply, a decline in cases and contact tracers.
The county plans to hire and train 42 staff members for contact tracing by June 1, and continue hiring to meet the state's requirement of 15 contact tracers for every 100,000 people.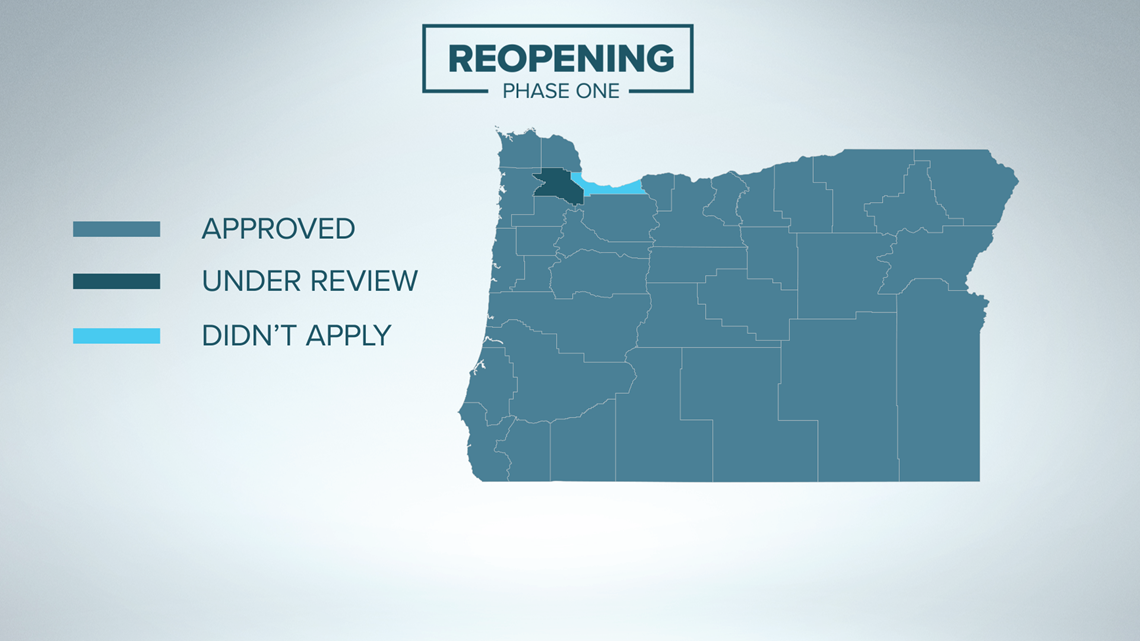 "If we are approved for Phase I on June 1, we urge our community to take a cautious approach. We can all do our part to prevent a resurgence of disease spread and hospitalizations by staying home if we are sick, practicing physical distancing, washing our hands often, and wearing cloth face coverings," said county Health and Human Services Director Marni Kuyl.
Meanwhile, Clackamas County has been approved to enter Phase 1 on May 23.
Multnomah County is the only Oregon county that has not yet applied to reopen.