PORTLAND, Ore. — Portland police have identified the officers who opened fire at a carjacking suspect inside a homeless shelter on Saturday night.
Portland police said the deceased suspect was 48-year-old John Andrew Elifritz. The state medical examiner said Elifritz died of multiple gunshot wounds. Toxicology results are pending.
Police belive Elifritz lived in Milwaukie. He has no known association with the shelter where the shooting occurred.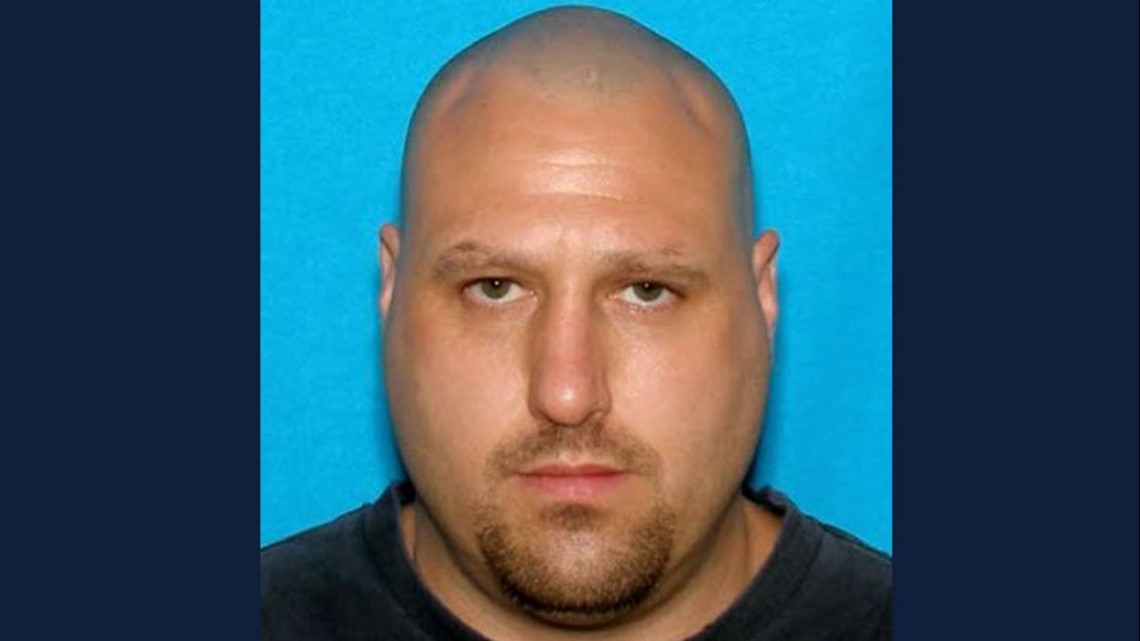 Seven Portland police officers and one Multnomah County sheriff's deputy were involved in the shooting, and another 12 Portland police officers witnessed the shooting, according to a news release from the PPB.
The PPB delayed releasing the names of the involved officers due to threats to their safety, according to police. Their names were released Tuesday following an investigation into the threats:
Officer Richard Bailey, a two-year-veteran of the PPB;
Officer Justin Damerville, seven-year-veteran of the PPB;
Officer Kameron Fender, an eight-year-veteran of the PPB;
Officer Alexandru Martiniuc, a six-year-veteran of the PPB;
Officer Bradley Nutting, an 11-year-veteran of the PPB;
Officer Chad Phifer, a 10-year-veteran of the PPB;
Officer Andrew Polas, a 14-year-veteran of the PPB;
Deputy Aaron Sieczkowski, a six-year-veteran of the Multnomah County Sheriff's Office.
Portland Police Bureau Chief Danielle Outlaw has pledged transparency in the investigation.
Outlaw said she's aware a community member captured video of the shooting, which has since been shared across social media. She said deadly force investigations are complex and time-consuming.
"The Portland Police Bureau values human life and accepts the authority to use lethal force with great reverence," Outlaw said in the statement. "I am aware a video was taken of this incident by a community member and that video was posted to the internet. Please be reminded that deadly force investigations are extremely complex and take time.
"The police bureau is committed to transparency and will ensure the entire investigation is released in a timely manner that does not impact the integrity of the investigation."
The ACLU of Oregon said video of the shooting "raises serious questions" about the use of deadly force, and Portland Mayor Ted Wheeler said people shouldn't jump to conclusions based on the video.
Police initially responded to a report of a crash near Southeast Martin Luther King Jr. Boulevard and Stark Street at about 7:30 p.m. Saturday. The car was unoccupied and abandoned on the nearby Portland Streetcar tracks.
Officers found Elifritz inside Cityteam Ministries, a shelter that offers homeless services, about a block away from the crashed car. Police said they had preliminary information that he might be armed.
As first reported by The Oregonian, an emergency dispatcher told officers at the scene that the bureau had received multiple calls earlier Saturday saying the same suspect, identified by the dispatcher as Elifritz, was holding a knife to his throat and ranting about his wife and daughter being murdered. The dispatcher said police disengaged with the suspect during the earlier encounter.
Later, at the homeless shelter, witnesses told KGW the situation quickly took a turn.
One man, who only wanted to be identified as Matthew, said a man who wasn't in his right mind walked into Cityteam with a knife and began stabbing himself. Matthew said officers first used beanbags to try to subdue Elifritz, but then used lethal force. He said he didn't see any attempt at deescalation.
"None of the police or any of the workers at Cityteam tried to approach him orally and resolve the matter; it was all action and violence," Matthew said.
"They yelled some commands to the person and seconds later fired, like, eight shots in a row," recounted John Terrio, who said he was right across the street when it happened.
Another witness, Morgan Pickering, was inside the shelter at the time of the shooting and captured video of the incident.
In the caption for the video, Pickering wrote, "Graphic! Police protected us, had to shoot man."
"It was horrific," Pickering told The Oregonian. "We were all scared for our lives."
According to Pickering, officers first fired rubber bullets or bean bags at the suspect, but that didn't stop him. They said he lunged at officers with the knife in his hand and that's when officers opened fire.
Pickering said he believed the officers' actions were "absolutely 100 percent justified."
"Cops did everything right," he said. "I applaud their actions. They actually saved lives."
A small group of community members held a vigil Sunday afternoon near the shelter where the shooting took place to protest police violence.
Close friends there said Elifritz grew up in Portland, treasured his family members and had a huge heart.
"John John would give him the shirt off his back. He would do anything in the world for anybody," said Victoria Nevarez, who said she's known him since they were teens.
Nevarez said Elifritz leaves behind a wife, a 12-year-old daughter, and many other family and friends.
"We're here because we feel what happened was wrong, and that mental illness needs to be taken care of in our community and we love him with all of our heart," Nevarez said.
At the vigil, many demonstrators had already seen the videos circulating online. Some said they came out after seeing for themselves what happened.
"Everything about it bothers me. There were 12 police officers and one potentially armed man with a knife," said Aubrey Danner, one of the demonstrators.
"As many cops as there were, they didn't need to shoot him. It didn't need to happen. I just think it's unacceptable," said another demonstrator, Carlee Durkee.
PHOTOS: Vigil to protest police violence in Portland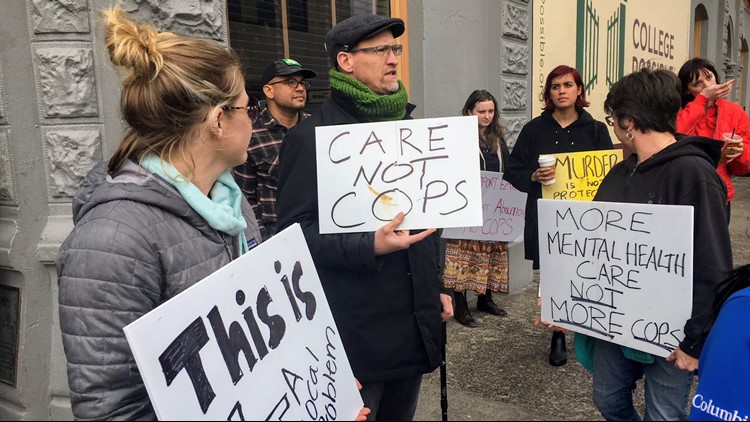 In reaction, David Rogers with the ACLU of Oregon issued the following statement regarding the shooting:
Bystander video of the fatal shooting of a man in a homeless shelter in Portland last night raises serious questions about how police handled the situation and whether lethal force was called for. Trained police officers should use the least amount of force necessary.
Portland Mayor Ted Wheeler said even with the video being widely circulated, it's too soon to jump to conclusions about what happened:
The loss of a life is always tragic. My priority is to discover the facts and circumstances regarding this incident. Already, there are those who want to immediately define what happened. It would be highly irresponsible for me to participate in speculation at this time. I urge us all to allow investigators to do their work, to uncover the facts, and to report on their findings.
Multiple officers fired their weapons during the incident, according to police spokesman Sgt. Chris Burley. Homicide detectives, the East County Major Crimes Team and the Multnomah County District Attorney's Office are conducting the investigation into the shooting.
The involved officers remain on paid administrative leave until the investigation and a grand jury hearing have concluded, which is department protocol.