VANCOUVER, Wash. — Vancouver police are investigating two shootings that happened within about a 20-minute span on Aug. 9. One of the shootings left a man dead.
Police responded to a shooting around 10:25 p.m. at the Columbia View Apartments on 4801 E. 5th Ave. Residents reported hearing multiple shots fired. Officers found a man in a parking lot who had been shot. Police said the man was taken to the hospital, but later died.
One resident named Alexi, who asked to only be identified by her first name, said she heard gunfire outside her building. "All of a sudden I heard a pop, pop, pop, pop and then a couple more," Alexi said. "It was super loud, it was crazy, so I hit the ground and then I called 911."
The second shooting happened two miles away at 10:46 p.m. Police responded to a report of a drive-by shooting at the entrance of the Thunderbird Village Apartments at 4601 NE 18th St. Officers found a man in a vehicle who had been shot. Police said the man is in critical condition in the hospital.
"Obviously people who are committing these crimes have no regard for human life or the safety of other people who may be in the area," said Vancouver Police spokesperson Kim Kapp. "Certainly if you're shooting into an apartment complex, there are innocent bystanders there as well."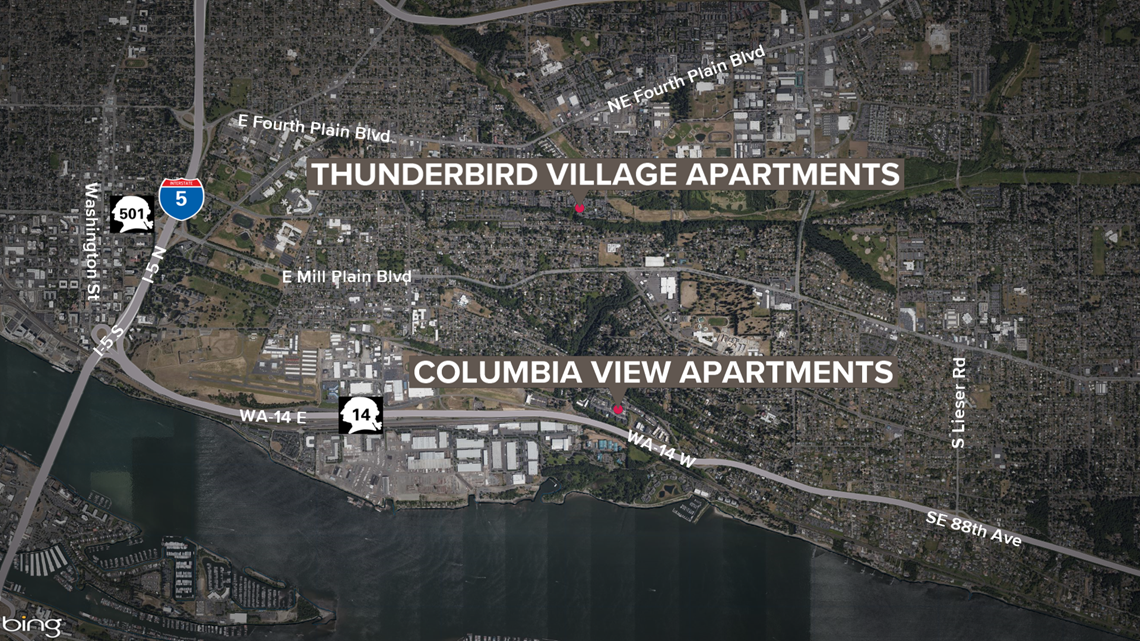 The Vancouver Major Crimes Unit is investigating both shootings. Detectives do not know if the shootings are connected.
Police have not released any suspect information and no one has been arrested. Anyone with information is asked to call Vancouver police at 360-487-7355.