PORTLAND, Ore. — TriMet MAX trains are operating as usual on Saturday after the agency temporarily suspended service Friday morning amid continued snow and freezing rainfall across the Portland metro area.
Service is running on regular Saturday schedules for Christmas Eve. There were no major delays or disruptions, as of early Saturday morning.
The agency said a few MAX trains equipped with ice cutters ran throughout Friday night to help keep the overhead wire clear of ice.
About half of all TriMet buses, primarily on routes in higher elevations, are equipped with heavy-duty chains. Those buses cannot travel faster than 25mph, so riders have been warned to budget extra travel time. Crews will continue to monitor road conditions, and they will remove chains from buses as the snow and ice melt away.
TriMet suspended Portland Streetcar service service Saturday morning. The agency said, while crews continue to work to get the streetcars ready, thick ice covering tracks is proving to be an issue.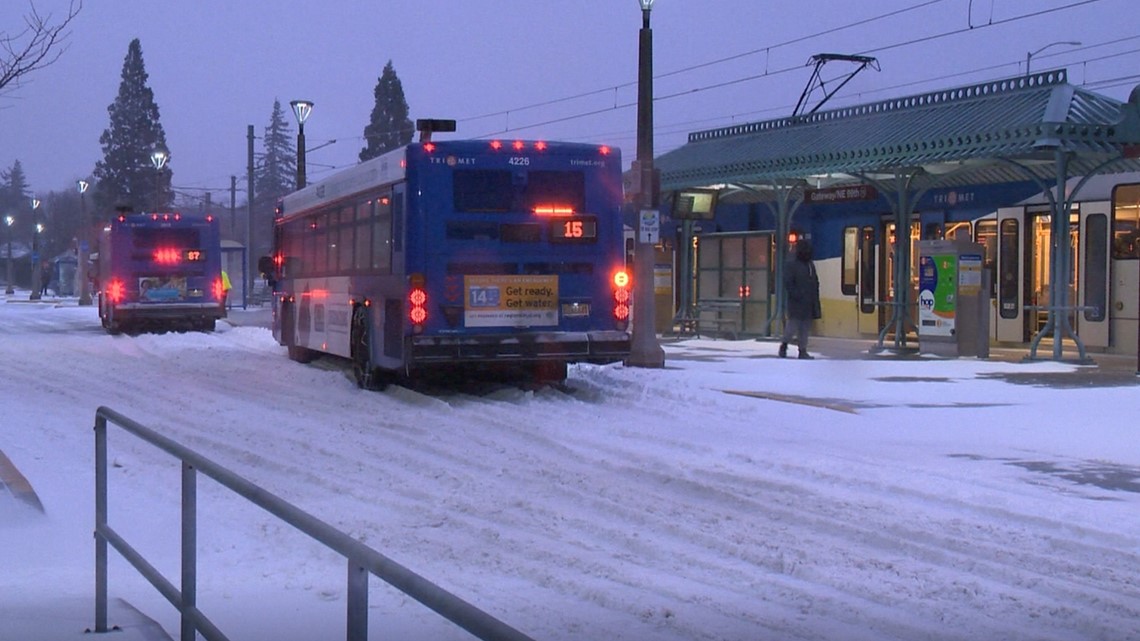 TriMet said its LIFT paratransit service will provide life-sustaining trips only through 10 a.m. Saturday.
Check trimet.org/alerts frequently as the information about disruptions, delays and cancellations can change rapidly throughout the day.
During Multnomah County's state of emergency, TriMet announced they would not turn away riders unable to pay fare if they're traveling to or from a warming space. Riders can find other weather-related information here.
On Thursday night, TriMet began preparing for snow and freezing rain and warned riders to be safe and plan for delays. A number of MAX lines reported disruptions Thursday morning due to debris on overhead wires.
On Wednesday, crews applied ice melt at transit centers, MAX stations and major bus stops.