PORTLAND, Ore. — Warning: The following article contains graphic language, images and depictions of brutal violence pertaining to the MAX train attack that may be troubling to readers.
The fifth day of Jeremy Christian's trial got underway Monday with testimony regarding Christian's actions after he fled the stabbing scene.
Christian is accused of going on a hateful rant aimed at two black teen girls aboard a TriMet MAX train on May 26, 2017. An altercation followed between Christian and two other men, Micah Fletcher and Taliesin Namkai-Meche, and quickly escalated as the three men were chest-to-chest.
Fletcher shoved Christian twice, and Christian told him, "Hit me again, hit me again." Prosecutors say Christian then took a 4-inch knife from his shorts pocket and stabbed Fletcher, Namkai-Meche and another passenger, Ricky Best.
Best and Namkai-Meche died. Fletcher was gravely wounded, but survived. The knife barely missed a main artery that would have killed him.
The defense and state submitted their opening arguments earlier in the week. Christian's lawyers argued their client used self-defense in the attack, because he felt like he was being assaulted by Fletcher.
Chase Robinson, a witness to the stabbing, took the stand Monday morning. He testified he ran after Christian when he fled the MAX platform after the attack.
Robinson testified he and several other passengers chased him as Christian crossed an overpass and went into a neighborhood.
Eventually, Christian stopped, turned around, saw the group, and pulled out his knife again.
"He grabbed his knife, approached us with vague threatening language pointed at [one of us], and then went down a path," Robinson said.
Next to testify was Edward Johnson, one of the Portland Police officers who responded to that neighborhood and eventually arrested Christian.
Johnson, an African American man, testified Christian said to him, "Tase me,n*****" as Johnson was holding a Taser.
Johnson added he knew Christian was talking to him because he was the only black officer on scene. Following the arrest, Johnson said he had to fill out a form about Christian. He said he did not check a box that inquired whether Christian had a mental illness.
'This is a hate crime, I hope they all died.'
Late Monday afternoon, the prosecution played a 30-minute long video compiling footage and audio of a brief ER visit Christian had when he was initially arrested, followed by a ride to the Portland Police Central Precinct in downtown Portland.
Officers put a spit-mask on Christian during the ride, because it appeared he was starting to spit at officers.
Much of the video is explicit and non-nonsensical, but Christian can be heard using the n-word multiple times, and going on rants much like the one he was heard having prior to the stabbings.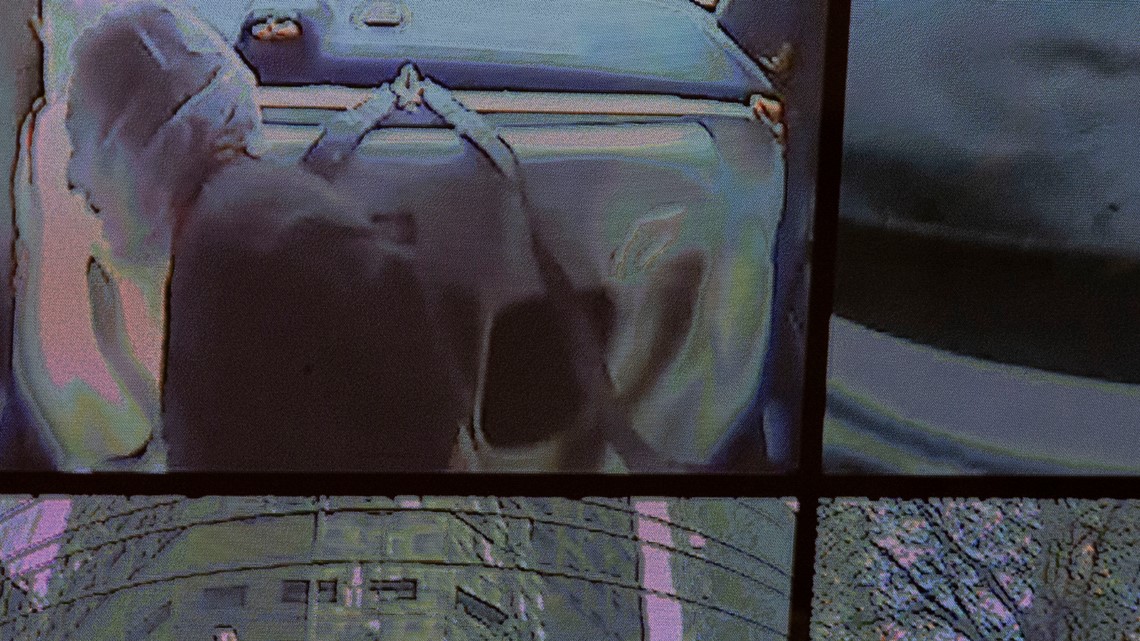 At one point, Christian references the Free Speech rally he attended a month prior (April 2017) during which he crossed paths with Micah Fletcher.
"I'm a Nazi, right? 100 f****** percent a Nazi, right? Cause I was at the 82nd March, marchin' for free speech," Christian said.
He also appeared to reference the death of Mulugeta Seraw, an Ethiopian student who was beaten to death in 1988 by three white supremacists using a baseball bat in SE Portland.
"I remember when it was skinhead central in the 80's. I remember when it was outlaw central in the 70's. I remember when they were killing Ethiopians with baseball bats," Christian said.
PHOTOS: Jeremy Christian Trial, Day 5
"There were a few times I had my safety off and finger on the trigger."
Three Portland Police officers -- Andrew Jenson, Brad Nutting and Brad Kula -- who responded to the scene also testified Monday afternoon.
Officers Jenson and Kula dealt with Christian after he fled the stabbing scene, and helped put him in custody.
Officer Kula was the first officer who came upon Christian, and said he took his rifle out before getting out of his car. He used his car as a partition between himself and Christian.
He asked Christian multiple times to drop his knife and lie down on the ground, but those commands were not taken. Officer Kula said Christian was "waving his knife around" and "got frustrated and walked away" multiple times.
When asked by the prosecution whether he ever thought about shooting Christian, Officer Kula responded, "I can't tell you... there were a few times I had my safety off and finger on the trigger."
Officer Jenson testified he and another officer helped arrest Christian moments later, and put him in his police car. Jenson testified Christian started yelling about the attack, at which point the officer requested a specialized police car which is equipped with multiple cameras.
He read the following quote from Christian in court: "I hope those mother f****** are dead. I can rest in peace as long as these mother f****** are dead."
He also testified Christian yelled at him about being Jewish once he was inside his patrol car.
In the meantime, Officer Nutting testified he provided first aid to Micah Fletcher at the MAX platform by applying gauze to his wound and putting pressure on it.