PORTLAND, Ore. — Thousands of Portlanders gathered downtown Friday evening to protest the U.S. Supreme Court's decision to overturn Roe v. Wade, ending the nearly 50-year precedent that guaranteed a constitutional right to an abortion. The ruling is expected to lead to abortion bans in about half of U.S. states.
Two crowds gathered separately in the late afternoon at Lownsdale Square near the Multnomah County Justice Center and a few blocks away at the south end of Tom McCall Waterfront Park. The waterfront crowd eventually moved over to join with the Lownsdale crowd, bringing together at least 2,000 people.
Protesters could be seen holding signs with messages like "We won't go back," "Keep abortion safe & legal" and "Bans off our bodies."
"I have friends, family and they've been rape victims," said Brittany Vigoren. "They've been in situations where they didn't have the funds to go through with having a child — so the fact that those people are going to be put in a position where they are forced to go through … it's just awful."
PHOTOS: Abortion rights protests in Portland
"It is insane that this is happening and I honestly cannot believe it," said Ava Rowe. "I'm still young and I don't want this to be my future … having these bands put on my body."
For people who turned out to the protest on Friday like Vigoren and Rowe, it's cold comfort that Oregon is one of the U.S. states to protect abortion rights under law — but comfort nonetheless.
"I was looking at a map of all the different states that are going to be sticking with the law," Vigoren said. "And of course Oregon was one of them so I was really proud to be an Oregonian."
The crowd left the park just before 7 p.m. and began marching north through downtown Portland, eventually looping back to cross the Hawthorne Bridge about half an hour later.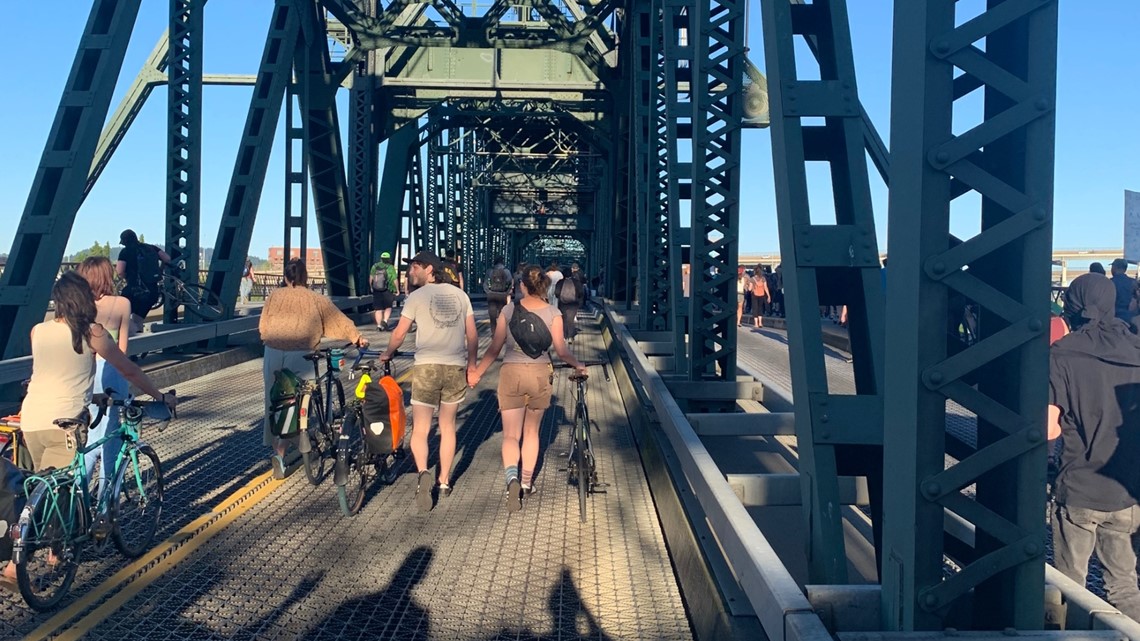 The Portland Police Bureau (PPB) sent out a press release at about 6 p.m. stating that police expected to see multiple downtown protests Friday night and asking drivers to be patient if road disruptions occurred.
The news release said PPB would prepare for the event by "adding resources," but did not include any specifics other than a general warning to refrain from property destruction.
"I respect the right to gather and demonstrate, and I urge everyone who does to do so peacefully," police chief Chuck Lovell said in a statement. "I urge you to reject any attempt to undermine your message by those who utilize the tactics of criminal destruction."
After marching across the Hawthorne Bridge, protesters returned to downtown. Many gathered at Lownsdale Park once more, some moving onto 3rd Avenue and blocking traffic — chanting their displeasure with the Supreme Court.
"Justice Clarence Thomas has outwardly said that he is coming for other rights," one protester, who preferred to remain anonymous, told KGW. "He's not vague about it at all. So it's really important that we resist as early as possible."
"How do we move forward? Is together… And seeing all of our issues are interconnected," said Drew Frantz, a reverend with the Unitarian Universalist Church. "This is about the rights of trans people, the rights of Black and brown people. The rights of poor people. So we move forward together with coalitions … and political action … grounded in morality and values — that's how we move forward."