PORTLAND, Ore. — Sam Sherer works as a greeter at the Fred Meyer on SE Hawthorne in Portland, but he also dreams of becoming a fashion designer.
Sam lives with cerebral palsy, and for years, it seemed his dream of design would never be more than an idea expressed in his daily wardrobe.
On a recent morning, Sam stepped out the front door of the home he shares with his mom and stepdad in east Gresham. He wore red, snakeskin shoes that he bought online, dark slacks, a white shirt, gold chains on his chest and a red blazer. The coat and slacks belonged to his grandfather.
Five days a week, he boards a special TriMet shuttle bus for the ride to SE Portland. He's had seizures, so he cannot drive.
The bus often stops to pick up others with disabilities and sometimes, the ride stretches as long as two hours.
TriMet driver Jeremy Hurley remembered the first time he saw how Sam dressed for work.
"Its unconventional because you don't normally see it. But I thought it was pretty cool," Hurley said.
That's a typical reaction to Sam.
For the past 9 years, Sam has stepped off the bus at the SE Hawthorne Fred Meyer store, dressed in his best clothes to be a greeter at the store.
He travels all this way because it's the closest store with a greeter position. He just has to be in front of people, has to wow them with his sense of fashion.
He often takes over for someone wearing jeans, like his buddy Michelle Sandoval.
"I always feel under dressed, I mean that goes without saying, look at the guy you know?" she said with a laugh standing next to Sam.
Some, like firefighter Kevin Pratt, snap pictures with Sam and his various looks.
Everyone seems to know Sam. One man handed him a stack of magazines featuring cars, because Sam loves automobiles.
So maybe it wasn't that surprising what happened recently when word spread on the NextDoor social network that Sam dreamed of becoming a fashion designer, but could not afford the schooling.
The community got busy. Anne Seward, who had met Sam just a couple times, led the way.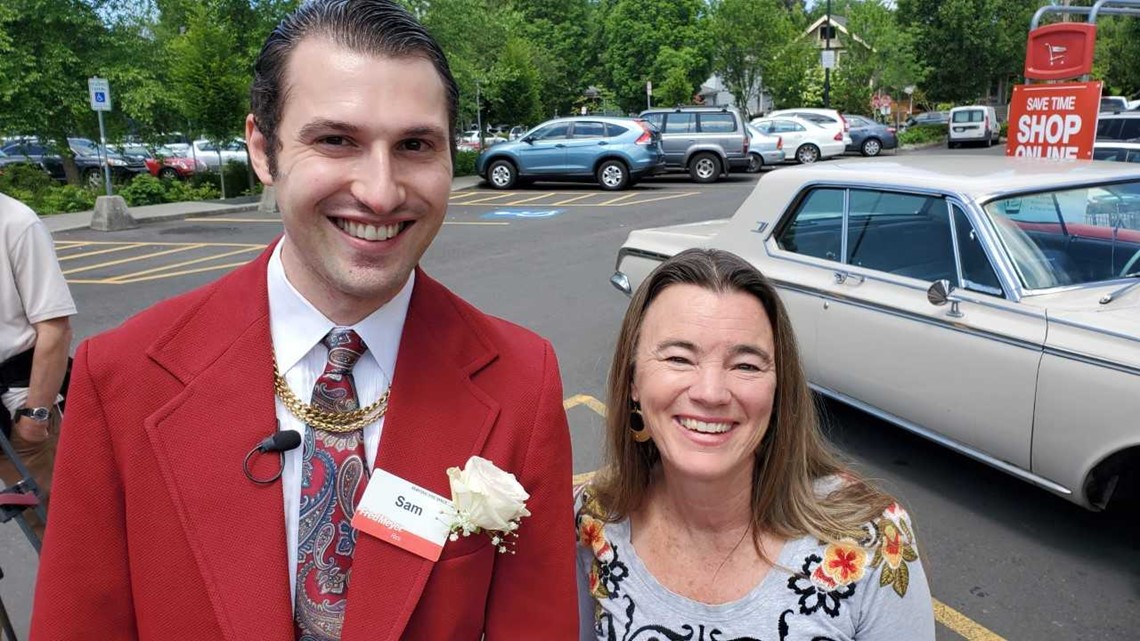 "There were a couple people on the thread that said someone should start a GoFundMe and I thought, how hard can it be?" she said.
"It's great. I kinda feel like it's just taken on a life of its own," Seward said.
Sam is moved by the outpouring of love, and dollars from the community.
"It was amazing, it's just a miracle happened like that. And I was just like, wow! Miracles came about," he said.
Seward used to design clothes herself and loves that the community is now supporting Sam's dream.
"It gives me a lot of hope. I think communities need to come together more," Seward said.
Part of that happened in the parking lot at Fred Meyer when Sam's mom, Vicky Webber arrived to talk about the fund.
"Thank you... You're awesome. Thank you!" said Webber as she hugged Seward.
Webber has her own health challenges, and is living with multiple sclerosis.
She said she's incredibly proud of her son.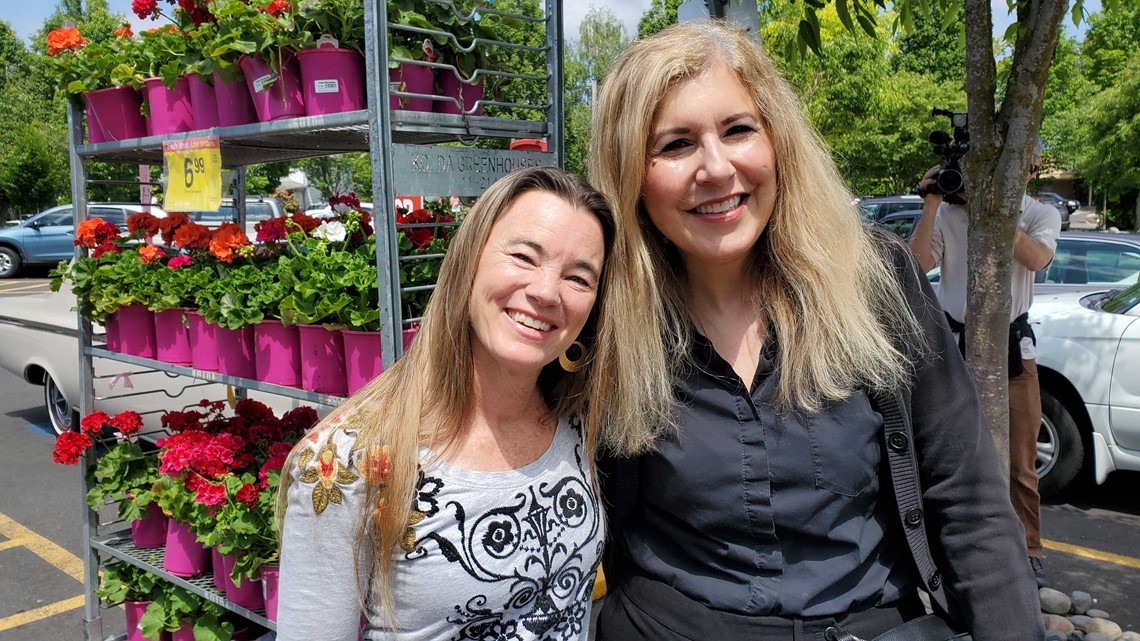 "Sam is special. He's a very special kid," she said with a smile.
She showed KGW his art work, talked about his passion for fashion and about the wonderful gift of the GoFundMe money for Sam's schooling.
"We cannot believe it. It's unbelievable," said Webber.
Sam has an associate degree from community college. He and his mom are now trying to figure out where he can use the donated money to enroll in a fashion design program that will take him to the next level.
Suddenly, his world is full of possibilities.
If you know of anyone who has served their country or community, please email mykgw@kgw.com to get them featured.