The U.S. Forest Service has finished assessing 20 miles of trail burned by the Eagle Creek Fire in the Columbia River Gorge.
Crews found a range of conditions impacting popular pathways such as Multnomah Falls, Wahclella Falls and Larch Mountain trials, the agency said in a news release Friday.
Damage on the trails ranges from minimal to more severe, with washouts, landslides and heavily burned conditions making them difficult to follow.
Some of hardest-hit include popular routes, such as Horsetail Falls, which is described as being in "poor" condition, "nearly covered in large rocks" and "treacherous."
The trails above Multnomah Falls and Larch Mountain also were rated as being in "poor" condition.
Other hikes, including the Pacific Crest Trail near Cascade Locks, are rated as being in "fair" shape.
Repair work has begun, but trails remain closed indefinitely due to post-fire hazards.
Here's a breakdown of the trails that have been assessed, and how they look, from reports produced by the U.S. Forest Service.
Gorge Trail 400 (Wyeth Trailhead to Herman Creek Trail 406)
Burn in the area was very light, but there is no understory remaining. Trail is walkable with several short (up to 10 feet) and one moderate (up to 50 feet) slide sections that will need repair. There are two short washouts near the west end of the trail. About 80 percent of the distance is fine with scattered rock and other litter which is easily removed. In about a dozen places, you need to go off trail to get around downed logs or brush. There are a few dozen burned stump holes. Small limbs or logs can be hand tossed off the trail.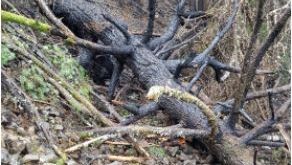 Tread is in good shape aside from burnt out holes and scattered rock fall; no losses due to washouts or other activity. All tread repair work can be done with material on hand. Sloughing on nearly 50 percent of the trail; with lack of drainage, sloughing is acting to help move water off the trail.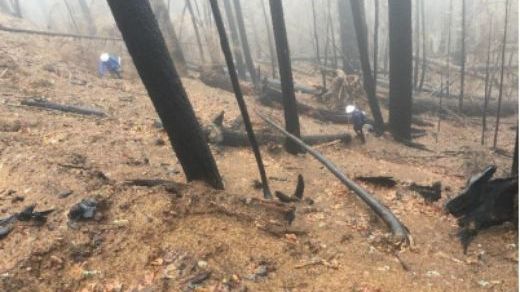 Miles: 1.5 (of 11.3) assessed
At this time, the trail has been assessed between the trailhead and junction with Nick Eaton and appears to be in fair condition (little work needed on segment assessed). Some sloughing on switchback and berms. Large boulders upslope of trail that could become loose due to lack of vegetation and effects of rain.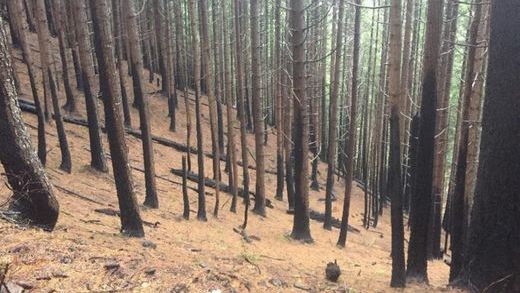 The first 0.2 miles of trail were assessed. Trail is nearly covered in large rocks on first two switchbacks and buried in multiple places. Due to continuous rock fall on trail, upslope hazards, and exposure, it was decided to discontinue assessment. Conditions throughout most of the loop are treacherous. Rock slides are on the critical angle of repose and walking on them elicits an almost fluid response downhill. Most of the trail was burned heavily so snags abound. This will need geo-tech input, machinery like a mini-excavator, likely gabions, rock wall reconstruction and technical log and stump removal.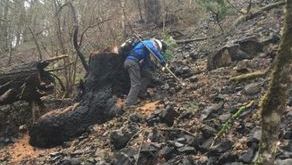 Multnomah Lodge to Upper Viewing Platform (Larch Mountain Trail)
Miles: 1.0 (of 6.8) assessed
Approximately 90 percent of the trail is covered in rocks, with piles up to three feet high. Safe removal of these rocks will be a challenge. There is one location of visible damage to the trail. Multiple user-created switchbacks exposed by fire. There are multiple maple trees and burnt logs as well as brush and other debris covering much of the trail. The surrounding terrain is steep with concerns about destabilized boulders and rocks.
Infrastructure damage: Many of the signs and posts along the trail were destroyed. So was the fencing and Shady Creek Bridge. Some sections of rock wall damaged and gabion reinforcements may be compromised. Upper viewing platform not damaged.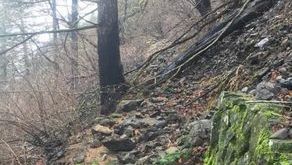 Larch Mountain Trail 441 (Upper Viewing Platform Trail 441A to Wahkeena Trail 420)
Significant rockfall and slides along this section of trail. One switchback destroyed. New debris flows creating drainage issues in multiple spots. At this time, hiking on the trail is causing further damage by pushing traffic to outer edge of trail where it still exists. Numerous fire-weakened trees along trail.
Special Safety Concerns: Potential for falling/sliding into creek where trail is compromised. Potential for debris flows and flash flooding along creek. Fire weakened trees and upslope rock fall. Crossing sections of rock slides and compromised tread poses potential for sliding/falling down into creek or triggering further rock fall. Fire weakened trees upslope pose danger of falling in steep, rocky terrain.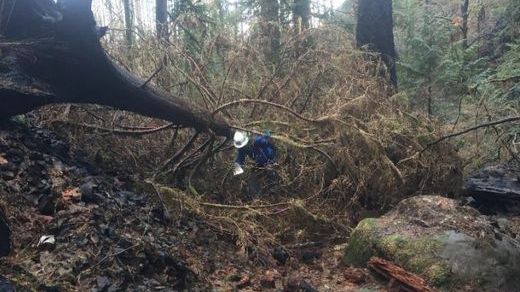 Due to severity of burn, trail is nearly indistinguishable in upper section (coming down from Ridge Cutoff). Out-sloped tread, significant sloughing, and rocks are creating unstable footing and slow travel. Drainage work and berm removal needed on two sections of the trail.
Concern of falling dead trees along this trail. Hardware on signs at Ridge Cutoff junction need replacement.
Special safety concerns: Trail is difficult to follow and requires backcountry navigation skills. Loose rock is sloughing off trail onto switchbacks below, and off trail hiking is necessary. Unstable footing.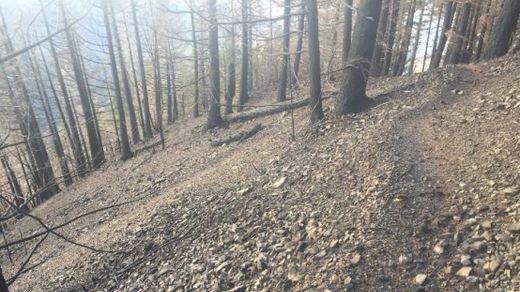 Oneonta Trail (Oneonta Trailhead to Horsetail Falls Trail)
Continuous rock fall on trail, upslope hazards, known switchbacks and exposure. Pretty much the entire section is treacherous. Rock slides are on the critical angle of repose and walking on them elicits an almost fluid response downhill.
Western most portion is still green overstory but burnt understory. Many hazard trees, very dangerous footing.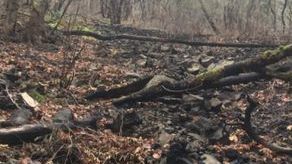 Pacific Crest Trail 2000 (Moody Ave TH to Herman Creek TH)
Overall condition rating: Fair
Overall trail was in fair condition. Lots of small rock debris along the trail with two areas of significant rock buildup due to debris flows from above. Tread is in good shape aside from burnt-out holes. No losses due to washouts besides ongoing washout before Pinnacles. Two debris flows observed.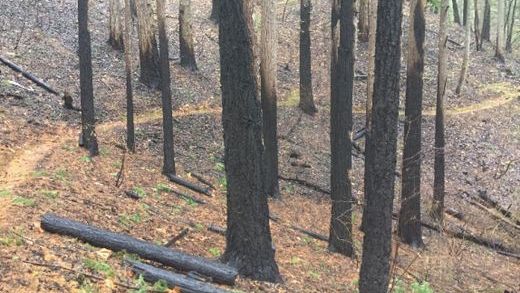 Special safety concerns: Upslope boulders and severely burnt trees.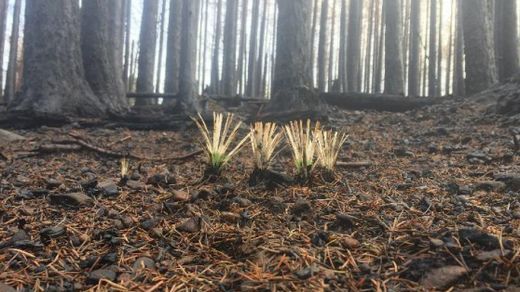 Return Trail (near Multnomah Falls)
Large amount of rock along trail and destabilized terrain upslope. Due to loss of vegetation under rock wall, rocks are sliding and undercutting the wall. Multiple land and rock slides. Slide on east end of trail will require heavy equipment, but there is a lot of loose material upslope.
Special Safety Considerations: Concern of up slope boulders and severely burnt trees coming loose and down trees sliding down slope. Historic Columbia River Highway will need to be closed while work is being done.
Miles: 0.3 (of 1.2) miles assessed
Trail is covered in rocks and tread is buried in multiple places. Landslides / washouts observed. Multiple logs across trail. Two boards damaged on first bridge from trailhead.
Special safety concerns: Continuous rock fall, upslope hazards, and possibility of slides along trail.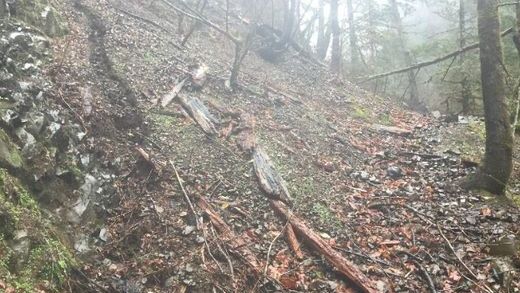 Larch Mountain Junction to Devil's Rest Junction: A few logs on trail but overall tread is in good shape, needs some re-benching and minor drainage work. Some rock and debris along trail and approximately four logs to clear. High burn intensity in area; corridor is mostly standing dead, likely more trees will fall this winter.
Devil's Rest Junction to Lemmon's Viewpoint: From Devil's Rest junction to Wahkeena Springs conditions are similar to those described above. Below the springs, severe damage and one of the most difficult sections of trail to navigate yet. Trail is nearly impassable and should not be relied on for access to/from Larch Mountain Trail. Need for drainage work in at least 3 locations. Lower access to Vista Loop is now a waterfall. Minor damage to both bridges in this section but both are passable.
Lemmon's Viewpoint to Wahkeena Trailhead: One debris flow covered four sections of paved trail with rock, logs, and debris. Second rock flow covered two sections of trail. Rocks on most of the trail with one section of damage to stone wall. Damage to switchbacks from slides/rock fall. Trail to Monument Viewpoint now exposed. Rock removal on this section of trail may be completed by contractor.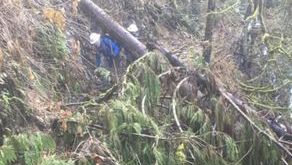 Zach Urness has been an outdoors writer, photographer and videographer in Oregon for 10 years. He is the author of the book "Hiking Southern Oregon" and can be reached at zurness@StatesmanJournal.com or (503) 399-6801. Find him on Twitter at @ZachsORoutdoors.