PORTLAND, Ore. — In the November 2020 election, Oregon voters approved a revolutionary approach to criminal justice and drug policy. Measure 110 decriminalized user amounts of narcotics while directing taxes levied on the state's burgeoning cannabis industry toward expanded drug treatment programs.
The closest example Measure 110 supporters had to draw from on the world stage when drafting the initiative was the country of Portugal, which decriminalized small amounts of all drugs in 2001.
Objectively, the first two years under Measure 110 have not gone smoothly. Though drug decriminalization went into effect just a few months after voters approved the measure, state officials did not succeed in fully distributing funds for addiction recovery programs until this September.
Exceedingly few people cited for drug possession have sought treatment as the measure intended. Meanwhile, the nationwide opioid epidemic has reached an even more virulent and deadly peak due to the influx of cheap, powerful fentanyl.
All carrot, no stick
In late September, addiction experts spoke to Oregon lawmakers, and several of them excoriated the state's rollout of drug decriminalization. One of the critics was Keith Humphreys, a psychologist at Stanford, considered to be a national expert on drug policy. He said that Oregon is doing nothing to stop people from using drugs, which is why these problems are playing out.
"Because the West Coast has an individualistic culture and significant tolerance for substance abuse, social pressures to seek treatment are also often minimal.," Humphreys told KGW. "So on the one hand we have highly rewarding drugs which are widely available. On the other hand, little or no pressure to stop using them. Under those conditions we should expect to see exactly what Oregon is experiencing: extensive drug use, extensive addiction and not much treatment-seeking."
In other words: all carrot, no stick. Supporters of drug decriminalization sometimes point to Portugal as evidence that treating drug use as a health issue, not a criminal issue, works. Humphreys might agree, if he thought Oregon were actually following Portugal's example.
"Now, it's worth noting that Portugal, which is often cited as the inspiration for Oregon's drug policy, places heavy, social and legal pressure on addicted people to seek treatment," he said. "The open use and flagrant drug dealing that we see in West Coast cities in this country are virtually absent in Portugal, which shuts them down and uses court pressure to get them in to treatment. I've spent a lot of time in Portugal and I know the people who designed their policy so please, take it from me: Oregon is not following Portugal's example and will not get its results."
Whether Portugal's approach has been successful or not can depend on who you ask. In 2010, the Obama administration's Office of National Drug Control Policy released a report expressing skepticism about research that touted successes in either driving down drug use or maintaining pre-decriminalization levels — but the policy change did clearly succeed in driving down incarceration rates and shifted views on addiction toward treating it as a disease rather than willful criminal activity.
Addressing the real needs
To get a closer perspective on Portugal's policy, we asked Humphreys if he could connect us with someone involved in the country's drug and addiction programs. He got us in touch with Dr. João Goulão, the national coordinator for drugs, drug addiction and the harmful use of alcohol in Portugal.
Goulão is an addiction expert, and he kickstarted Portugal's program back in 2000. Now, 22 years later, he reports that the program has been a resounding success for the country of 10 million people.
When Portugal's decriminalization program was approved, Goulão said, they estimated that about 100,000 people were using heroin — about 1% of the country's population. Now the government estimates that there are about 33,000 people using drugs of any kind in a "problematic way," according to Goulão.
"As far as overdose deaths — for instance, in the '90s we used to have at least one overdose death a day," Goulão. "That means 360, 50-, 60-something every year. Our last figures came from 2021 and we had 63 overdoses deaths.
"There's a huge decrease on HIV infections. There's a huge decrease in hepatitis C, with people being treated and cured for their hepatitis. So there's a huge improvement in the health conditions of people who use drugs in Portugal."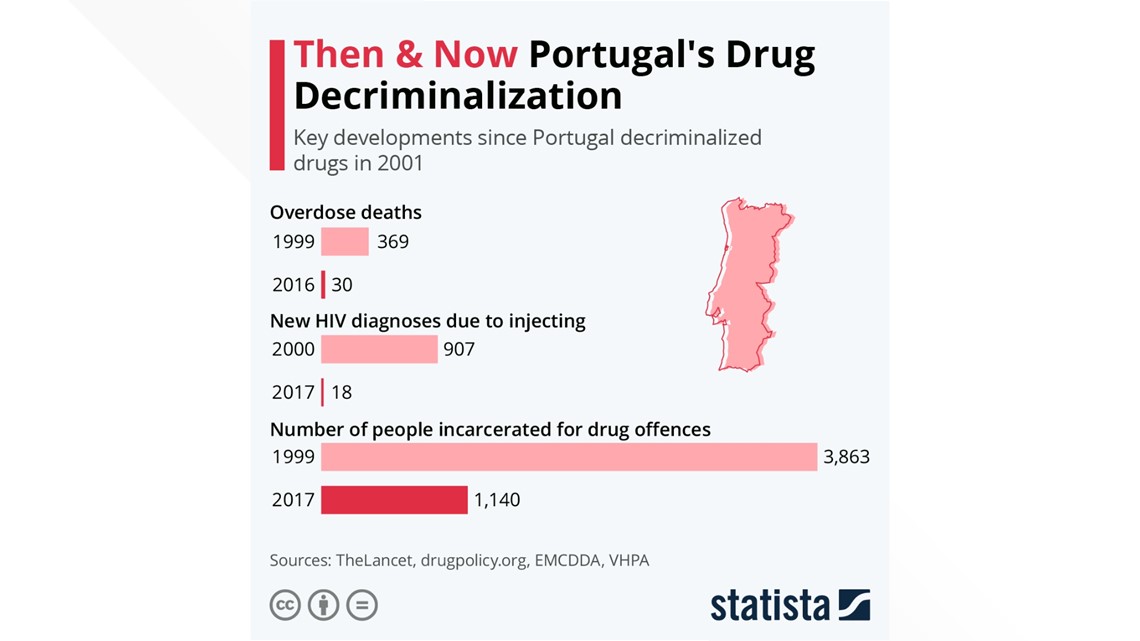 We asked Goulão about Humphreys' claim that Oregon has failed to follow Portugal's model. He went through the similarities — and where the two plans part ways.
Like in Oregon, Portugal has not legalized drugs, but it has decriminalized personal amounts; up to what someone might have on hand for a 10-day supply of the drug in question.
Portugal still deals with drug dealers and traffickers through the criminal justice system, which Oregon does as well. Drug users, however, are handled within the health care system.
There's no penalty with using at home, but in Portugal the police can order someone caught using drugs in public to attend a special drug panel, where their drug use is discussed — this is the social pressure, or "stick."
"Those who are caught using drugs or in possession of small amounts are addressed by the police authorities to a channel which we call the Commission for Dissuasion of Drug Addiction, a panel under the Ministry of Health where people are going to be assessed for their needs, the kind of use of illicit substances that they have," Goulão said. "But first of all, the first attempt is to identify problematic drug users, people in need of treatment for addiction and to distinguish from those who are mere occasional or recreational users."
In Oregon, the approach is more hands-off. Drug users can be cited by law enforcement, which carries a fine. That fine can be waived if the user agrees to contact treatment resources. Either way, there's not much in place to see that the user in Oregon follows through.
Portugal's system identifies each drug user contacted by police, and their name and the details of their use and interaction with police are entered into a central database managed by the health department — not law enforcement. This allows the country's ministry of health to keep track of specific users and see if they are continuing to struggle. This is another aspect that Oregon has not implemented.
"What that panel tries to do is address the real needs of the person," Goulão said. "If the someone is addicted, this person is invited to join a treatment facility."
The drug user is not forced to accept help. They are, however, instructed to stay away from certain areas and certain people. If they violate those conditions, they are brought back before the drug panel.
Portugal also draws a hard line that people who are addicted will not be fined. Recreational users might be, on occasion.
If a drug user is instructed to go before a drug panel and they fail to appear, Goulão said that this becomes a "disobedience penalty" — which is a criminal matter, unlike the drug offense. In this case, the punishment could include imprisonment.
"It's not very frequent that people do not show up," Goulão continued. "But once they are there, they are invited to join, if in need of that, they are invited to join a treatment facility, and the Commission itself makes that phone call instead of telling the citizen, 'Now you must search for a place to treat yourself,' or 'You have this phone number,' no, they call themselves and they book for the citizen."
Officials set up an appointment for the drug user with a specific facility, for a specific time, and they make sure that both the user and the clinic are both on board. Goulão said there aren't waiting lists, the access to treatment is free: it's pragmatic and "centered in the needs of the citizen."
Why not here?
It's worth noting that Portugal has universal health care. Treatment at state facilities is always free, and the state usually pays 80% for treatment at a private facility. And if you can't afford to pay the 20% at a private clinic, the state helps out.
Portugal also focused on ensuring they had enough treatment centers and inpatient facilities to help everyone in need of addiction services right away.
Goulão said that these days the vast majority of people caught by police are using cannabis, and most say that they do not have a problem with drugs. Still, the drug panels try to drill down deeper and see if there is anything else going on that might be contributing to the drug use.
"For instance, I have someone who tells me, 'No, I have no problems with drugs. It's not a concern. It's not, but my parents are divorcing, or my father just lost his job, or myself. I have been in trouble with my gender options or whatever,'" Goulão said. "And the panel may invite the person to join. Would you like to discuss this with a psychologist? Would you like to discuss with a social worker that may help your family to deal with the difficulties?"
If Goulão's description of the program in Portugal is accurate, Humphreys is correct — Oregon's system is not at all like Portugal's. The social pressure is lacking, but so is the compassion and availability of care.
While Portugal's population of 10 million is decidedly smaller than the roughly 332 million in the U.S., it's about five times the population of the Portland area — suggesting such a thing could be implemented here, beginning at a smaller scale.
During the final debate before this midterm election, candidates for Oregon governor were asked about their thoughts on what to do about Measure 110. Republican Christine Drazan wanted it repealed. Unaffiliated candidate Betsy Johnson wanted it modified, at the very least, to remove the drug decriminalization aspect. Democrat Tina Kotek, now governor-elect, said she wanted the state to do more in order to make the law live up to its promise.
If Oregon did, in fact, want to follow Portugal's model, then Kotek's answer might have been closest to the mark. But Humphrey's assessment of the Oregon program and Goulão's description of how it's done in Portugal suggest that state officials and lawmakers would need to take a long, hard look at the program as it stands, then put in the work to build something more effective.