SALEM, Ore. — When Oregon voters approved Measure 110 in 2020, they authorized the use of marijuana tax money to fund drug treatment programs throughout the state. But after a recent state audit on the measure's rollout, those programs are facing greater scrutiny and potential challenges to the use of that funding.
The Secretary of State's office audit revealed something of a financial "black hole" in Measure 110. More than $300 million in Oregon marijuana taxes were diverted to the new program, and the Oregon Health Authority handed out another $32 million in "Access to Care" grants at the outset. But the OHA doesn't seem to have tracked how that money was spent, or if there was concrete evidence that it helped people suffering from drug addiction.
Last week, the OHA sent out a press release, boasting that Measure 110 had helped 60,000 people. The agency provided some data about how the funds were employed — more than what was detailed in the audit report — but it was still unclear how precisely they got the numbers that they did.
Already facing skepticism over opaque record-keeping, Measure 110's funding source is now in the crosshairs of state lawmakers.
Oregon's House Revenue Committee began holding hearings on House Bill 2089, legislation that would reshuffle how state marijuana tax funds are allocated — and drug treatment funding only stands to lose.
Cannabis cash grab
Prior to Measure 110, Oregon's marijuana tax funds were split up between six destinations that each got a certain percentage: 40% for the State School Fund, 20% for mental health or addiction treatment, 15% for the State Police Account, 10% for cities, 10% for counties and 5% for alcohol and drug abuse prevention.
When Measure 110 passed, it added a new category solely for addiction treatment services that first received any marijuana funds in excess of $11.25 million per quarter as of 2021. Over the last two years, that amounted to nearly $222 million for the measure's drug treatment funding.
Measure 110 left the other funding destinations and shares in place, though they competed for just $90 million over two years, relying as they did on funding left over after the drug treatment programs. Without Measure 110, they'd have taken from a pool of about $311.8 million instead.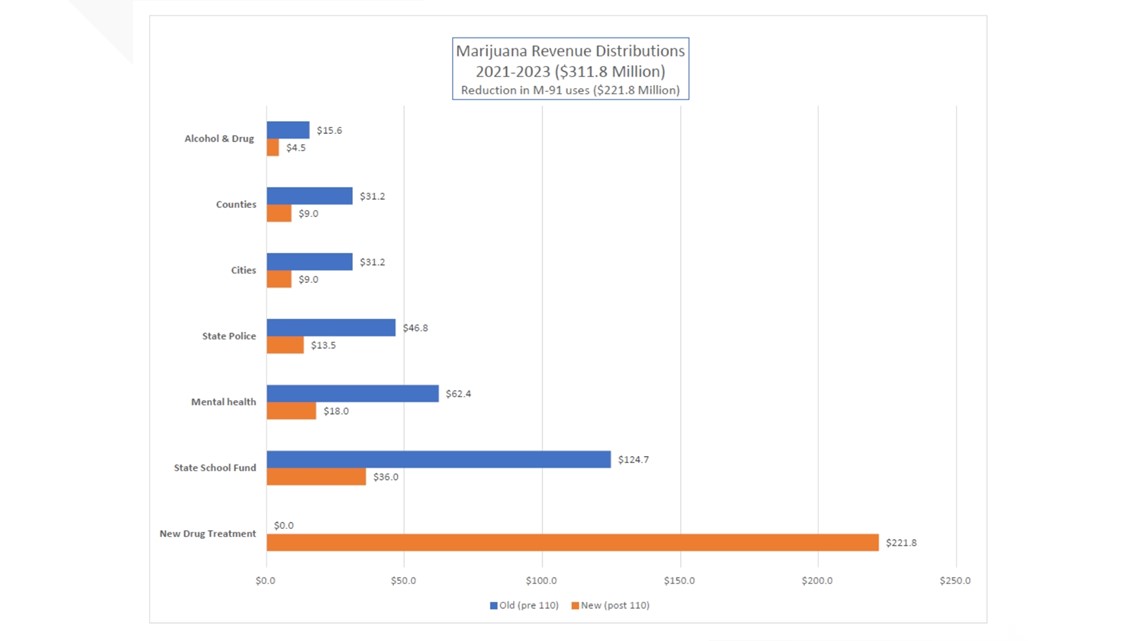 HB 2089, while technically leaving Measure 110's funding in place, would radically change how Oregon's marijuana funds are handed out. First, it would whittle down the other categories for funding, leaving just three: 30% for cities, 30% for counties and 40% for the State Police Account. The prior school, mental health and drug abuse funds would be eliminated.
Then, the bill would make sure that these three funding destinations get an initial cut off the top, supplanting Measure 110 — 11% of all marijuana account funds would go to cities and counties first. Then Measure 110 would get to take anything in excess of $11.25 million per quarter — just like before, but now pulling from a diminished pool. Finally, the triumvirate of cities, counties and state police would divide up 60% of the remaining funds.
A zero-sum game
So, what's the reason for this bill? Despite the fact that Measure 110 has taken a lot of heat for the bumpy rollout, it isn't entirely punitive. Representatives for Oregon's local governments — the cities and counties — argue that Measure 110 has taken from their piece of the marijuana pie, and they want a bigger slice.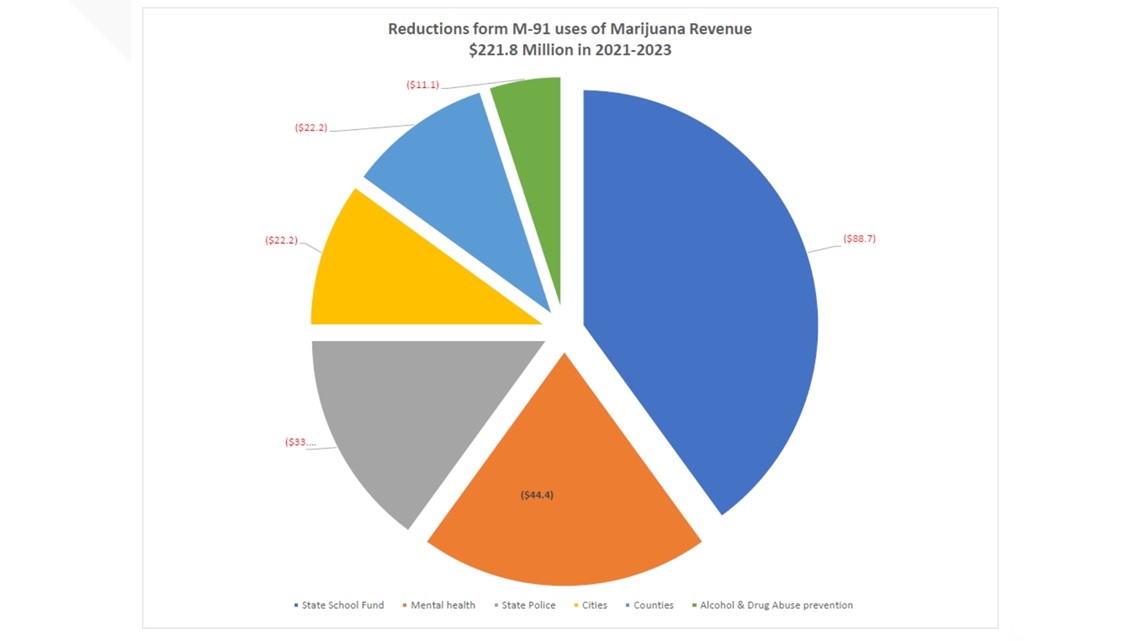 Proponents reason that, even with a reduced share of the marijuana funds, Measure 110 will cover the previous disbursements to OHA for mental health and addiction services, and the Student Success Act eliminated the need for school funds, so those can be jettisoned in order to get more money to local governments and state police — all of which lost funding when Measure 110 went into effect.
But advocates for Measure 110 warn that the cuts to drug treatment funding could end up throwing the baby out with the bathwater. The advocacy coalition Oregon Health Justice Recovery claimed in a statement that HB 2089 would slash that funding by as much as $60 million — an outcome they said was contrary to Gov. Tina Kotek's own recommended budget, which centers things like funding for mental health and addiction services.
Funding-related legislation like this can be difficult to parse, so the numbers here may not be precise — it's difficult to confirm how much, exactly, drug treatment programs would lose. The bill is still in committee and it's also possible that the bill could be amended before it nears a vote. However, it's clear that there is a lot of political will to reshuffle marijuana tax disbursements so that cities, counties and state police get more funding than they have for the last two years.
The Story will be continuing to follow the bill as it progresses through the legislature, should it emerge from the House revenue committee.