PORTLAND, Ore. — Portland had just one city council seat decided by this November midterm election, which saw incumbent Commissioner Jo Ann Hardesty lose to challenger Rene Gonzalez. A team from The Oregonian studied the race and found something interesting about the voter demographics — Gonzalez received the bulk of his votes from two ends of the city that seemingly couldn't be more opposite.
Of course, each candidate received votes from all over the city. But in some areas, it's possible to see where support for one candidate really outweighed the other. Gonzalez votes disproportionately came from the west side of the city, especially the wealthy Southwest Hills, and from the lower-income and more diverse neighborhoods east of I-205, like Centennial.
On The Oregonian's map, areas that favored Hardesty are in pink — mostly comprising North Portland and areas just east of the Willamette River. Her greatest support came from the King and Vernon neighborhoods. Areas that favored Gonzalez are in green. The darker the color, the greater the margin of victory.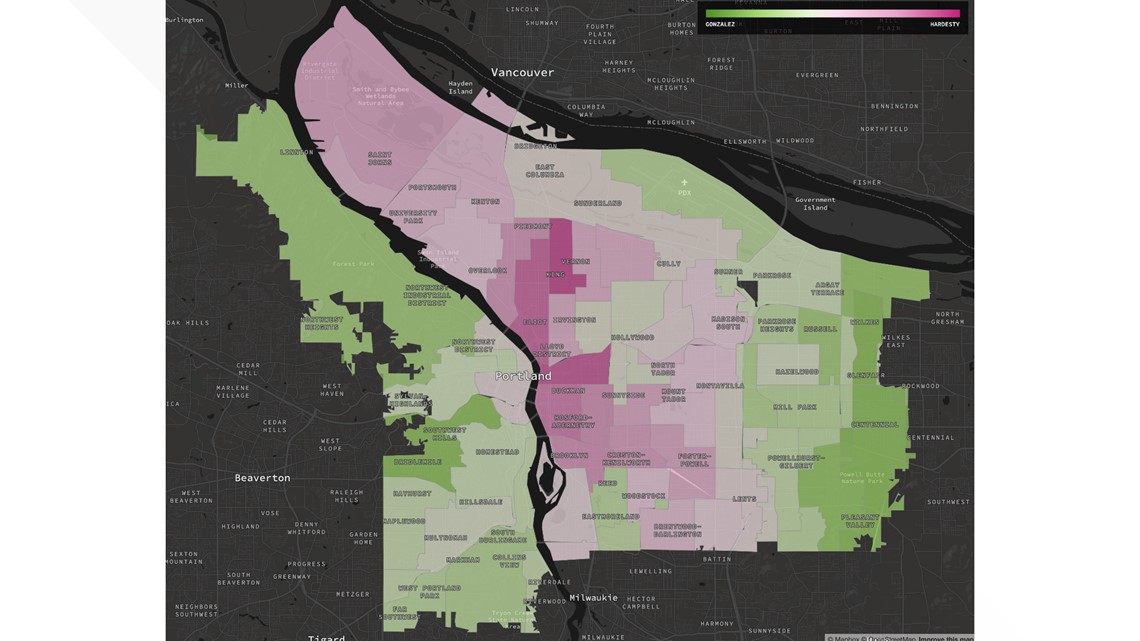 To help gain perspective on the map and what it means, KGW spoke with The Oregonian's city hall reporter, Shane Dixon Kavanaugh, who dug into this for the paper.
"Gonzalez was able to run up substantially high margins east of 205 and also west of the Willamette River," Kavanaugh said. "In both parts of the city, Rene outperformed Commissioner Hardesty two to one."
Kavanaugh believes this dynamic, one that may seem counterintuitive, sprang from a sort of informal coalition — not one that was necessarily coordinated. Both groups, the wealthy and the lower-income, were fed up with the same issues — crime and problems arising from homeless campers.
"Both in terms of record levels of shootings and homicides in the city, but also a whole host of lower-level property crimes and livability crimes that have really have grown in size and scale as well ... whether we're talking about stolen cars, stolen catalytic converters and other sort of low-level crimes," Kavanaugh said. "And in both those cases — yeah, East Portland has been disproportionately impacted in terms of crime in the city, but also in terms of sort of unsanctioned camping."
On the east side of Portland, lower-income families have had to live with more of the day-to-day impacts of crime, whether it's getting their cars stolen or living through gun violence. Along with the wealthier families on the west side, they collectively decided that it was time for a new direction.
"One of the things that we have thought about in our newsroom in terms of sort of looking at this election overall is ... clearly with this particular race, the contrast between the two candidates — both in terms of their policies, their professional backgrounds, where they live in the city — could not be more stark or different.," Kavanaugh said. "But also, Portlanders right now are very unhappy with city hall and local government. I mean ... a high level of dissatisfaction."
Despite the fact that Hardesty oversees some of the bureaus least responsible for dealing with crime and homelessness — she handles Portland Fire & Rescue and the Portland Bureau of Transportation, contrasted with Mayor Ted Wheeler's Portland Police Bureau and Commissioner Dan Ryan's Housing Bureau — voters took out their ire at the city's ineffectiveness on Hardesty, Kavanaugh said; the only person up for election on the Portland City Council.
One could also argue that voters sent a broader message about their feelings on city leadership when they voted to change Portland's form of government — essentially throwing everyone out in two years, or at least putting them before voters once again.