EUGENE, Ore. – The University of Oregon unveiled its design for the new Hayward Field, and said the changes to the historic track stadium will make it "the finest track and field facility in the world."
The re-designed stadium, scheduled to open in 2020, will hold nearly 13,000 fans, and will be expandable to nearly 30,000 people when it hosts the World Outdoor Championships in 2021, the university said.
Hayward Field currently holds approximately 10,500 fans.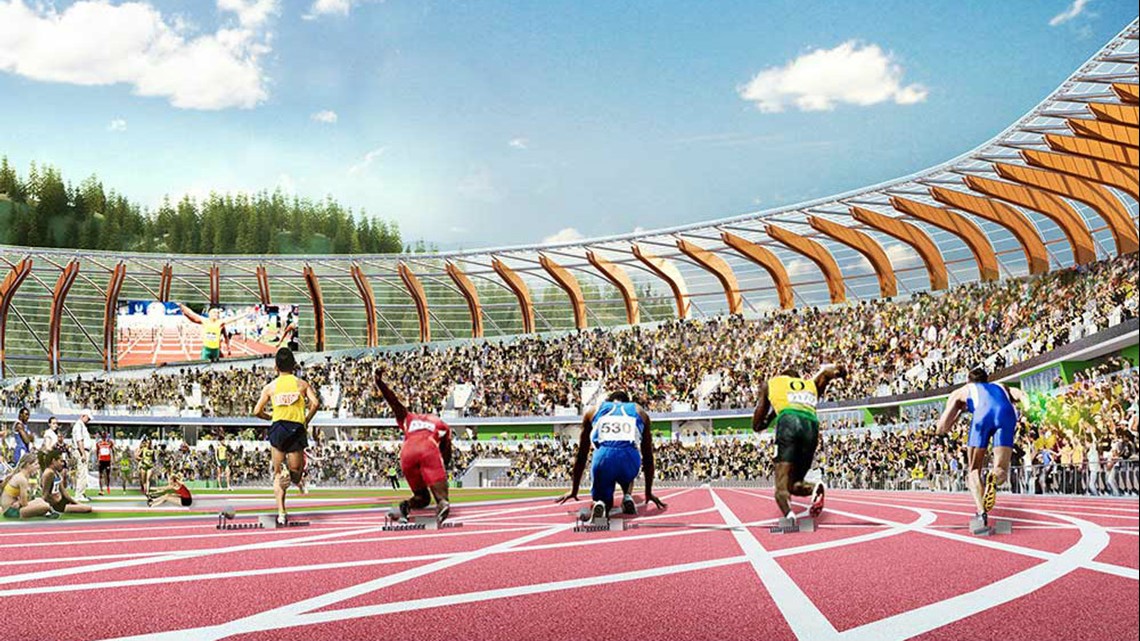 According to the design plans unveiled by the university, the new Hayward Field will include a new nine-lane track, a transparent roof, and classroom and lab space for the university's Department of Human Physiology and sports science clinic. It will also feature a nine-story tower resembling the Olympic torch called Bowerman Tower, in honor of Nike co-founder and world-renowned track coach Bill Bowerman. The tower will hold exhibits and an observation deck overlooking the field.
Parts of the field's historic grandstand will be incorporated into the new design, the UO said, to preserve Hayward Field's heritage, but the new stadium will feature "large, spacious seats".
The new design will be funded by private donations from more than 50 donors, according to the university, including Nike co-founder Phil Knight and his wife, Penny.
"As I've said many times, my business life was born on Hayward Field, so this is a deeply personal project for me. My goal is to see an enduring monument to the ideals of perseverance, innovation and achievement that my coach, mentor and business partner Bill Bowerman instilled in all his athletes," Phil Knight said.