PORTLAND, Ore. — The headline for this upcoming winter season is an 85% confidence from NOAA that an ENSO neutral weather pattern will hold through the winter months, meaning that neither an El Nino or La Nina behavior is expected to occur.
Since 1950, 16 neutral winter seasons have been recorded and the average for Portland for the months of November through March are the following:
Mean Temperature Average: Near normal
Total Precipitation: 22.22" | Below normal by 1.12"
Total Snowfall: 5.4"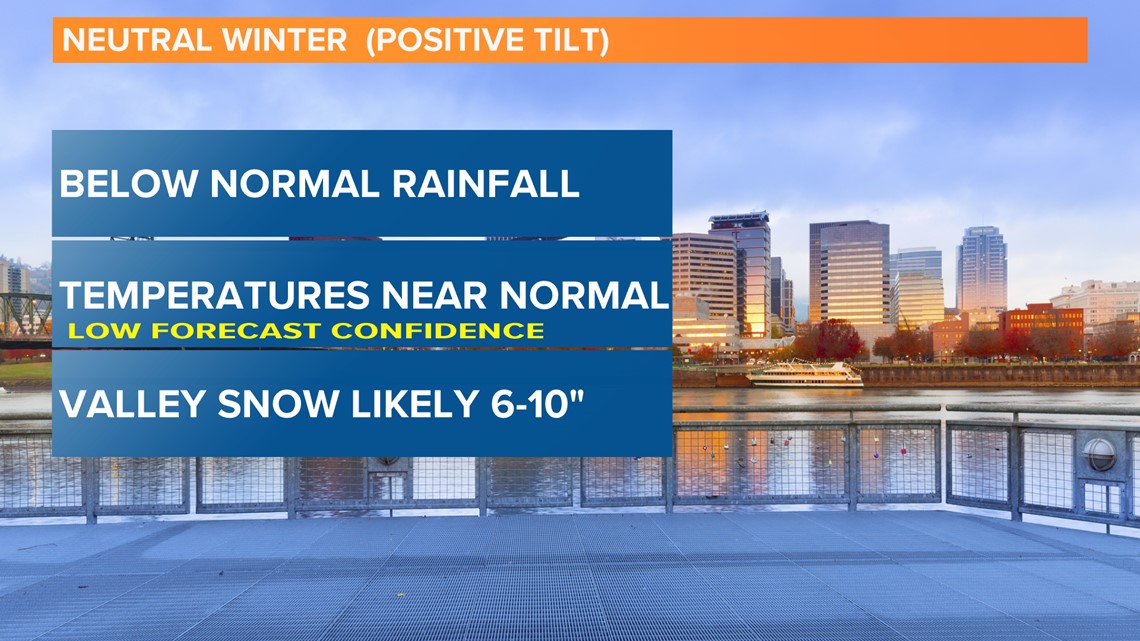 Rod Hill's Winter Outlook 2019-2020:
Portland temperatures: NEAR NORMAL | +.5 degree departure (wild card) Watch for a cold January, possibly 3 to 6 degrees below normal.
Portland precipitation: DRIER THAN NORMAL | 79% of average, meaning 4.95" less rainfall than average
Portland snowfall: TOTAL OF 8-10" LIKELY / Possible early snow in November or December, but less than 3" through Jan. 1. A snow storm dumping up to 8" is possible in January or February.
Mt. Hood snowpack: 98% OF NORMAL
Timberline: 600" or more
Meadows: 500" or more
Skibowl: 60" base or higher January, February and March
In general, a good steady base building in December at 5,000 feet and higher will make for a good holiday break. The above snowpack numbers would be at least 100" more of total snowfall than last winter, and the best season in terms of total snow since 2016-2017 and the 2011-2012 season.
There is every reason for skiers and boarders to expect a great season on the mountain.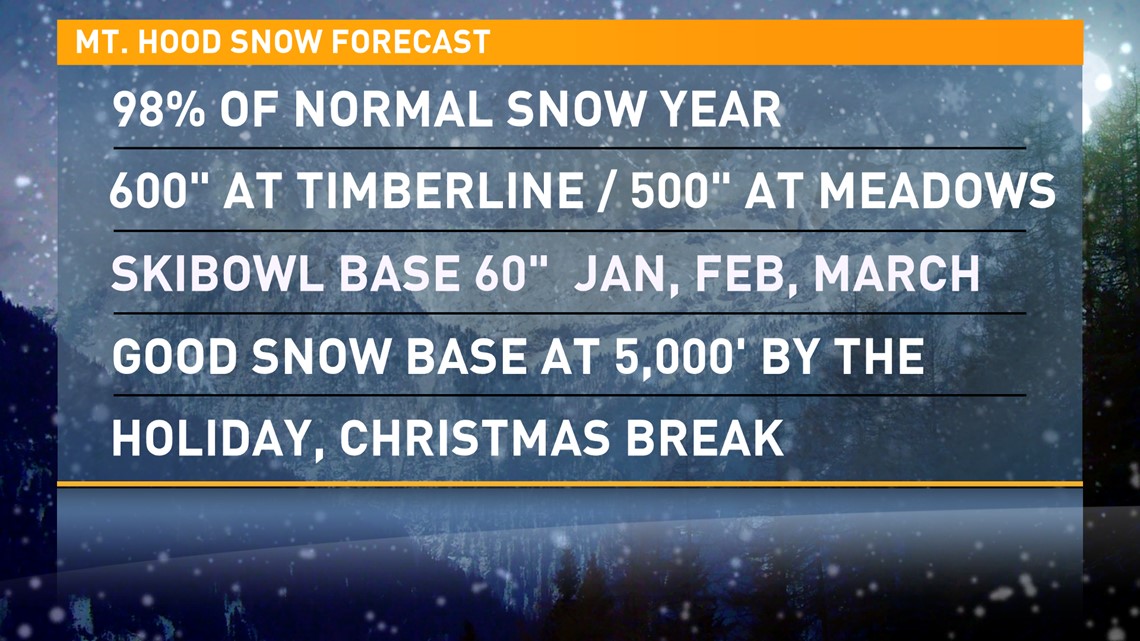 1. Portland Temperature Outlook, Nov.-March Mean Temperature
Forecast: 73% confidence of near normal to above temperatures
Verify: Almost exactly normal with a departure of -.2 degrees below 30-year average
This is a forecast HIT for near-normal temperature average
2. Portland Total Precipitation Outlook, Nov.-March
Forecast: Near-normal to favoring below-normal precipitation for the season
Verify: Well below normal through January, then a wet February. The five-month total at PDX was a deficit of -6.97", or 70% of average.
This is a forecast HIT. Only a significant wetter-than-normal average (or drier than normal) would have been a miss.
3. Valley Windstorm Threat Outlook
Forecast: A heightened 40% chance of a 60 mph windstorm event.
Verify: On Jan. 5, a storm produced three hours of 40-60 mph south wind gusts. PDX peaked at 54 mph, but Swan Island hit 60 mph and south of Salem, in Turner, gusts peak at 62.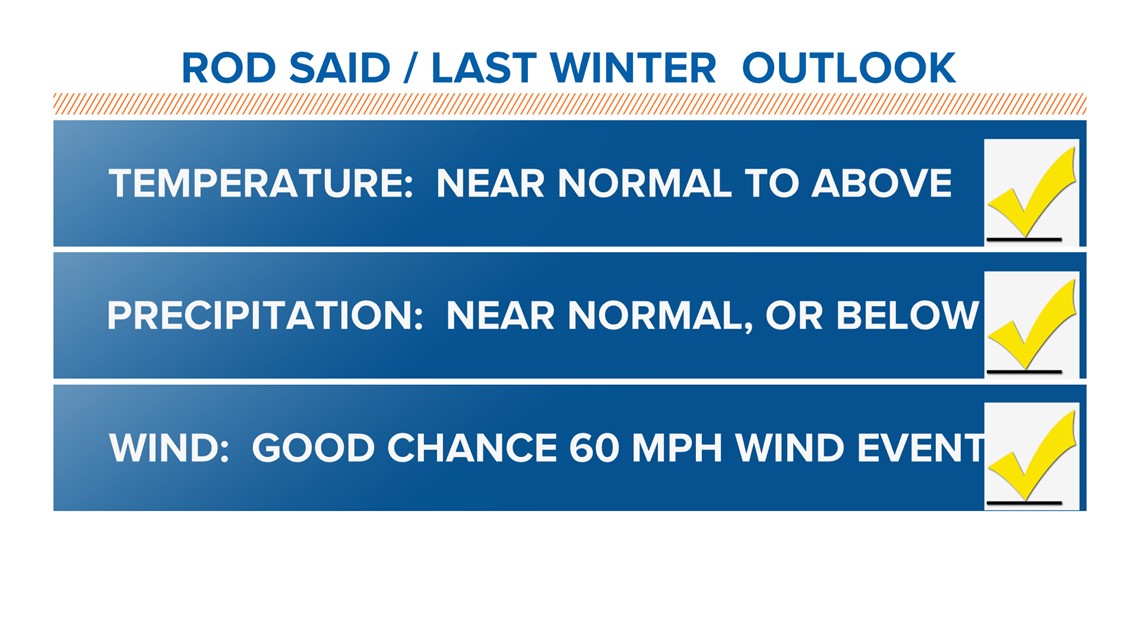 4. Portland Snowfall Outlook
Forecast: No big storms of 8" or greater, and season snowfall of less than 6".
Verify: Zero snow through Feb. 1, then a season total of 7 inches. Largest snowfall was 4.9" at PDX on Feb. 9. On the same day, downtown Portland picked up a dusting of snow. Most of the metro valley (except east side) saw less than 3" of total snowfall for the season.
5. Mt. Hood Snowpack Outlook
Forecast: 66% of average snowpack through April 30, slightly below the winter of 2017-2018.
Verify: Mt Hood test site had 69% for the season.
This is a forecast HIT (only missed the season total by 3%)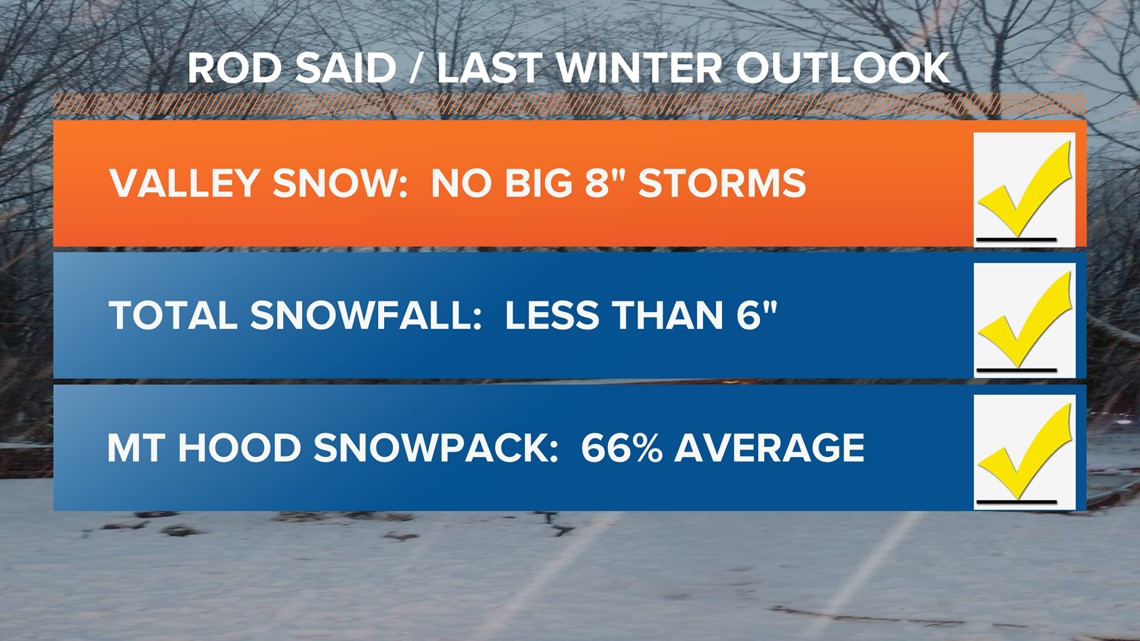 The above results show all five projections were within the bounds of correct category of departure and a good outlook!
How I got to the 2019-2020 projection
So, what is an ENSO projection? In short, the term stands for "El Nino Southern Oscillation" and refers to the variations in winds and sea surface temperatures over the Pacific Ocean that can affect a much larger region.
Fine tuning the ENSO projection above shows what I refer to as positive tilt, in that NOAA's prediction shows slightly above normal Pacific water temperatures in the equatorial region used for seasonal forecast projection.
The positive projection falls short of a weak El Niño, but it can make a difference in weather patterns. A positive tilt for our region leads to an increasing chance of drier than normal rainfall and higher than average snowfall.
Temperature averages show near normal seasons or colder than normal, but indicate a low percentage chance for a warm winter season.
Other trends I researched include winters following a cool, wet September (like we just saw) and neutral winters following weak El Niño patterns, which was the ENSO cycle last winter. Both of the mentioned categories show zero matching patterns to reach a conclusion.
My seasonal forecast accuracy dating back to the 2000-2001 winter season is 68.5%. The percentage is well above industry standards (closer to 55-60%) for projecting below, normal or above normal departure categories.