BEAVERTON, Oregon — At 99-years-old, retired Marine Sgt. Hattie Kelley is just as bright and beautiful as the day she enlisted in 1943.
"It was World War II, everybody was doing something," Kelley said. "That was the best I could do."
At just 5-foot-2, Kelley recalled barely meeting the U.S. Marine Corps' height requirement for women at the time. She served two years as a recruiter stationed in Pittsburgh.
"[The Marines] became my family," Kelley said. "It's been my family, ever since."
Kelley lives in Beaverton and is wheelchair-bound. Doctors recently told her she may only have a few months to live. Her 100th birthday is in August.
"Who knows, in five minutes, I could have a heart attack!" Kelley said through peals of laughter.
Clearly at peace with her future, Kelley's focus now is expressing gratitude to family and friends. In November, she got a special opportunity to do that at a party celebrating the Marine Corps' 247th birthday. The Stockpot Restaurant in Beaverton hosted the party and Kelley was the guest of honor. Organizers also invited members of the Beaverton Police Department to drop by.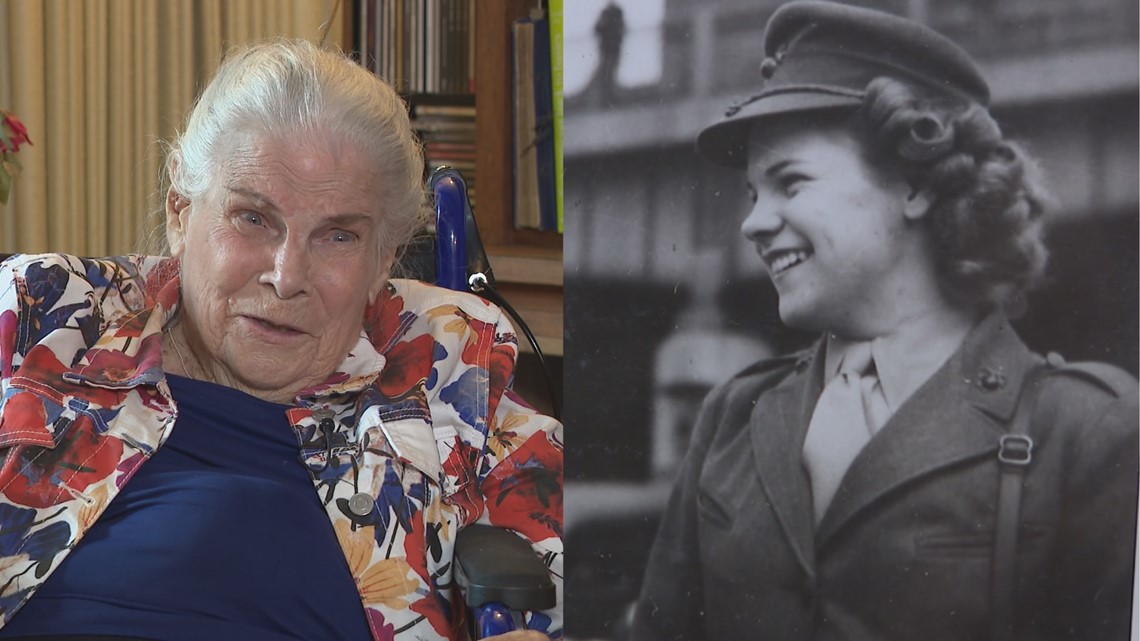 "I asked if I could have the microphone for a minute so I could thank the officers," Kelley said.
At first, Kelley's speech confused guests including Kelley's friend and fellow Marine, Al Arguedas.
"She started talking about this car accident in Beaverton," said Arguedas. "And everybody was kind of like, 'What's that got to do with the Marine Corps?'"
For Kelley, it was the opportunity she'd been hoping for since 2013. Ten years ago, Kelley was driving home from the grocery store in a van full of food. Suddenly, she blew a tire, which sent her careening onto a sidewalk.
"I hit a tree and a metal power pole," recalled Kelley. "My front-end was totally demolished."
Beaverton police arrived, followed by an ambulance. Kelley was OK, but still needed to go to the hospital.
"Then I realized, I said, 'How am I going to get all of this food home'"
That's when a Beaverton police officer stepped up to help. He asked Kelley where she lived and he offered to take her groceries home for her.
"It was the kindest thing that's ever been done to me. I mean, he didn't have to do that," Kelley said.
She shared the whole story at the Marine Corps birthday party.

"I just thought, 'Well now's a good chance to thank the police force what happened all those years ago.' I've never had a chance to. And then I heard somebody yell, 'Oh my god! We were there!'" she said.
It was Beaverton police Lt. Ed Mastripolito, one of the officers who'd responded to Kelley's crash. And wouldn't you know it, he's also a retired Marine.
"The whole place, everybody just erupted," Kelley said.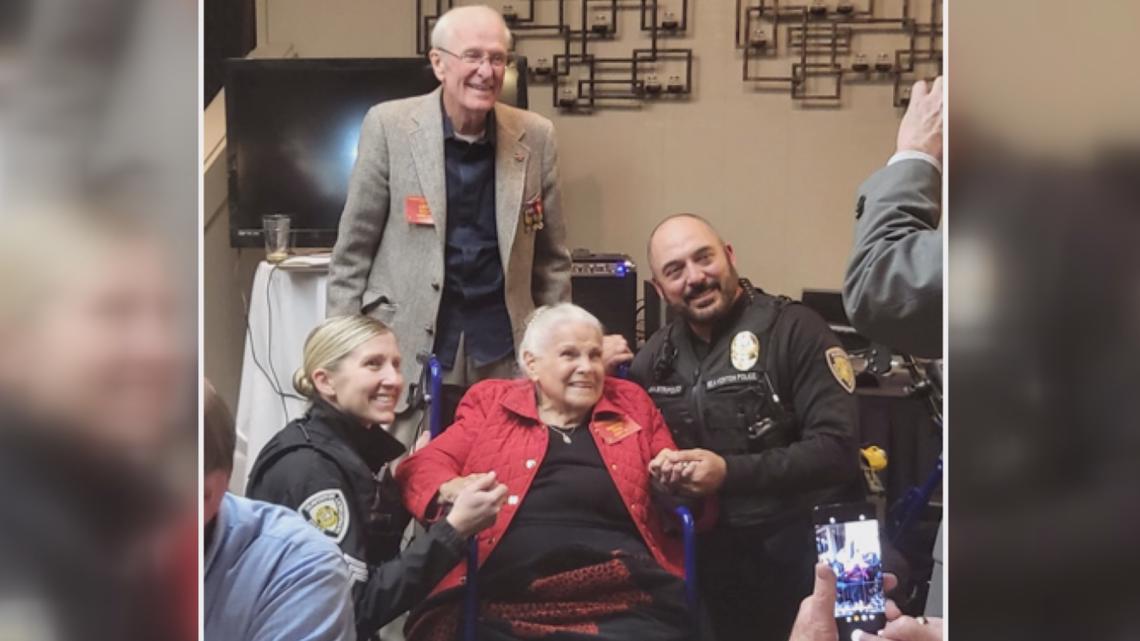 "What are the chances of that?" said Arguedas. "It was so unscripted and so spontaneous ... That powerful message of looking after each other and acknowledging each other and being grateful."
Not present at the party but still with Beaverton police was officer Ryan Garbutt, who had delivered Kelley's groceries to her home. Both Garbutt and Mastripolito recently visited Kelley at her home.
Sometimes I think we forget that the little things we do really have an impact on the people we're fortunate enough to cross day to day," Mastripolito said.
"[They say] good deeds go unrewarded," added Garbutt. "Not always."
Garbutt is also a platoon sergeant in the Army Reserves, in which he has served for nearly 20 years.
"We can't all be Marines!" quipped Kelley.
"Well somebody's got to come rescue you!" retorted Garbutt.
"Then turn around and run like hell!" Kelley said, getting in the last word.