If the B-17 bomber being restored in Salem is to ever fly again, it needs new propellers.
The original propeller blades have quarter-inch holes drilled in them, used to hang banners from the aircraft when it was perched above the pumps at a gas station on Southeast McLoughlin Boulevard in Milwaukie.
"Unfortunately, the airplane was never intended to fly again. Its primary function was to draw people in to buy gasoline," volunteer Lee Nielson said. "When they drilled holes in them, they became unairworthy."
Original parts are being reused when possible in the restoration of the B-17 Flying Fortress inside a 6,400-square-foot hangar on the west side of Salem Municipal Airport. But when they are too corroded or damaged, replacements must be found or re-created from scratch.
Spare parts for World War II-era aircraft are ultrarare, and Nielson said at least five B-17s are currently being restored in the United States. Projects like the one here are underway in Georgia (two), Ohio and Illinois, and each may need airworthy propeller blades.
"It's all supply and demand," he said. "Who knows how many are out there? We're under the assumption there's not a lot of them left. A lot of stuff was melted after World War II. The people that have them, they don't want to part with them."
Nielson has been on a mission to find propeller blades for our B-17, known as the Lacey Lady for generations. It was installed over the gas station pumps in 1947.
He located some in Georgia. We'll leave it at that because of the potential for competition.
The seller has 12 propeller blades on hold for him, three for each of the bomber's four engines. Each blade has a price tag of $3,000.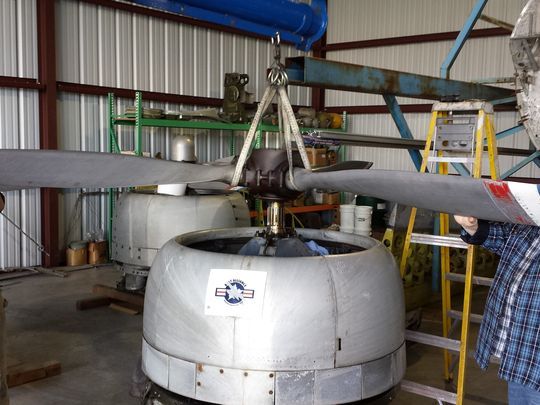 The B-17 Alliance Foundation, the nonprofit behind our restoration project, put out a call for donations to its email subscribers as a "special needs, time-sensitive, urgent request."
"People don't realize it, but it's a pretty big deal to find this stuff," executive director Terry Scott said.
The alliance is seeking a dozen donors to "purchase" a propeller blade. All of the blades must be purchased at once, per the seller's request.
Scott is thrilled to report that six donors have already stepped forward, so they're halfway there. Her plan is to have the donor names inscribed on one of the bomber's original propeller blades and display it at the restoration hangar and museum.
Nielson, who lives in Independence and is one of the volunteer crew chiefs for the project, has been negotiating with the prospective seller for more than a month. He has not seen photographs of the propeller blades.
"From our standpoint, there's really no reason for that," he said. "We will not purchase them if they don't pass inspection. It doesn't matter what they look like. The bottom line is they have to be airworthy. They can look pristine, but there's an airworthiness directive out on those propeller blades."
The aircraft was never put in service during the war and is reported to have logged fewer than 50 hours of flight time.
Before the purchase can be completed, the propeller blades must be certified as airworthy.
Part of the pending sales agreement involves sending the blades to Memphis Propeller Service in Olive Branch, Mississippi, to be inspected for things like cracks, corrosion, nicks, scratches, and any unapproved alterations.
Nielson estimates each aluminum blade is at least 3 ½ feet long and weighs more than 75 pounds. Three are attached to each steel hub, which attaches to the crankshaft of each engine.
"The hubs were in excellent shape from what we've seen so far," Nielson said of the Lacey Lady. "When we took the propellers apart, they were almost like they came out of the factory. There was still oil in them."
Nielson, 76, has been involved in aviation most of his life and is a World War II history buff. He has been an aircraft mechanic and a major airlines pilot, and once had a business rebuilding airplanes. He served in the Air Force Reserve and currently has a two-seat Cessna Aerobat and partnership in a Stinson 108-3.
In addition to shopping for propellers, he leads a crew that has been disassembling the left inboard wing.
"It has taken us about a year because of the rust and corrosion on the fittings," said Nielson, one of a handful of volunteers with sheet metal experience.
A newcomer to the team, who recently moved to the area, helped restore World War II bombers in South Carolina.
"We can always use other people that have that type of experience," Nielson said. "It's going to take a lot of manpower."
The hope is to complete the restoration in 10 years, although 15 years may be more realistic. Nielson wants to be here when the project is completed.
"It's a part of our history. That airplane really helped win World War II," he said. "We don't want to see this sitting on the ground. It should be flying."
If you would like to donate to purchase a propeller, or join the restoration effort, call Terry Scott at 503-654-6491 or email TerryS@B17Alliance.com.
"Forward This" appears Wednesdays and Sundays and highlights the people, places and organizations of the Mid-Willamette Valley. Contact Capi Lynn at clynn@StatesmanJournal.com or 503-399-6710, or follow her the rest of the week on Twitter @CapiLynn and Facebook @CapiLynnSJ.