RAINIER, Ore. — The Clatsop County Sheriff's Office has arrested Kevin Reynolds, an "armed and dangerous" felon who had been on the run from law enforcement in Northwest Oregon since Tuesday.
According to a brief statement from the agency, Reynolds was taken into custody around noon on Thursday.
The arrest happened on a rural property along McLean Hill Road, just a few miles off Highway 30 in Westport. Neighbors there said law enforcement spent hours in the area Wednesday night, but did not zero in on Reynold until late Thursday morning.
A woman who wanted to be identified by only her first name, Lynndall, told KGW that the suspect was hiding in a yellow shed behind her home. Deputies told her she needed to leave her property until they could apprehend Reynolds.
"They were standing with guns down by the trees and then all of the sudden they called and said 'Get out,'" said Lynndall.
Lyndall watched from a family member's home across the road, until Reynolds was arrested and deputies gave the all clear.
"We're all happy, we told the police we appreciate it and there was a lot of police presence so it was great they were here helping us," she said.
Reynolds faces multiple original charges related to an armed robbery in Cowlitz County, plus new charges related to his flight over the past few days. Columbia County Sheriff Brian Pixley said the new charges include one for attempted murder after a shooting incident on Tuesday.
The Rainier School District previously announced it would close its schools Thursday after a nearly four hour lock-in the day prior as law enforcement continued the search for Reynolds. All activities were also cancelled.
Columbia County Sheriff's deputies investigated multiple new sightings of 41-year-old Kevin Reynolds throughout the day Wednesday. The latest sighting reportedly happened around 6:40 p.m. on a home surveillance camera in the community of Westport.
The area is about 23-miles west of Rainier, where Reynolds had been spotted earlier in the day. For about three hours Wednesday night, police looked for evidence along Highway 30 between Westport and Clatskanie. Police did not confirm where they thought Reynolds might have been at that time.
As far as the public knew, the incident began with a flurry of police activity in the Rainier area Tuesday afternoon. The sheriff's office revealed that multiple agencies were searching for Reynolds around Heath Road and Old Rainier Road, just west of the city of Rainier and about two miles from schools.
According to law enforcement who spoke to KGW on scene, Reynolds had been hiding in the area and fired a gun at a passerby.
Though search efforts continued for six hours, Reynolds was not located that night. According to the Rainier School District, the search included K9 units, drones and SWAT teams.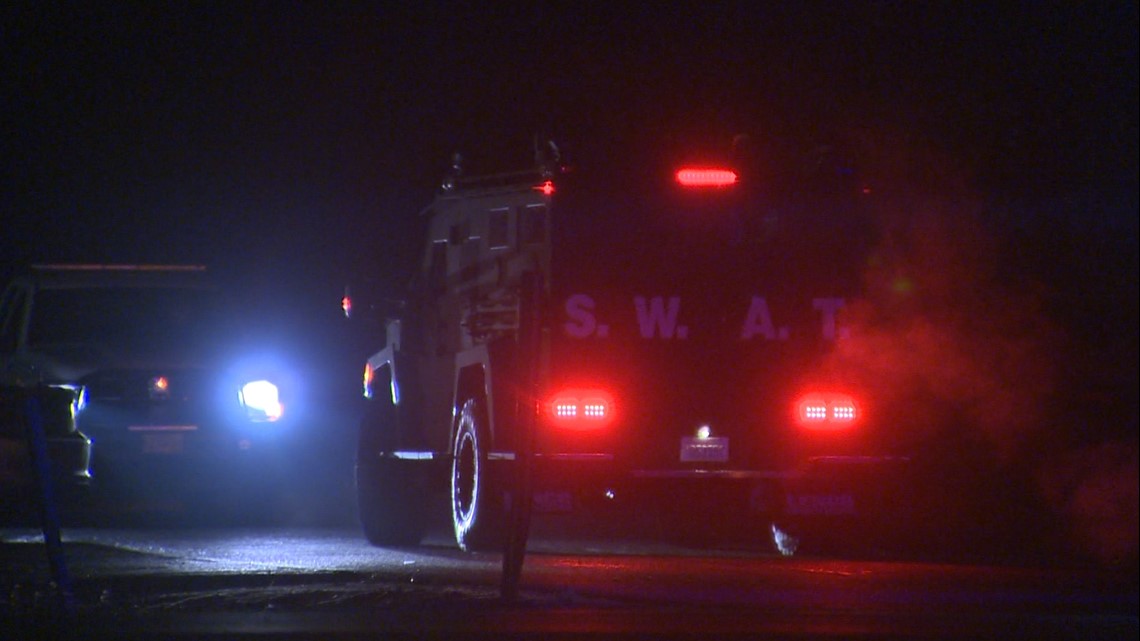 Schools in the Rainier School District are on a single campus, so the entire district went on lock-in status Wednesday afternoon as law enforcement investigated a reporting sighting of Reynolds.
In a statement issued prior to the lockdown on Wednesday, Hattrick said that school administrators and law enforcement had been working together to ensure that there would be no threat to students.
"Our facility team has been working all morning to sweep the entire campus to ensure it is safe for students to return and law enforcement has advised that there is no reason to modify the school day," Hattrick said. "Today you can expect to see law enforcement and district staff patrolling campus all day.
"We understand that last night's events were unsettling but we have faith in our law enforcement. This also serves as a reminder that we all must be continuously vigilant because while we know the name and face of last night's suspect, we must always be on the lookout for anything or anyone that could raise suspicion."